3 Signs You Might Need a Pre-Shave Serum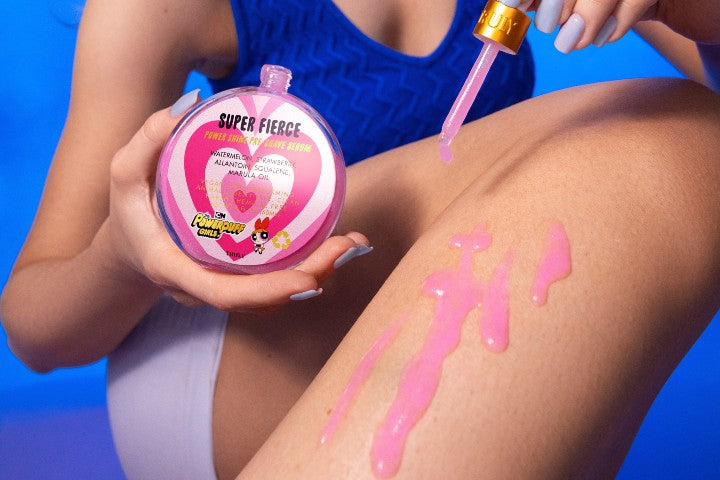 Many people experience nicks, cuts, and ingrown hairs due to shaving. While there are many things you can do to mitigate these concerns from happening, little can replace the protective powers of a pre-shave oil or serum. 
Here's everything you need to know about pre-shave serums, how they work, and who needs them in their skincare routine. 
WHAT IS A PRE-SHAVE SERUM?
A pre-shave serum isn't the same as a shave oil which usually goes on after the shaving process. A pre-shave serum is designed to be applied before shaving and used underneath a shaving cream, butter, or gel. Incorporating a pre-shave serum into your shaving routine can counteract a slew of skin concerns such as dryness, razor burn, and razor bumps. It will also leave your skin feeling extra soft!
You can apply this serum to any part of your body that's going to be shaved -- face, pits, bikini line, legs, or wherever!
If you want to master the art of shaving, make pre-shave serum the first step in your routine.
BENEFITS OF USING A PRE-SHAVE SERUM
Shaving itself doesn't dry out the skin, but the skincare products you use can leave your skin stripped of moisture. By using a pre-shave oil enriched with plant-based oils like marula oil beforehand can hydrate the skin and prepare it for shaving. What's more, it can help soften your hair follicles to allow the razor to glide over hairs more easily. 
While pre-shave serum should never replace your shave gel or cream, it still serves as a lubricant, helping to provide a smooth glide for an even smoother shave.
It can be used for an on-the-go shaving experience or applied before showering of exfoliating to soften hair follicles and smooth out the skin. 
And to top it all off, a pre-shave serum can help prevent razor burn, bumps, dryness, and itchiness for a silky smooth shave. 
SIGNS YOU NEED A PRE-SHAVE SERUM
Every skin type can benefit from using a pre-shave serum in their shaving process. However, some people may need it more than others. Here are the three signs you need a pre-shave serum in your hair removal regimen.
#1: You Have Extra Sensitive Skin
If you have super sensitive skin, you most likely avoid the exfoliation part of the shaving regimen. To prep your skin for shaving, use a pre-shave serum containing gentle skin brightening ingredients such as vitamin C and squalene.
A pre-shave serum can also protect your skin from irritation, redness, and itchiness, which commonly affects those with sensitive skin. It's a great tool for prepping and calming the skin. 
#2: You Have Extra Dry Skin
Need that extra moisture pre-shave? Consider bringing in a pre-shave oil or serum to inject moisture and nourishment into your skin. While shaving itself isn't drying, it's still a form of exfoliation which may leave your skin feeling a little drier than normal. Plus, using harsh, drying skincare products can exacerbate your dryness. 
A pre-shave serum is the perfect product for people with dry skin, and can make the shaving process so much more comfortable and convenient.
It's also important to moisturize your skin post-shave, using ultra-hydrating ingredients like coconut oil, jojoba oil, glycerin, avocado, and hyaluronic acid.
#3: You're Prone to Irritated Skin When Shaving
Straight after shaving, do you tend to end up with red, irritated skin? Maybe extreme itchiness? It's not uncommon for people to get major irritation post-shave. Fortunately, you can counteract these side effects by beginning your shaving routine with a pre-shave serum and the following up with a post-shave oil or lotion to seal in moisture.
Pre-shave serums are typically formulated with anti-inflammatory ingredients to soothe the skin before going in with the razor. They also usually contain hair-softening ingredients, too, just to cut down on the skin + razor rubbing action.
HOW TO USE A PRE-SHAVE SERUM
Step 1: Cleanse
Use a gentle cleanser to wash away dirt and debris, so you can start with a clean face or body. 
Step 2: Exfoliate (Optional)
Unless you've got super sensitive skin, everyone can benefit from buffing away dead skin cells before beginning the shaving process. Exfoliating will promote a smoother shave and allow other products to absorb better into the skin.
Step 3: Apply Pre-Shave Serum
Dispense a small amount of pre-shave serum into your palm, rub your hands together, and apply it to the to-be-shaved areas. This step can also come before showering and exfoliating. 
Step 4: Let it Sit
Allow the pre-shave serum to sit on your skin for one minute before proceeding with the next step. 
Step 5: Apply Shaving Cream
Now you can begin your regular shaving routine. Slather on a nourishing shave cream like our No Troubles Bubbles Super Smooth Shave Cream. And be sure to always use a fresh, straight razor like our PowerPuff Girls Razor. 
THE BEST PRE-SHAVE SERUM
That's an easy one! Our brand new, limited edition Super Fierce Power Shine Pre-Shave Serum!
Whether you're removing facial hair or body hair, this pre-shave serum is the perfect product for prepping your skin and promising silky-soft, nick-free results. It's formulated with nourishing marula oil, anti-inflammatory squalene, and antioxidant-packed watermelon to help hydrate, soften hair follicles, and secure a super smooth razor glide.
Watermelon extract is rich in vitamin C, amino acids and lycopene, making it an excellent source of nourishment for dull, dry, or sun-damaged skin. The formula also contains strawberries, which are naturally high in vitamin C to promote collagen production and help address signs of aging such as fine lines, wrinkles, dark spots, and hyperpigmentation. 
Everyone can benefit from adding a pre-shave serum into their shaving routine. Besides softening the hair and hydrating the skin, a pre-shave serum can protect your skin from shaving-related concerns like cuts, burns, bumps, and itchiness. Plus, it'll make the process so much easier. 
Other ways to protect your skin from these concerns include prepping properly through exfoliation and using shaving cream, always using a clean razor, applying an aftershave oil or lotion, and finishing up with sunscreen if it's the daytime. 
Speak to your dermatologist if you are experiencing unpleasant side effects from shaving. You may have an underlying skin condition. 
Share
---