5 Ways to Use Our Exfoliating Body Soaps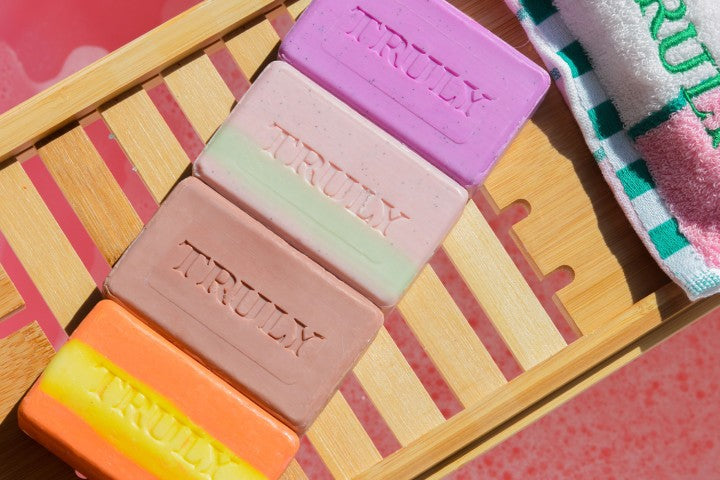 Our exfoliating bath bars are here to level up your bathing routine! Unlike your regular body soap or cleanser, these bars go beyond banishing body odor. In addition to making you smell soooo good, these babies brighten, tighten, and treat a slew of skin complaints.
Gentler than a body scrub, these exfoliating body soaps are ideal for all skin types. From the oiliest to the most sensitive skin, all skin types can benefit from lathering up with these luxurious, mood-boosting bath bars.
Here are all the ways you can use them — and all the benefits that come from sudsing up with these Truly newbies.
1: To Brighten
These resurfacing body soaps gently shed the buildup of dead skin cells and impurities, leaving skin feeling smoother and looking brighter. When dead cells accumulate on the skin's surface, skin appears dull and depleted — stealing your glow. For smooth, glowing skin, include one or all of these bath bars in your daily skincare routine.
After one single use, you'll step out the shower glowing from head to toe. Something that typically doesn't happen with your regular body wash. Thanks to their exfoliating effects, your skincare products will penetrate deeper, maximizing their effects.
If you've got dry skin or sensitive skin, opt for Unicorn Fruit Bath Bar. It's infused with a nourishing, soothing blend of matcha, rosewater, and plant collagen to balance, calm, and moisturize skin.
2: To Buff Away Bacne
Acne is caused by clogged pores. By buffing away pore-clogging sebum, dirt, and dead skin, pores become clear and breakouts are less likely to pop up. If you're dealing with bacne, boobne, or butne, use one or all of these soap bars in your daily shower routine to keep skin clear.
Retinol — a key ingredient in the Acai Your Boobies + Anti-Cellulite Bars — works to speed skin cell turnover, preventing the accumulation of cells and unclogging pores for a clear, blemish-free bod. These are the go-to bars if you've got acne-prone skin.
Even if you've got sensitive skin, these bar soaps aren't like some physical exfoliants (salt scrub, loofah, sugar scrub) which can irritate delicate skin. They're gentle enough for all skin types.
3: To Tighten
Buns of Glowry, Acai Your Boobies, and Anti-Cellulite Bath Bars all offer tightening effects thanks to their blend of collagen-boosting retinol, antioxidant-rich acai, and plumping wheat protein. These ingredients help to boost circulation and restore elasticity, bringing a firmer appearance to skin.
Usually, skin tightening effects can only be found in body lotions and serums. We've created bath bars that provide full-body toning so that you can shape up — in the shower.
Acai Your Boobies Bath Bar contains an elasticity-enhancing blend of acai, retinol, and dragonfruit, which work together to perk up your pair. Buns of Glowry Bath Bar combines hydrating watermelon with decongesting orange flower and plumping wheat protein to lift, firm, and smooth your tush. Anti-Cellulite Bath Bar harnesses the collagen rebuilding powers of retinol and plant collagen to leave your entire body smoother, firmer, and visibly more toned.
4: To Smooth Out Cellulite
Anti-Cellulite Bath Bar is formulated with a decongesting, plumping blend of orange flower, retinol, plant collagen, and apricot to minimize the appearance of cellulite. It also contains aloe to moisturize and quell any inflammation.
For irresistibly smooth skin, this is the bar soap to bring into your shower routine. While there are plenty of body care products that target cellulite, this bath bar is a convenient way to combat dimply skin. Since you shower every day, it's an instant addition to your routine.
To enhance the effects of this cellulite-fighting soap, try incorporating dry brushing sessions into your daily routine to spur circulation, buff away dead cells, and leave skin smoother, firmer, and brighter. You'll need to be consistent, though!
5: To Banish Body Odors
Wanna smell fresh — all day long? Start your shower routine with one of these body soaps, then follow up with products from the corresponding line. This'll help lock in your favorite Truly scent for the rest of the day.
Acai Bath Bar smells like freshly picked berries. Buns Bath Bar smells like juicy ripe watermelon. Unicorn Fruit Bar smells sweet and sugary like cotton candy. And Anti-Cellulite Bar boasts a fresh and citrusy scent.
Between the delicious scents of these bath bars combined with their exfoliating powers, they'll keep you smelling like a snack all day long.
HOW TO USE OUR EXFOLIATING BODY SOAPS
Here's your step-by step guide to using our bath bars.
Step 1: In the shower, create a lather under warm water.
Step 2: Massage the bath bar gently onto your body in circular motions. To let those active ingredients penetrate deeper, lather up for a minute or two. This will allow those magical ingredients to sink in and work their wonders.
Step 3: Rinse well, and follow up with polish, serum, and butter from the bar's line.
Pro-tip: Avoid showering in hot water. Hot water strips the skin of natural oils, leaving skin prone to dryness. Always stick to using warm or lukewarm water.
SHOP OUR EXFOLIATING BODY SOAPS
You asked. We listened. Our Exfoliating Bath Bars are inspired by your Truly favorites – Acai Your Boobies, Buns of Glowry, Anti Cellulite + Unicorn Fruit. We transformed these iconic formulas into highly concentrated, luxury bath bars with the same ingredients + same beloved scents.
Loaded with antioxidant-rich, collagen-building actives like retinol, plant collagen, and acai, these bath bars suds away dryness, dullness, cellulite, body acne, and bad odors so you can feel, look, and smell your very best.
These vegan body soaps are chock full of nourishing natural ingredients so you can shower — the right way. From dry to oily skin, all skin types can enjoy smooth, bright, healthy skin as soon as they start lathering up with these lovelies.
In addition to the uses above, you can even use one of our body soaps to prep skin for shaving. By decongesting hair follicles, you can enjoy a smoother, cleaner shave without ingrown hairs.
Showering just got significantly more satisfying!
Share
---