5 Ways to Use Our Unicorn Fruit Deodorant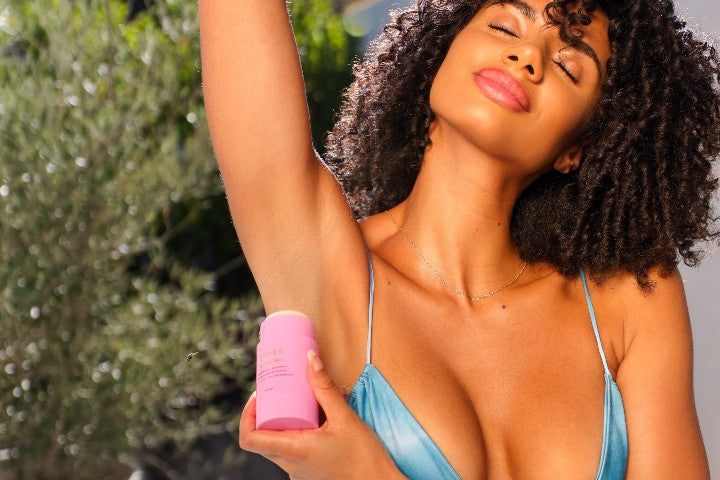 If you haven't already heard, we just dropped our first and only aluminum-free deodorant to keep you fresh and pit stain-free this summer! Unicorn Fruit Skin Brightening and Smoothing Deodorant is a gentle, sensitive skin friendly natural deodorant that eliminates body odors, impurities, and dead skin cells without irritating skin or staining clothes.
Bacuri butter, papaya enzymes + symwhite 377 leave the underarm skin visibly smoother, brighter, and sugary scented so you can stay fresh and glowing all day long.
Since your armpits aren't the only place that gets stinky, you can also use our cruelty-free, vegan deodorant on other areas of your body as a quick BO fix.
Read on to hear the five different ways you can use Truly Beauty's NEW roll on deo.
#1: Roll it Over Your Pits
Unicorn Fruit deodorant offers all day odor protection thanks to odor fighting ingredients like coconut oil and papaya enzymes. Since your underarms are most prone to odors, glide this aluminum-free deodorant over your armpits for long-lasting freshness. Inspired by one of our bestsellers — Unicorn Fruit Whipped Body Butter — this cotton candy scented formula will sweeten up your pits in seconds. For best results, apply in the morning after showering and again at night to wake up smelling like a snack. Paraben, sulfate, and aluminum-free, it's ideal for all skin types, especially sensitive skin.
#2: Roll it Over Your Heels
Are your new shoes giving you blisters? Try rolling this deodorant around your heels and along the sides of your feet to create a layer of lubrication that prevents friction and ultimately, painful blisters. You'll never need band aids again with this on hand. Thanks to natural ingredients like hydrating bacuri butter and antioxidant-rich mango butter, it'll create the perfect slip between your feet and shoes so you don't have to deal with blisters again. Plus, it helps omit foot odors, keeping your tootsies smelling more sugary, less cheesy. Since it's baking soda free too, you won't have to worry about it drying out your skin.
#3: Roll it Over Your Inner Thighs
If shorts season leaves you sore and uncomfortable, you might want to try swiping a touch of deodorant on your inner thigh area to prevent chafing. The deodorant creates a barrier between your skin and shorts, thus reducing friction. You'll know you're dealing with chafing if the skin on your inner thighs is covered in red bumps. Luckily, this nourishing beauty product can stop chafing in its tracks, so you can keep wearing your fave shorts without any more soreness.
#4: Roll it Over Your Bikini Line
The bikini line is a sensitive area prone to razor burn, ingrown hairs, and discoloration. You can avoid these skincare woes by applying an unscented deodorant to your bikini line. If you don't have one lying about, use our Unicorn Fruit Deodorant instead. Simply apply to the area around your bikini line to create lubrication and prevent friction, swerving redness, irritation, and rashes. Just remember to use a different stick to the one you use on other areas of your body, like your arms. Pair the product with other formulas from the line like our Unicorn Fruit lotion to diminish dry skin and keep the area smooth and silky.
#5: Roll it Over and Under Your Cleavage
Ran out of parfum? Sweeten up by rolling our Unicorn Fruit Deodorant over your chest and boobs. It smells just like cotton candy, meaning you'll smell like a snack once you've coated yourself in this heavenly scented formula. You can also use it to prevent sweat stains from soaking into your fave shirts and dresses. Simply roll the deodorant underneath your boobs to combat the perspiration stains caused by boob sweat — which is totally common in the summer, btw.
PAIR IT WITH THESE UNICORN FRUIT PRODUCTS
If you dig our NEW deodorant, you'll love the other products featured in our Unicorn Fruit Line. And did you know? You can enjoy an even more longer-lasting candy fragrance when these products are used as part of your daily beauty routine. Here are some other Unicorn Fruit products to shop.
Unicorn Bath Bar
A moisturizing and exfoliating soap bar enriched with the regulars – acai, rosewater + vegan collagen boost – to smooth, brighten, and soothe skin while banishing body odor. Another new addition to the UF fam, Unicorn Bath Bar should be the first step in your routine to wash away the day's dirt and dead skin, and allow all those other formulas to sink in deeper and work even better!
Unicorn Fruit Whipped Body Butter
It's the TikTok famous rainbow swirled moisturizer you've probably already heard about. Besides being pretty to look at, Unicorn Fruit Body Butter hydrates, heals, and plumps thanks to its lineup of nourishing ingredients such as shea butter, acai, and vitamin E (Tocopherol). Plus, it doubles up as a lip balm, hair mask, cuticle softener, and shaving cream.
Unicorn Fruit Eau de Parfum
We bottled up the irresistible aroma of our Unicorn Fruit Body Butter to deliver our first ever signature perfume. With a freshly fruity and feminine base of candy floss and vanilla with light top notes of citrus and black currant, this super sweet scent was made for sweethearts like yourself. Spritz it on as the last step in your routine to seal in a long-lasting sugary sweet scent.
The Unicorn Fruit Deodorant is our newest product drop, and one you should definitely try if you're looking for a deodorant that does it all. In addition to banishing bad odors, this roll on deodorant brightens, smooths, and hydrates for skin that smells as good as it feels and looks. Be sure to pair it with our other UF products for a complete Unicorn Fruit-inspired routine. You'll feel like a total queen!
Share
---