A Bath Routine For a Better You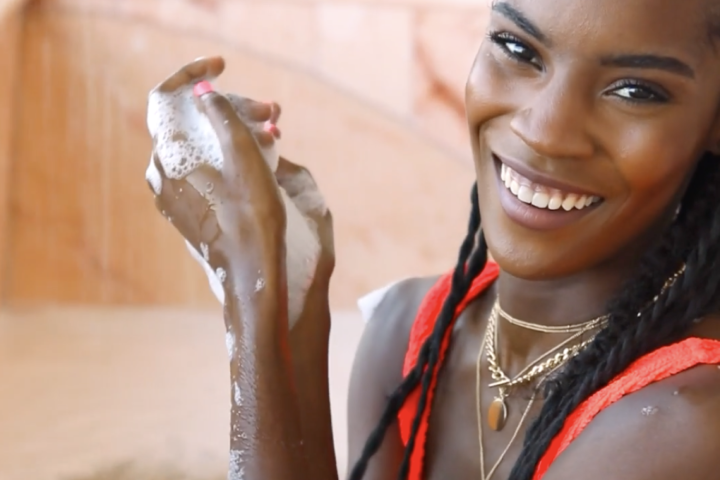 Sure, spas are great. But after a hard day at work, sometimes you just want to come home, relax, and unwind. And you don't always need a spa to make that happen. All you need is to optimize your bath routine.
There's nothing quite like a relaxing soak to decompress from a stressful week. Best of all, you can make the whole experience so much better with a few self-care essentials and a little prep.
Here's how to create the ultimate bath experience for a better mind, soul, and you.
#1: Set Up Your Space
The purpose of bath time -- besides getting clean -- is to help you unwind. If your bathroom's dirty and cluttered, your mind is not going to be in the right place to truly enjoy your soak. There are even studies that show clutter causes anxiety and stress. Eliminate that trigger by keeping your bathroom clean and decluttered. 
Rinse the tub, give it a good scrub, add some plants or flowers, and put on some calming music to set the tone for a soothing soak. Even pour yourself a glass of wine if you feel like it!
#2: Light Some Candles
Candles are always a good way to set the mood for relaxation. Light your favorite scent or stick to something unscented if you're using essential oils in your bath. The last thing you want is competing aromas when you're trying to unwind and let the day's stress soak away. Plus, you may end up with a nagging headache. Ugh! 
To master the art of a relaxing bath, it's worth getting familiar with which scents work together. This will make your pampering session so much better!
#3: Draw the Tub
Now it's time to set your bath session in motion! When drawing the bath, make sure you're using hot water but not so hot that you can barely dip your foot in without screeching. Besides being completely uncomfortable, water this hot can dry out and potentially scold your skin. 
According to dermatologists, the best temperature to bathe in is around 107 degrees -- no higher. You're still getting that hot bath you love without putting your skin at risk. 
If you've got chronically dry skin or sensitive skin, you may want to crank down the temps a little. Just like your hot showers, super hot baths strip the skin of natural oils, leaving it dry, irritated, and flaky. You don't need to use cold water but you should use warm water instead of hot unless you want to step out your tub looking like a hot mess.
#4: Sprinkle in Some Soothing Salts
The fun thing about baths is that you can customize them to meet your personal tastes in scent and texture. Some people love bath bombs, while others prefer squirting in some body wash, and many of us like to go all out with epsom salts, bath fizzers, and all the rest. You decide what you like best -- then go ahead and decorate your bath water.
Soothing bath rocks are our favorites. They can make a huge difference to the quality of your bath. According to the pros, the best soaks to use are mineral-rich salts. 
Soak your stress away with Truly's Space Candy R&R Bath Rocks. It's made with a healing combination of natural salts, botanical infusions, and essential oils to calm the mind, soothe sore muscles, and stimulate circulation. Plus, it turns your bath water blue!
#5: Add a Few Drops of Essential Oils
Infuse some scent into your bathwater by adding 10-12 drops of your favorite essential oils. Lavender is best for putting you in a sleepy mood while orange oil is best for energizing your mind and body. 
You could also try adding bath oils into your tub if you're looking for a less concentrated formula with a less potent scent. These formulas are usually diluted with other ingredients to make the scent less intense. Plus, they often come with moisturizing benefits. 
Try our Moon Bath Essentials to calm skin and mind, reduce redness and inflammation, and promote utter relaxation. This Calming Body Cleanser + Spa Mist are formulated with lavender, eucalyptus, and ashwagandha to leave you feeling incredibly chill. 
#6: Apply a Face Mask
What better time to do skincare than when you're chilling in the tub? Since you're going to be in there for at least 10 minutes, it's an excellent opportunity to put on a face mask and let the formula work its wonders. 
You can choose an exfoliating mask to buff away dead skin and leave skin glowing like our Mary Jane Glow Mask. Or a hydrating mask to combat dryness like our Vegan Collagen Booster Face Mask.
Let it sit for 10-15 minutes on your face and then wash it off with a warm washcloth in the tub. You can complete the rest of your routine (cleansers, toners, serums, lotions, and creams) post-bath.
#7: Slide in, and Soak
Now's the time to slide in your tub and soak for the next 10-20 minutes. Or however long you like. While in the bath, focus on the sensations and smells around you. Be present. Enjoy the feeling of your tensions melting away.
You should feel amazing by the time you step out. 
Baths are a great way to elevate your bedtime routine. Whether you're struggling to sleep, brimming with stress, or experiencing achy joints and muscles, a warm bath really can cure all. 
There are so many physical and mental health benefits to taking regular baths. And yet, so many of us seem to skip baths for showers. Sure, showers are faster and often more convenient, but they don't offer that sense of relaxation a bath does. For the sake of our mental wellbeing, we all should carve out time for a bath once a week.
Whenever you have a free half an hour spare, devote that time to a relaxing bath session. You'll feel incredible! Aim to bathe once or twice a week to get the most benefits from soaking. You'll enjoy a calmer mind, soothed muscles, and a better night's sleep.
Share
---