Beat Body Acne W/ Truly's NEW 4-Step Bodne Bundle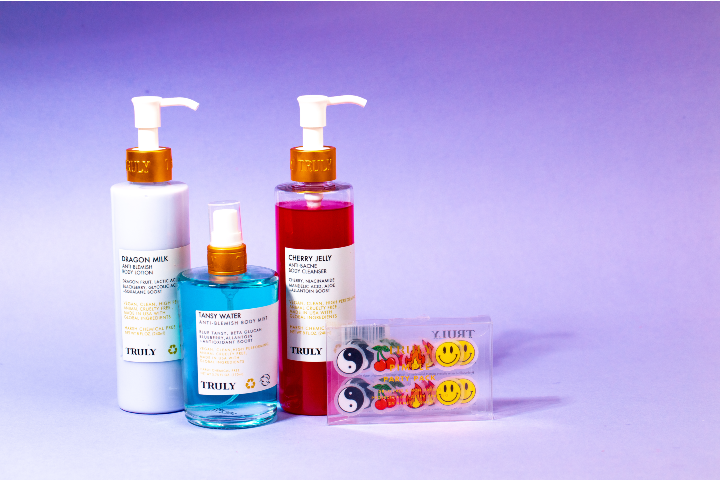 Noticing pimples popping up on your chest, back, or butt? 
You aren't alone.
Between the August heat and pandemic-related stress, flareups are affecting many of us. For some, acne can take shape on the face, while for others breakouts can appear below the neck going as far down as the booty.
With this in mind, Truly's serving up some just-dropped, acne-fighting skincare goodies designed to zap away body breakouts. It's a 4-step body acne treatment routine that'll clear those pesky pimples right up.
Wanna hear more? Keep on reading!
A 4-STEP BODY ACNE ROUTINE (WITH PRODUCTS)
Step 1: Cleanse with Truly's Cherry Jelly Bacne Cleanser
Daily showering is crucial if you're body-acne prone. 
Whether you're experiencing chest acne, back acne, or entire body acne, dermatologists recommend using a gentle, acne-fighting body cleanser infused with bacteria-killing ingredients like benzoyl peroxide and salicylic acid to clear and prevent future breakouts.
Daily cleansing stops excess oil and dead skin cells from clogging your pores and causing breakouts. 
Just like you'd treat facial acne with a targeted face wash, you should do the same for your body.
Truly's Cherry Jelly Bacne Cleanser contains a blend of bacteria-zapping benzoyl peroxide, with soothing cherry and niacinamide, and hydrating allantoin to clear acne while preventing irritation and dryness. 
How to use: In the shower, apply the acne body wash onto wet skin and form a lather to thoroughly cleanse. Rinse with lukewarm water and pat dry. 
Step 2: Mist with Truly's Blue Tansy Water
Now that your skin is freshly cleansed, spritz on a hydrating yet sebum-sucking formula to tackle blemishes, redness, and inflammation. This will actively target and treat blackheads and whiteheads to promote glowing, clear skin.
Plus, it feels super refreshing on those scorching hot days when your skin needs a little pick me-up. You know the feeling!
Truly's Tansy Water Anti-Blemish Body Mist combines salicylic acid with blue tansy, blueberry, beta glucan, and allantoin. Together, these ingredients use their acne-fighting, skin-soothing superpowers to banish body blemishes while fortifying the skin barrier and shielding it from the production of free radicals, which damage the skin cells.
A spritz of this mist offers clarity, nourishment, and brightening effects for the complexion. Best of all, you can keep it in your bag and use it anytime you need a refresh.
How to use: Spritz the anti-blemish mist generously over freshly cleansed and affected areas on the body. Let it dry. 
Step 3: Moisturize with Truly's Dragon Milk Anti Blemish Lotion
Moisturizing is essential -- even for oily skin or acne-prone skin. 
"Nourished, hydrated skin with an intact barrier is your best defense when it comes to acne and other skin conditions," says New York City dermatologist Whitney Bowe. 
Besides drinking plenty of water, sealing in moisture in the skin with oil-free, non-comedogenic serums and lotions can significantly improve the appearance of acne. Opt for a nourishing moisturizer with exfoliating acids like glycolic acid to simultaneously treat and hydrate.
If you have really sensitive skin, avoid using too many exfoliants and opt for soothing, moisturizing ingredients like aloe vera, vitamin E, glycerin, and hyaluronic acid instead. 
Truly's Dragon Milk Anti-Blemish Lotion blends resurfacing glycolic acid with brightening blackberry, smoothing lactic acid, hydrating dragon fruit, and acne-zapping salicylic acid.
This creamy yet lightweight, berry-scented body lotion is designed to target body acne while working as an anti-inflammatory to prevent your skin from stressing out. It also provides exfoliation without relying on irritating scrubs that may do more harm than good.
Together, these formidable ingredients work in harmony to exfoliate away dead skin, unclog pores, refine skin texture, and lock in long lasting moisture for a smooth, glowing complexion.
How to use: Apply a thin layer of the lotion to dry skin and work into acne-prone areas of the body.
Step 4: Treat with Truly's Pimple Party Pack
While it's important to follow an acne-formulated skincare routine to treat bodne, leave-on topical treatments can be effective in treating active breakouts.
Our fave? Pimple patches. These patches work by draining the zit of fluid, inserting it with the patches' active ingredients, and ultimately healing the wound. At the same time, they stop you from picking and prodding at your pimples, which prevents scarring. They're really convenient and handy to have on you whenever a juicy zit pops up and needs your attention.
They're just not effective if you're experiencing cystic acne, as they don't penetrate deep enough to have any effect on the cysts.
Truly's Pimple Patch Set uses hydrocolloid to absorb fluid from your pimples and promote speedy overnight healing. Oh yeah, and they're also super fun! These cheeky, harsh-chemical-free 12mm patches come in a pack of 36, suit all skin types, and instantly make pimples way cooler!
How to use: Apply a pimple patch onto the affected zit on dry, freshly cleansed skin. Leave it on for 4+ hours, or overnight to watch your zit disappear.
GET THE BRAND-NEW BODNE KIT
We JUST launched our brand-spanking-new 4-Step Bodne Kit! Want to get in on the acne-fighting action? Drop one of these just-landed bundles into your bag, and start enjoying the effects of its body-acne-banishing brilliance!
Our products are all vegan, cruelty-free, and clean -- minus parabens and nasty chemicals that only worsen acne. 
Truly's new Bodne Kit is made of natural, high-performing ingredients that cleanse, nourish, treat, and rejuvenate your skin for neck-to-toe clarity and glow!
If you are experiencing hormonal acne, cystic acne, rosacea, or other skin conditions, please visit your dermatologist for a consultation before starting any body acne skincare routine.
While there are many soothing acne treatments available like Truly's, Cerave, Proactiv, and Neutrogena Body Clear, sometimes these products are simply not suitable for some skin types. Ask your dermatologist for the best treatment options for your skin condition.
Share
---