How AHAs & BHAs Can Be Your Saving Grace For Body Acne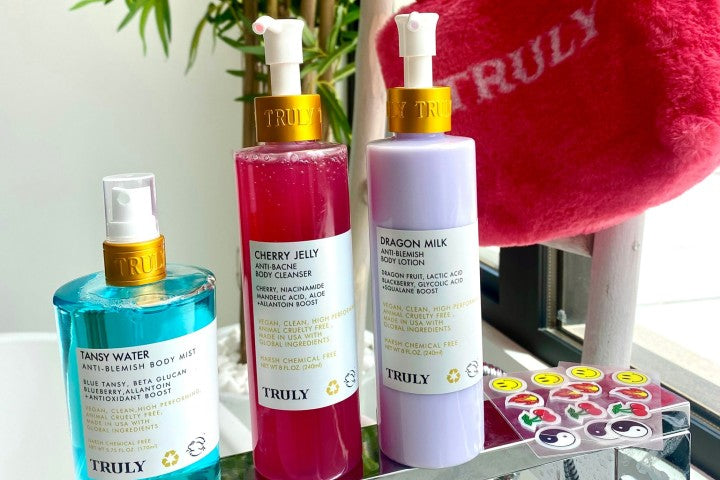 AHAs...BHAs...it all sounds kinda scientific, right?
Chill.
We're here to give you the lowdown on what these skincare chemicals do, how they can improve body acne, and which skincare products you'll find them in!
Because they really can be your saving grace for body blemishes.
WHAT ARE AHAS?
Alpha Hydroxy Acids are plant-derived compounds that act as an exfoliant in beauty products, helping to slough off dead skin cells, promote even skin tone, reverse signs of aging, and deliver a glowing complexion.
Due to their hydrophilic qualities, AHAs are also moisturizing -- meaning they're simultaneously exfoliating and hydrating (a quality not many exfoliators share).
Some of the most common AHAs include glycolic acid, lactic acid, and citric acid. All of these have been shown to brighten skin, improve moisture content, boost skin cell turnover, improve skin texture, and minimize the appearance of fine lines and wrinkles.
Did you know they can also treat acne-prone skin? 
Turns out, AHAs may be the ultimate acne treatment thanks to their ability to dissolve dead skin cells and excess oil, preventing them from clogging your pores, which often leads to acne flareups.
WHAT ARE BHAS?
Beta Hydroxy Acids are oil-loving chemicals that are highly effective at breaking through sebum and clearing the skin.
Salicylic acid is a BHA, and it's well-known for its ability to decongest the pores. That's why you'll find it in many acne-formulated cleansers and moisturizers. 
"It is able to penetrate the skin deeper into pores to help remove dead skin cells, fight bacteria, and control excess sebum," says board-certified dermatologist Zenovia Gabriel, M.D. 
What's more, salicylic acid is an antibacterial, which makes it an excellent candidate for acne-prone people. Besides eliminating excess oil, it directly addresses the acne-causing bacteria that's accumulating in your pores. BHAs are best for oily skin types.
HOW AHAS AND BHAS HELP BODY ACNE
They Clear Your Pores
If you're experiencing body acne, you should know that using a heavy, creamy shower gel may not be your best option. Instead, choose a cleanser formulated with zit-zapping ingredients like salicylic acid, glycolic acid, or lactic acid (or all three!).
Salicylic acid is a resurfacing BHA that exfoliates the skin, unblocking the pores of dead skin and sebum. Glycolic acid is an AHA that removes the top layer of dead skin cells to prevent red marks left behind. And lactic acid? It's another AHA with the same blemish-clearing credentials as glycolic acid. However, it's a little gentler on the skin.
"Acids like these prevent dead skin cells from building up and blocking your pores," explains London-based consultant dermatologist, Dr. Justine Kluk. "And remember, cleanse your skin thoroughly in the shower every day."
They Gently Yet Effectively Exfoliate Your Skin
As much as we love physical exfoliators like sugar-based scrubs, they're not ideal for all skin types. If you've got acne and sensitive skin, you may want to choose chemical exfoliants instead as these don't scrub away at your skin. They simply dissolve oil and dead skin.
AHAs are known for exfoliating the surface of your skin, while BHAs go much deeper.
Remember to always use sunscreen (SPF 30 minimum) after exfoliating since your skin will be photosensitive. It's worth running products by your dermatologist to double check they're safe to use on your skin.
They Treat Acne Scars
AHAs are superstars at targeting surface-level skin concerns like red marks from past acne. That's because they remove dead, dull skin cells from the skin's surface, which is helpful for hyperpigmentation and acne scarring.
They Prevent Pimples
"Back acne is typically caused by a build up of oils and dead skin cells in and around pores. The pores can become clogged and attract bacteria which thrives. This causes leads to an inflammatory response of the skin causing pustules and bumps," explains Dr. Adwoa Danso, NHS GP Doctor.
And that really applies to any form of body acne -- it's usually all down to your pores being congested with oils and gunk.
Because AHAs and BHAs dissolve the buildup of dead skin and sebum, they both work fabulously in preventing body breakouts and blackheads from occurring altogether.
BEST AHA AND BHA SKINCARE PRODUCTS TO BEAT BODY BREAKOUTS
All our products are vegan, cruelty-free, clean, and made with zero sulfates or parabens.
Truly's Bodne Bundle
This 4-step bodne-banishing bundle features a Cherry Jelly Bacne Cleanser, Blue Tansy Body Mist, Dragon Milk Body Lotion, and Pimple Party Pack. It's an effective skincare routine for anyone dealing with back, boob, or butt breakouts.
Truly's Cherry Jelly Bacne Cleanser combines bacteria-zapping benzoyl peroxide with soothing cherry and niacinamide, and hydrating allantoin, which all work together to attack acne in its tracks while preventing dryness. It's essentially exfoliation without having to scrub your skin. 
Truly's Tansy Water Anti-Blemish Body Mist is made with salicylic acid, blue tansy, blueberry, beta glucan, and allantoin to banish body blemishes, strengthen the skin barrier, and enrich your skin with free radical-fighting antioxidants.
Truly's Dragon Milk Anti-Blemish Lotion delivers optimum hydration without clogging your pores. It relies on a combo of AHAs and BHAs: resurfacing glycolic acid and acne-zapping salicylic acid to exfoliate away dead skin and sebum for a clearer, smoother complexion. This lightweight body cream also works as an anti-inflammatory and provides relief for dry skin.
Truly's Pimple Party Pack is a hydrocolloid-formulated spot treatment to treat pimples as soon as they arise. They'll help heal your zits while stopping you from picking and prodding at them. Win-win!
Truly's CBD Jelly Anti-Blemish Body Mask
Once or twice a week, treat your skin to a head-to-toe deep cleanse by slathering your body in this zit-deleting body mask. It's formulated with hemp, salicylic acid, retinol, aloe, and watermelon to purify and simultaneously hydrate your skin. It works like a face mask -- only it needs to be applied to the affected areas of the body.
If you're experiencing cystic acne, eczema, sun damage, or rosacea, we recommend consulting with your dermatologist or esthetician before trying AHAs and BHAs, as they may be too harsh for your skin.
Share
---