How Our Love Your Melons Line Is Stepping Up The Boob Skincare Game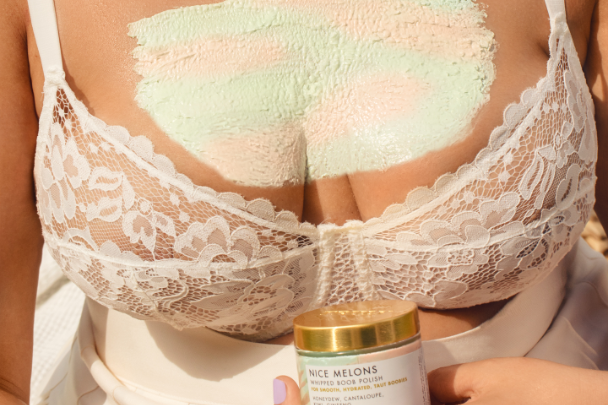 Boob skincare is becoming more and more popular as people face facts that this area of the body requires just as much TLC as the rest of it. 
"The skin on the upper chest, also known as décolleté, is very delicate and is one of the first places on your body that can show the signs of aging," says board-certified dermatologist and founder of OptiSkin, Orit Markowitz, M.D. "The skin here is thinner than the face and doesn't have as much supportive tissue." 
Plus, there's fewer sebaceous glands there, meaning it's prone to dryness and possibly wrinkles. You should also take into account that the chest is often exposed to UV rays so it's an area that sees a lot of sun damage.
Since going viral on TikTok for our Acai Your Boobies Bundle, we've created a brand new boob skincare line: Nice Melons.
Both kits are designed to smooth, hydrate, and firm the breasts. But what's the difference between the two and which one should you choose? 
NICE MELONS
What it is: A three-step kit featuring a boob polish, boob serum, and boob butter. 
What it does: This bundle blends honeydew, cantaloupe, kiwi, ginseng, and kigelia fruit to smooth, hydrate, and tauten your breasts. 
Kigelia fruit really is the star ingredient here. This nourishing active ingredient is loaded with vitamins, antioxidants, and flavones, which help fight free radicals, prevent UV-induced sun damage, and tighten the skin around the breasts. It's been used for centuries in Africa for its skin-firming effects. Some even believe it can enhance breast size for large breasts.
Cantaloupe, kiwi, and honeydew are other key ingredients packed with vitamins A, B, and C to visibly brighten the complexion, support the production of collagen, and lock in hydration.
The polish is a type of exfoliator used to slough away dead skin cells and reveal fresh healthy skin underneath. The serum goes on next and is designed to address fine lines, sagging, and dullness. And the final step is the butter - basically a body moisturizer - used to seal in hydration for soft, radiant skin all day long.
Moisturizing, smoothing, and anti-aging, this is a three-step formula for baby-soft, beautiful breasts.
Pick up your Nice Melons Edition.
ACAI YOUR BOOBIES BUNDLE
What it is: A three-step boob polish, serum, and butter.
What it does: The beauty products in this bundle are formulated with acai, dragon fruit, and retinol to moisturize, tighten, and retexturize your boobs.
Retinol is always going to be a winner in the anti-aging department. You've probably seen it before in cleansers, toners, lotions, and topical treatments. Proven to boost collagen production, speed cell turnover, and unclog pores, retinol has been proven to reduce wrinkles, even out skin tone, and banish breakouts.
As for acai berries, these little goodies are packed with antioxidant properties, meaning they fight free radicals and delay the signs of aging. The antioxidants present in acai berry can even repair damaged skin and replenish any lost moisture.
The polish removes dead skin cells and clears pores for a super clear, super smooth chest. The serum's role is to address fine lines, stretch marks, breakouts, sagging, and discoloration. And to lock in all those nutrients and hydration? The butter. 
Retexturing, tightening, and moisturizing, this is a three-step formula for a youthful, sculpted chest. 
Pick up your Acai Your Boobies Bundle.
WHAT'S THE DIFFERENCE?
While they're both essentially made up of the same products - polish, serum, butter - they do differ in their ingredients and results. 
Nice Melons is a brand-new limited-edition bundle that's literally just hit our shelves. This formula focuses more on calming melon variations and exotic fruits to hydrate and smooth the skin on your chest. It's ideal for all skin types, but especially sensitive skin as none of its ingredients cause irritation. And because of its lack of retinol, Nice Melons is safe for pregnant and breast feeding women.
Acai Your Boobies has been around for a while now. It even went viral a few months back on TikTok and got people talking about skincare for boobs. This formula focuses mostly on sculpting and tightening the skin on your chest. It's suitable for all skin types, but sensitive should take extra caution as it contains retinol which may cause irritation. That's why it's best to gradually incorporate these products into your routine, so your skin can adjust to the formula. 
One Truly reviewer claims, "This products smells amazing, reduced the appearance of my stretch marks and absorbs well into the skin. I have purchased 3x, I used on my tummy and thighs as well." 
Another declares, "They have made my boobs tight and glow. Plus they smell great."
Both are over-the-counter treatments with minimal side effects.
WHICH ONE SHOULD YOU TRY?
If you're looking for a calming, hydrating formula to deeply moisturize, soften, and tighten your chest area, choose Nice Melons.
If you're more interested in something to tackle chest acne, sagging, and stretch marks, make Acai Your Boobies your first choice.
Of course, feel free to use both, switching between the bundles to reap all their benefits.
For best results, make them part of your daily routine - just like you would with your normal skincare or hair care products.
HOW ELSE CAN YOU TAKE CARE OF YOUR BOOBS?
Besides using one or both of these boob skincare kits, we recommend regularly self-examining your breasts and armpits for lumps or bumps. Anything usual should be checked out by a doctor to certify it's not breast cancer.
In some cases, changes in your breasts and breast tissue may be due to hormonal changes, menstrual cycles, breastfeeding, birth control, or menopause. But it's always good to get something looked at if you're concerned about any changes.
When it comes to your chest care routine, polishes, serums, and butters contain nourishing ingredients to keep the area tight, smooth, and hydrated. Because this area is thin and drier than other parts of your body, it's important to have a skincare routine for your breasts to prevent wrinkles, discoloration, and dryness. And don't forget to apply SPF at the end of your routine - this will help prevent premature aging and skin cancer. 
Share
---