How This Cake-Themed Shower Polish Uses Sprinkles To Exfoliate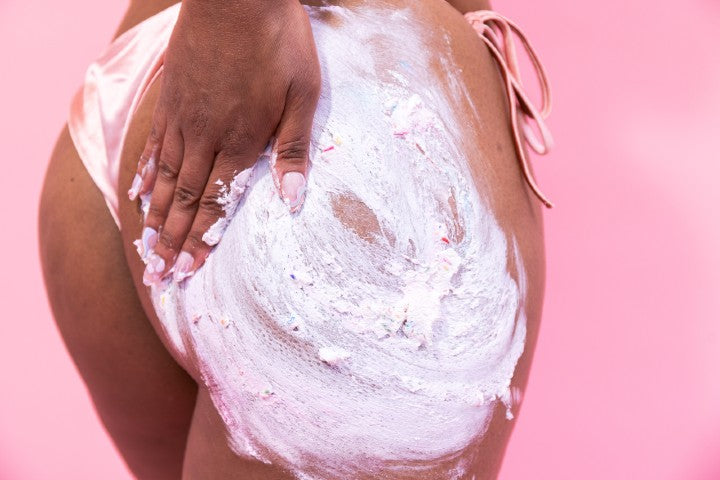 Introducing...Funfetti frosting for your CAKE!
We recently launched our Cake Maker Recipe Kit, a trio of butt and thigh sculpting specials powered by supercharged skincare ingredients such as plant collagen, ceramides, polyglutamic acid, and guarana. As fabulous as all three products are, it's the colorful, sprinkle-speckled butt and leg tightening polish that's leaving a HUGE impression on Truly babes right now.
So, how exactly does this funfetti-inspired exfoliator work, and will it really tighten your tush?
Here's everything you need to know about our freshly baked, decadent Cake Maker Polish — and what it can do for your booty.
SPRINKLES FOR SMOOTHING
This fluffy, creamy swirl isn't just here to look pretty. Packed with tightening guarana, hydrating ceramides, and plumping vegan collagen, she's here for serious skin smoothing business. The polish contains other superstar ingredients like polyglutamic acid, vanilla, and stearic acid to visibly improve skin tone and texture while sealing in long-lasting hydration for a soft n silky gleaming butt.
Exfoliation is the process of sloughing away dead skin cells from the skin's outermost surface to decongest pores, clarify blemishes, and allow other skincare products to absorb deeper for enhanced results. Plus, the very act of massaging an exfoliant into your skin fires up your circulation and blood flow, making cellulite and stretch marks appear less visible.
Cake Maker Polish is essentially a body scrub made for the bum and legs. It helps to buff away dead skin, dirt, and excess oil while smoothing out roughness and minimizing the appearance of fine lines, discoloration, and breakouts.
The sprinkles take care of the buffing side of things. Acting as a physical exfoliant, they sweep away surface dead skin and debris to reveal a fresh and glowing complexion beneath. Plus, it'll make skin feel instantly softer after the very first use.
DOES IT ACTUALLY WORK?
Great question! It's only natural to feel a little dubious when it comes to products that promise to firm and smooth. The good news is, this pretty little scrub is packed with a lineup of gold tier ingredients proven to enhance skin's appearance and tackle certain skin concerns like sagging, roughness, discoloration, and dry skin. Here's a little bit about the key ingredients included in this formula — and what they do for the skin.
Vanilla Bean
Loaded with antioxidants, vanilla is a powerhouse anti-aging ingredient able to fight free radicals, reverse skin damage, and deliver firmer, younger-looking skin. It's also been proven to prevent the formation of fine lines and age spots.
Guarana
A caffeine-rich tropical fruit that can help constrict skin for a toning effect and improve blood circulation for less visible cellulite, while prompting a radiant glow.
Plant Collagen
A vegan version of the traditional animal-based protein, plant collagen is proven to boost natural collagen production, improve skin elasticity, and up skin's hydration for a plumper, juicier booty. Collagen is the protein responsible for keeping skin young and spring. The more you have, the smoother and springier your skin will appear.
Ceramides
Ceramides are a type of lipid able to support the skin barrier, increase hydration, and plump out creases for visibly firmer skin. You'll commonly find ceramides in lotions, serums, and creams designed to intensely moisturize skin.
Polyglutamic Acid
Polyglutamic acid is almost like a sister to hyaluronic acid. Like HA, it can hold up to 1,000 times its own weight in water, making it equally as effective when it comes to hydrating and retaining moisture. In addition to its moisturizing abilities, PA promotes fullness in dull, sagging skin, leaving it visibly smoother and suppler.
Other ingredients include glycerin, iron oxide, stearic acid, propylene glycol, and
phenoxyethanol. Together, these ingredients inject moisture into the skin, smooth out roughness, and promote a babysoft, gleaming booty. So to answer your question: yes, it ABSOLUTELY works.
THE CAKE MAKER RECIPE: HOW TO
Our funfetti butt and leg polish is best used in the shower or tub — along with the other two products in the Cake Recipe Kit: Cake Maker Tightening Butt and Leg Cream + Cake Maker Butt Serum. Here's how to use all three to get the most out of this 3-step butt lifting routine.
#1: Frost Your Cake
Hop in the shower or tub, mix a palmful of polish with a little warm water to create a nice, fluffy lather. Using circular motions, massage the polish into your butt and thighs. Let it sit for one or two minutes to allow the ingredients to fully penetrate. Then rinse.
#2: Drizzle on Some Serum
Apply 3-5 drops of this silky serum to your booty and legs. Massage in well until fully absorbed. Apply more if needed.
#3: Add the Final Topping
Finish everything off with a dollop of cream, and apply to your butt and legs using firm strokes. Let it absorb for 3-4 minutes before getting dressed.
Your cake is READY!
HOW DOES IT COMPARE TO BUNS OF GLOWRY?
Buns of Glowry Bundle features a butt polish, butt serum, and butt butter formulated with plumping watermelon extract, dimple-filling wheat protein, and apricot fruit extract to treat cellulite and stretch marks while providing lift and firming effects to the booty.
The kit's effectiveness is backed by last year's clinical trial which confirmed it yields results within four weeks of daily use.
How does it compare to Cake Maker? While they both offer similar benefits, with similar products like polishes, body butters, and body serums, there are a couple of key differentiators.
Buns is watermelon-scented with a whole lot of lifting, firming, brightening and smoothing power. Cake Maker is cake batter-scented with equally as effective firming and smoothing power, with more of a focus on hydration than brightening. Either way, they're both pretty awesome.
Ready to bake your cake???
Thrown on your apron and checkout our Cake Maker Polish + Kit here on our store or over on Amazon, Ulta, Sephora, and Target.
Share
---