How this Valentine's Gift Box Completely Transforms Your Bod in 11 Steps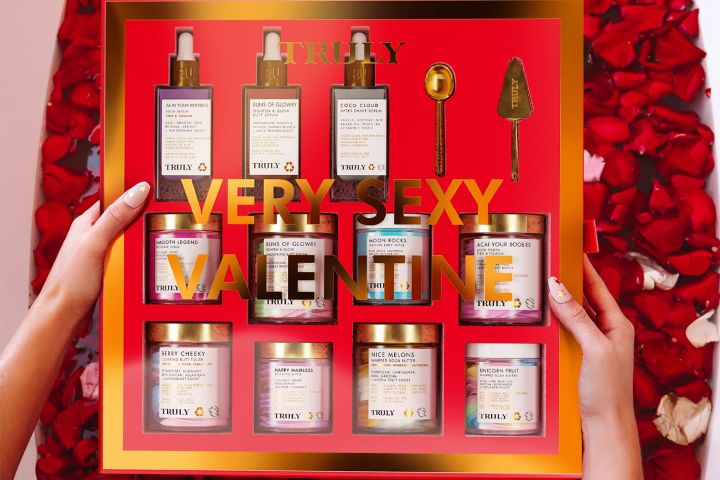 Truly's Very Sexy Valentine's Day Collection is the lushest, sexiest, and most indulgent bundle of them all!
With or without a valentine, Valentine's Day is your chance to indulge in a self-care routine that's EXTRA special. Whether you've got a hot date night on the cards or you're just planning on chilling out at home, pampering yourself with only the most luxurious skincare products is the perfect way to look and feel your sexiest this Valentine's Day.
Inside our gorgeous Valentine's Gift Box, you'll find a selection of Truly favs designed to leave you sleek, sculpted, and sparkly this V-Day — and beyond! It's the perfect gift for a loved one or yourself.
Here's what you'll find inside this Valentine's Day Gift Box and how it can completely transform your body in 11 steps.
What is Truly's Very Sexy Valentine's Day Collection?
Looking for Valentine's Day gift ideas? Look no further than this XXL Valentine's gift set that makes a great gift for your Valentine, Galentine, or yourself! It's the perfect way to say "I love you" on February 14th.
Instead of the traditional gifts (think heart-shaped Valentine's Day cards, bottles of wine, bath bombs, sweet treats, flowers, and gift cards) treat yourself or a significant other to an extra thoughtful gift this V-Day.
We've found the perfect Valentine's Day gift for you: our deeply indulgent and seductive Valentine's Gift Box.
This Valentine's exclusive features 11 Truly bestsellers + 2 golden accessories + a FREE Valentine's Robe worth $250 to mix n' match multiple beauty routines to banish body acne, dryness, sagging, and ingrowns. It's the best Valentine's Day gift for giving her or yourself a truly special day!
11 Steps to Transform Yourself with this Valentine's Gift Box
From coarse body hair to body acne and sagging, this Valentine's treasure cures all to leave you looking and feeling your sexiest in 11 deeply indulgent steps.
Step 1. Buff Away Dullness
with Moon Rocks Whipped Body Scrub
Reveal your most radiant body with this fluffy, blue-tinted exfoliator enriched with blue tansy, vitamin E, and lavender to buff away dead cells, brighten skin, and prep for maximum product absorption. Serve it up with your FREE Gold Ice Cream Scoop!
Step 2. Perk Up Your Peach
with Buns of Glowry Polish
Bounce up your booty with this skin refining formula of wheat protein and watermelon to plump out lines and dimpling while giving your booty a visible lift.
Step 3. Tighten those Tatas
with Acai Your Boobies Polish
Tone and tauten your tatas with this boob firming elixir of collagen-boosting retinol and cell supporting acai berries. Made to promote your perkiest pair.
Step 4. Prevent Ingrowns
With Smooth Legend Pre-Shave Scrub
Enjoy a painless, ingrown-free shave by buffing your skin with this sugar-based scrub of coconut, grape, and lavender. It removes dead cells, loosens hair follicles, and lathers away pore-clogging products to prep skin for an effortless, ingrown-free shave.
Step 5. Shave Away Coarse Hair
with Happy Hairless Shave Butter
Discover the best shave of your life with this rich and luxurious shaving butter featuring coconut, vitamin E, and grape to soften skin and hair follicles while providing just the right amount of slip for a seamless, satiny shave.
Step 6. Soothe + Nourish
with Coco Cloud After Shave Serum
Spot treat nicks, burns, and bumps with this dreamy coconut and vanilla infused after shave serum. It's the perfect product for showing your skin a little love after shaving.
Step 7. Soften Stretch Marks
with Acai Your Boobies Serum
Restore your smoothest bod with this skin refining boob serum, powered by elasticity-restoring retinol and cell regenerating acai. Besides reducing the appearance of stretch marks, this serum also tackles sagging and discoloration.
Step 8. Smooth Away Cellulite
with Buns of Glowry Serum
Finally see the back of cellulite with this plumping butt serum, formulated with wheat protein and watermelon which work in tandem to hydrate and encourage circulation for your smoothest booty.
Step 9. Clear Boob Acne
with Nice Melons Butter
Clarify boob blemishes by slathering your pair in this buttery blend of melon, kiwi, and ginseng which work together to deeply condition, fade hyperpigmentation, and clear away boobne. Serve it up with your FREE Gold Cake Server!
Step 10. Banish Butt Breakouts
with Berry Cheeky Butter
No more breakouts on this booty! Berry Cheeky Butter is a decadent, whipped body butter enriched with acne-covering active ingredients like beta glucan and allantoin to soften, smooth, sculpt, and reduce the appearance of breakouts on your butt.
Step 11. Secure Day-Long Silkiness
with Unicorn Fruit Whipped Body Butter
Treat your skin to this TikTok-loved body moisturizer. A base of shea butter blended with acai, matcha, and vegan collagen deliver dewy, satiny skin while plumping out lines and leaving you smelling sugary sweet!
Slip into Your FREE Valentine's Robe
Now that your skin's looking its sparkliest, slip into your complimentary Valentine's Robe. Lush and plush, enjoy the warm embrace of its vegan cushy teddy lining. It also features a tie waist, hood, pockets, and the signature Truly logo monogrammed on the sleeve. A perfect keepsake for yourself or a loved one!
Send this Valentine's Gift Box with a Love Note
Searching for a last-minute Valentine's gift for someone special in your life? Treat them to this indulgent beauty collection and don't forget to add a personalized message (aka, a mini love letter to your beloved!) before you checkout.
Cupcakes and truffles are nice and all, but this is one gift she'll remember FOREVER.
Instead of DIY creations, Etsy jewelry, or the typical selections on V-Day gift guides, get yourself or someone special this supremely indulgent gift box this Valentine's Day. Even if you don't have a valentine, it's the perfect way to pamper yourself, transform your body, and boost your confidence.
This Valentine's gift box comes with 2x free golden applicators + a Valentine's Robe worth $250. That's $273,90 in bundle savings!!! Don't wait too long, though. We only have a select number of these collections available!
Share
---