How to Glow Into Summer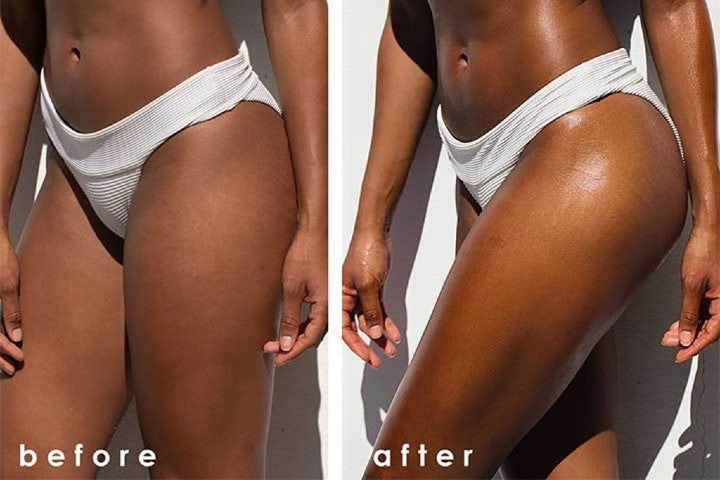 Digging dewy summer vibes? 
Now that summer's nearly here, there's no better time to prep your skin for all those off-the-shoulder tops and breezy floral dresses you plan on wearing. Seeing as your skin's going to be on display way more than any other season in the year, it makes sense to put a little extra time into taking care of your skin. Thankfully, it's not that hard to do!
To get glowing summer skin, all you need are a few hydrating, nourishing skincare products. And we've found the best products you can use to get glowing, radiant skin that lasts the whole season.
WHAT DOES "GLOWING SKIN" ACTUALLY MEAN?
In the world of skincare, there's a lot of jargon. Is glowy skin just a phrase for healthy skin or what?
"Glowy skin is supple, healthy, hydrated skin," explains board-certified dermatologist Dr. Marnie Nussbaum. "In the winter, dry skin tends to build up, giving a dull appearance on both our face and our body. The dry air and heat take the moisture out—and since skin is the ultimate barrier between yourself and the environment, glowing skin really just means that you have healthy skin."
In other words, glowing, beautiful skin translates to well hydrated, moisturized skin with a small amount of natural oil. 
Now that we know the basics on glowing skin, here are some summer skincare tips and recommended products to make your skin glow this season!
HOW TO BOOST YOUR NATURAL GLOW
Start with a Clean Base 
First things first, if you want brighter, glowier skin - you need to start with a clean canvas.
If you've got acne-prone skin, opt for a body cleanser that contains salicylic acid to actively fight breakouts.
We recommend Truly's CBD Jelly Anti-Blemish Body Cleanser, which contains salicylic acid and CBD for anti-inflammatory and anti-blemish effects. 
Exfoliate Away Dullness
Regular gentle exfoliation is key to brightening your complexion and diminishing dullness. That's because it gets rid of dead skin cells standing in the way of your shine. Aim to exfoliate once or twice a week for best results. Any more may cause irritation - especially if you have sensitive skin. If physical exfoliation is too harsh for your skin, try using a facial cleanser that contains exfoliating properties. 
Start by using Truly's Unicorn Fruit Whipped Body Polish 1-2 times a week to drive out dullness, unclog pores, and clear away breakouts.
This exfoliator combines acai with matcha green tea, rosewater, and vegan collagen to buff, brighten, and polish your skin from head to toe. You can use this on your face and body - it's gentle enough to be used everywhere. Besides battling excess oil and knocking out dullness, it also hydrates the skin thanks to its powerful moisturizing abilities. 
Combat Unevenness, Wrinkles and Discoloration
If you've noticed your skin isn't shining as bright lately, it's probably due to unevenness. To accelerate the natural turnover of skin cells to treat uneven skin texture and discoloration, dermatologists recommend retinol and a ton of antioxidants.
Retinol is a vitamin A derivative that's been proven to boost collagen production, speed cell turnover, and unclog pores to promote a youthful, clear, glowing complexion. 
The experts also recommend slathering your skin with antioxidants like vitamin C to brighten the skin, target fine lines, improve skin tone, and remove blemishes. 
Adding antioxidants into your skincare routine protects your skin against free radicals and chemical particles, which contribute to dull, dry skin. Besides vitamin C, you can also get your antioxidants from berries and plant extracts. 
For tighter, smoother, more youthful boobs, make Truly's Acai Your Boobies Serum one of your go-to beauty products. It's loaded with acai, dragon fruit, retinol, aloe vera, and tons of antioxidants for ultimate hydration - wherever you need it. Use daily before your moisturizer. 
Moisturize!
If you want to attain glowing, gorgeous skin, you need to moisturize daily - or twice daily, in most cases. Dry skin looks dull. That's why you must hydrate your face and body at least once a day with a high quality lotion. Look for ingredients like hyaluronic acid, coconut oil, papaya, and shea butter. 
For all-day hydration and dewiness, try Truly's Coco Rose Fudge Body Butter. It's made with a hydrating, nourishing blend of coconut oil, shea butter, rose, and collagen to brighten and hydrate dull skin. Apply it daily after taking a shower to lock in moisture and keep your skin supple and soft for hours to come. It's suitable for all skin types, including sensitive and oily skin. 
Besides using hydrating face creams and face masks, you can also hydrate from the inside, too - by drinking LOTS of water! 
Sunscreen
Last but certainly not least: sunscreen! The product you should be wearing daily to protect your skin from harsh UV rays and prevent premature aging. Look for a sunscreen with a minimum of SPF 30 for optimum protection. 
UV rays damage your skin cells. As a result, your skin's surface becomes uneven. When that happens, your skin won't reflect light very well, meaning there won't be any glowiness. So make it a part of your daily skincare routine - and opt for self-tanning instead of sun-tanning. Seriously, no home remedies or fancy skincare formulas can reverse sun damaged skin.
Did you know you can also amp up the effects of your sunscreen? Yep, here's one beauty tip you need to know RN: 
"Apply five drops of vitamin C serum underneath SPF each morning to target free radical damage, help lighten dark spots, and even out your skin tone," says Natalie Smyth, an influencer and skincare expert.
GET TRULY'S HYDRATION STATION BODY KIT
This three-piece kit features our skin-glowifying faves: Unicorn Fruit Whipped Body Polish, Acai Your Boobies Serum, and Coco Rose Fudge Body Butter. These three products work together to cleanse, smooth, hydrate, and brighten your skin from head to toe for the summer skin you've been lusting over for months!
Grab a kit for full-body dewiness.
Share
---