It's Official: Truly's Bestsellers Are Now Available As Bath Bars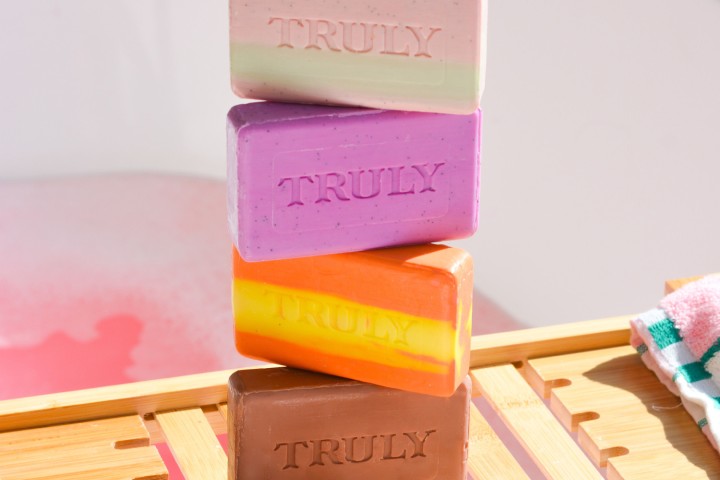 Our Exfoliating Bath Bars have FINALLY arrived! Your favorites (and our best sellers) — Unicorn Fruit, Buns of Glowry, Acai Your Boobies & Anti Cellulite – transformed into lathery, sweet-scented exfoliating bath bars.
Ahead, all the juicy deets on our destined-to-be-a-bestseller Exfoliating Bath Bar Set.
INTRO'ING...OUR EXFOLIATING BATH BARS
Truly's Exfoliating Bath Bars is a 4-piece set inspired by our bestselling skincare lines — Unicorn Fruit, Buns of Glowry, Acai Your Boobies, and Anti-Cellulite. We know how much you love these products, which is why we created a highly concentrated formula using the signature ingredients and scents of each to bring you something extra special this summer!
Each bar of soap fits perfectly in the palm of your hand and buffs away dirt, oils, dead skin cells, and odors – revealing your freshest, silkiest skin. With notes of watermelon, acai, candy, and citrus, you can lather up with the iconic scents you know and love for an irresistibly sweet and long-lasting scent.
While regular soaps work much like your cleanser — removing dirt, oil, and odor — there's nothing regular about these natural bar soaps. Like their O.G. counterparts, each soap offers one or more skin benefits, including hydration, tightening, brightening, and smoothing. All will leave your skin feeling fantastic!
WHAT'S INCLUDED IN THE BUNDLE?
Get ready to feel some Deja Vu! The bundle contains four new products...with many striking similarities to your favorite Truly lines. Here's what's inside the new bath bar set:
Unicorn Fruit Bath Bar
Buns of Glowry Bath Bar
Acai Your Boobies Bath Bar
Anti Cellulite Bar Bath Bar
THE BATH BARS + THEIR BENEFITS
Every soap has her own story...
Unicorn Fruit Bath Bar
A hydrating bath bar based on our TikTok viral Unicorn Fruit Whipped Body Butter. Enriched with rose, vegan collagen, and acai, this nourishing bath bar gently cleanses skin while plumping out fine lines and sealing in long-lasting hydration. Unlike a lot of foaming body washes, shampoo bars, and soaps, this high-quality formula is incredibly soothing and hydrating. That dry, tight feel you get from regular soaps? You won't get that with this formula!
Buns of Glowry Bath Bar
A butt firming bath bar formulated with a powerhouse blend of watermelon, orange flower, and wheat protein to smooth out cellulite and stretch marks, banish breakouts, and perk up your peach. It also gently exfoliates skin, buffing away dull, dry skin for a silky smooth finish. Plus, it smells just like a freshly ripe watermelon. Yummy!
Acai Your Boobies Bath Bar
A boob firming bath bar powered by collagen-boosting retinol and antioxidant-rich acai to tighten chest skin, erase fine lines, and prevent the formation of blemishes. Acai Your Boobies Bath Bar is the perfect product to include in your personal care routine if you're looking to keep your pair youthful and perky. And with that iconic berry fragrance, how can you resist? It's a shower essential!
Anti Cellulite Bath Bar
Lather away dimply skin with this cellulite-smoothing bath bar. Made with retinol, orange flower, and vegan collagen, this resurfacing bath bar speeds cellular turnover while restoring skin's elasticity for your smoothest, springiest cheeks! Infused with a citrusy scent, it's the go-to bath bar for uplifting your spirits in the morning! You don't need to diffuse any essential oils when this citrusy little star is around!
HOW TO USE
In the shower or bathtub, massage your chosen bath bar gently onto your body using circular motions. Let the lather sit on your skin for a few seconds, then rinse with lukewarm water. Use daily to enjoy each bar's benefits. You can also double them up as hand soap to keep your paws clean and fresh!
For best results, follow up with the polish, serum, and butter from the bath bar's corresponding line. These bars work best when used with products from the same line.
If you don't have these on hand, always follow up with a hydrating body balm, lotion, or serum to replenish lost moisture.
WHO'S IT FOR?
All skin types can benefit from these exfoliating bath bars. If you have dry or sensitive skin, Unicorn Fruit Bath Bar is your best choice as it doesn't contain retinol — a common skin irritator.
If you're looking for luxurious soap bars that go beyond acting as your deodorant, this bath bar kit won't disappoint. All products in the set are vegan, cruelty-free, and made with clean, high-performing ingredients.
Whether it's your first time using or your last, you can always enjoy a super relaxing (or recharging!) bathing session when you bring these babies into the tub!
If you have a skin condition like eczema, speak to a dermatologist before using these bath bars.
GET THIS BATH BAR GIFT SET FOR A FRIEND
This delightful bath bar set would make the perfect present for a friend or loved one. Whether or not they've tried the Truly specials before, we're confident they'll be more than happy with these exfoliating bath bars. Besides smelling irresistible, they also come with a slew of skincare benefits.
Make things even more special for your bestie by purchasing this set with one of their corresponding lines. This way, they'll get to enjoy the full Truly experience. And you never know, you may just introduce them to product that'll transform their routine — and their skin!
Here at Truly, we are committed to providing high-performing vegan skincare products that make real change. We utilize some of the industry's best ingredients — retinol, vitamin C, coconut oil, shea butter, tea tree, green tea, and vegan collagen (to name a few) — to help target and treat your skin concerns. Right now, our newest product drop is our Exfoliating Bath Bars. Be sure to get them for yourself or a friend!
Soon to be available on Amazon, Ulta, and Target.
Before you checkout, have a little browse around and treat yourself to something else! You deserve it, babe!
Share
---