Order Up! The SpongeBob x Truly Beauty Collab is HERE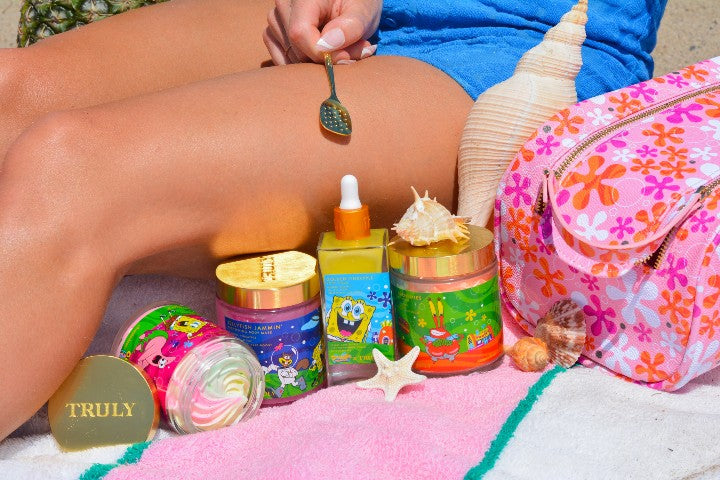 Are you ready beauty babes?!? The SpongeBob x Truly collab has officially arrived, and we couldn't be more excited!
Fresh on Truly's shelves...our limited edition, 4-step skincare kit inspired by Bikini Bottom's loveable crew — with all products available for purchase separately.
Swimming in deep under-the-sea and tropical ingredients, these body care formulas work to hydrate, protect skin from UV rays, clear blemishes, and deliver that fresh from the sea glow.
Hear all the juicy deets below.
SOAK UP SOME NAUTICAL NONSENSE
with our SpongeBob SquarePants-Inspired Skincare Collection
If you love SpongeBob and the Bikini Bottom crew just as much as we do, then you'll LOVE our brand new SB skincare line.
Made with Truly love, the collection features a bundle filled with four body care products plus a trusty gold spatula and bag. But if you don't fancy getting the full bundle, you can also purchase all of the products individually.
WHAT'S INSIDE THE SPONGEBOB BUNDLE?
Here's what's inside this colorful, fun, and nostalgic skincare line.
Best Frenemies Whipped Polish 
A fluffy, tropical-scented cleanser formulated with acne-clearing sea kelp, brightening antioxidants and ultra hydrating hyaluronic acid to cleanse, treat breakouts, and restore moisture for the ultimate head to toe glow. This resurfacing polish works like an exfoliant, buffing away dead skin cells to reveal fresh, illuminated skin underneath while allowing other products to absorb deeper.
Ever wondered how celebs like Lady Gaga and Olivia Rodrigo get that Grammys red carpet glow? Exfoliation! Sure, a good makeup look with a misting of setting spray helps, but you need a good canvas first — and that starts with a little skin buffing.
How to use: In the shower or tub, mix a little polish with water and massage into skin. Rinse well.
Jellyfish Jammin' Tightening Body Mask 
A soothing gel made with a blend of anti-inflammatory aloe, fine line-fading pineapple, and plumping hyaluronic acid to deliver smooth and supple skin all over. And don't worry, no jellyfish were harmed in the production of this vegan, cruelty-free body mask.
Like all the other formulas in the line, it also contains mango, sea kelp, and algae, which work together to nourish, tighten, and absorb UV rays, keeping your skin sparkling throughout spring, summer, and beyond.
How to use: Slather all over your body, let it sit for 10-15 minutes, then rinse thoroughly.

Golden Pineapple Body Serum 
A lightweight, elasticity-restoring serum to visibly brighten, tighten, and improve skin texture. Loaded with vitamin C and collagen, this sweet-scented formula helps to reduce dullness and discoloration while plumping out fine lines and wrinkles for skin that's springy, juicy, and summer-ready.
While pineapple gently loosens dead skin and buffs away hyperpigmentation, mango softens fine lines and hyaluronic acid keeps secures a dewy glow. And a boost of sea kelp protects skin from UV rays and daily pollution.
How to use: Use as a hydrating treatment before moisturizer for an instant natural glow. 
Best Buddies Whipped Body Butter
Inspired by BFFs SpongeBob and Patrick, Best Buddies Whipped Body Butter nourishes skin with a moisturizing blend of plumping mango, illuminating mango, and smoothing algae for that friendship kind of glow.
This colorful swirled butter works wonders for dry skin thanks to hyaluronic acid, which seals in moisture for long-lasting hydration. You definitely don't have to worry about looking like a crusty crab this summer with this body butter on hand.
How to use: Pop it on under SPF to save your skin from harmful UV rays. For best results, apply daily.
SpongeBob Gold Spatula
Modeled after SpongeBob's trusty spatula, this gold skincare applicator makes layering on your masks, serums, and butters way more fun — and far more hygienic. Instead of dipping your fingers into products, which transfers germs, this gold skincare spatula allows you to scoop just the right amount of product out so you can keep your products germ-free.
How to use: Use the tool to spread and slather on your fave Truly products. Wash after every use to keep things squeaky clean.
SpongeBob Beauty Bag
This flower cloud cosmetics bag is the perfect place to stash all your SpongeBob specials. Made from 100% vegan leather, this colorful cosmetics bag features an all-over flower cloud print and double zipper enclosure so you can pack, and go!
And FYI: it's bigger than it looks. Spacious enough to store your entire SpongeBob collection with extra space for lip gloss, bronzer, matte foundation, and maybe even a couple of makeup brushes. Alternatively, use it purely for your makeup collection, housing your fave eyeshadow palettes, shimmers, pigments, and setting mists in there. And feel free to throw in Wet n Wild's squidward makeup sponge and Kabuki Brush, or Hipdot's eyeshadow palette. We're digging those too!
How to use: Fill up your SpongeBob cosmetics bag with all your fave beauty essentials. Or store the rest of the SB line in there to stay on theme!
SHOP THE SPONGEBOB BUNDLE
Fancy getting everything altogether? Besides getting all the SpongeBob beauty goodies, you'll also save more in product value when you purchase everything together! You can also subscribe to the bundle and save 10% on every order. You'll get your order delivered straight to your door each month without having to worry about stocking up again!
The bundle contains all five products featured above. Remember, it's LIMITED EDITION, so order up before it's too late!
We're super thrilled to deliver this brand new buzzy collab to you! Whether you're a SpongeBob fan or not, everyone can benefit from using the skin-saving products in this bundle. They may look cute and colorful, but the SpongeBob skincare products contain high performing ingredients that can work wonders for your skin.
Soon to be available on Ulta, Sephora Europe, Walmart, Target, and Amazon.
Share
---