The Only 3 Beauty Products You Need to Shimmer Through the Winter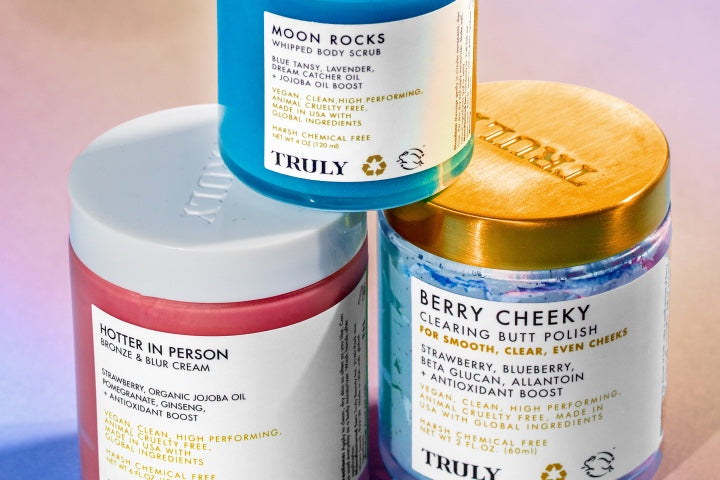 Want that Rihanna glow all year round? 
Now that's winter's almost here, most of us are already neglecting skincare staples we used all throughout summer and fall. Sure, we might swipe on a little highlighter or bronzer here and there. But we're not quite as committed to our sun kissed glow as we were just a few weeks back.
Trouble is, we do want to look glowy. We just don't want to spend more time than needed in our chilly bathrooms. Ugh. 
There is a solution. There is a way to achieve a year-round shimmer and glow. All it takes is three simple skincare products, delivered by Truly, to brandish a healthy glow throughout winter, spring, and beyond! 
INTRODUCING...OUR 'TUNED N TANNED TRIO 
Take your glow to new heights with Truly's latest three-step beauty routine: Our 'Tuned N Tanned Trio.
This bundle features every step you need for year long bronze: Hotter in Person Bronze & Blur Cream, Moon Rocks Body Scrub, and Berry Cheeky Polish to prep the skin for a shimmery tan. Exfoliate, cleanse, tan -- sans sun exposure. 
These skincare products are fit for all skin types, including sensitive skin. They're also all paraben-free, vegan, and cruelty-free for all the compassionate babes out there. 
Exfoliating, hydrating, and tanning, these three beauty products are your staples for sunkissed skin all year round.
WHAT'S INSIDE
Let us introduce you to the the three glow-ifying goodies.
Moon Rocks Whipped Body Scrub
Proper exfoliation is an essential step before self tanning to ensure an even, full coverage, long-lasting tan. 
Our Moon Rocks Scrub is formulated with a nourishing base of 100% organic coconut oil, brightening lavender, and elasticity-restoring vitamin E to buff and brighten your bod -- all wrapped up in a beautifully blue tint, à la moisturizing blue tansy. 
Vitamin E is loaded with essential antioxidants to boost your skin's daily dose of nourishment to support cell function and overall skin health. Lavender oil has antibacterial and anti-inflammatory properties that help kill bacteria to banish breakouts and reduce redness. 
As a fluffy sugar exfoliant, it's gentle enough for daily use, and sensitive skin friendly. 
How to Use: In the shower, or bath, massage a handful of Moon Rocks scrub into skin. Leave it on for a minute or two for complete hydration. Rinse thoroughly. 
Berry Cheeky Clearing Butt Polish
Berry Cheeky Butt Scrub is made with a blend of antioxidant-packed berries and beta glucan to unclog pores and calm irritated skin. While it's made with your booty in mind, you can use it all over for body acne and dull, dry skin.
This lightweight, whipped cleanser polish relies on a fruity blend of berries, naturally brightening jojoba beads, and acne-clearing allantoin and rose to clear active butt breakouts, dissolve dead skin, and treat dark spots and discoloration. Best of all, it's gentle enough to be part of your daily skincare routine.
Jojoba beads are a gentle, eco-friendly, biodegradable alternative to microplastics, which can potentially tear the top layer of your skin while exfoliating.
Beta glucan is a humectant moisturizer that tackles dryness, quells redness, and prevents moisture loss. It can also help against the formation of fine lines.
Rose extract is rich in vitamin C and phenolics, which translates to natural anti-inflammatory effects to reduce redness and discomfort in active breakouts. 
How to Use: Scoop out a small amount of Berry Cheeky, mix it with water to get a nice lather, and rub on your butt in circular motions. Let it sit for 2-3 minutes, then rinse. 
Hotter in Person Bronze & Blur Cream 
The one step secret for bronzed, beautiful skin: our brand new Hotter in Person Cream.
Blurring, buildable, and long-wearing, this self-tanning lotion glides on the skin like silk, leaving behind a subtle, sunkissed flow. 
This pigmented body cream is formulated with hydrating jojoba oil, naturally bronzing DHA, brightening strawberry, soothing ginseng, and gold shimmer to boost radiance and develop a gorgeous, gradual tan on all skin types without UV exposure. Hotter In Person conceals uneven skin tone and texture for an evenly bronzed, blurred effect. 
Ginseng is an anti-inflammatory that quells irritation, redness, and swelling while enhancing skin elasticity. Strawberries are rich in ultra-brightening vitamin C and AHA's, for a boost of sun-soaked radiance.
How to Use: Overnight application is recommended. Apply a generous amount of Hotter in Person cream on clean, dry skin and let it absorb completely. Wait several hours or apply overnight for your golden hue to fully develop. Repeat daily for a deeper tan. 
HOW TO MAINTAIN YOUR GOLDEN GLOW
Now that you're glowing from head to toe, you can enhance your look even more with a swipe of mascara, eyeshadow, eyeliner, and matte red lipstick. It's your makeup look. Be as experimental as you like!
In the meantime, keep your tan looking as dewy and even as ever by regularly moisturizing your skin between tanning sessions. Keeping your skin hydrated is essential for preventing dryness and flaking. It's also a good idea to exfoliate once a week to spur cell turnover and prevent those dead skin cells from dimming your glow.
Even if you're spending more time indoors now, keep up your sunscreen application. Even on cloudy days, UV rays are there, which is why daily SPF usage is crucial for keeping your skin happy and healthy! Opt for a broad-spectrum, oil-free sunscreen. 
Makeup artists swear by self-tan for a natural sunkissed glow. Best of all, you don't need to wear foundation or concealer when you're wearing self-tan as it naturally blurs out any blemishes. Apply a little eye makeup like pops of color from your fave eyeshadow palette, and you're good to go!
Just like your daily skin and hair care routine, it's important to keep up with your tanning sessions to maintain your glow. You only need the 'Tuned n Tanned Trio to achieve a year-round bronze, minus streaks, smudges, or blotches.
Use this throughout summer, and it'll feel like summer never ended!
You'll find all the Truly products on our official site, Amazon, and Ulta. 
Share
---