We Turned our 2 Fav Desserts Into Tightening Boob + Butt Lines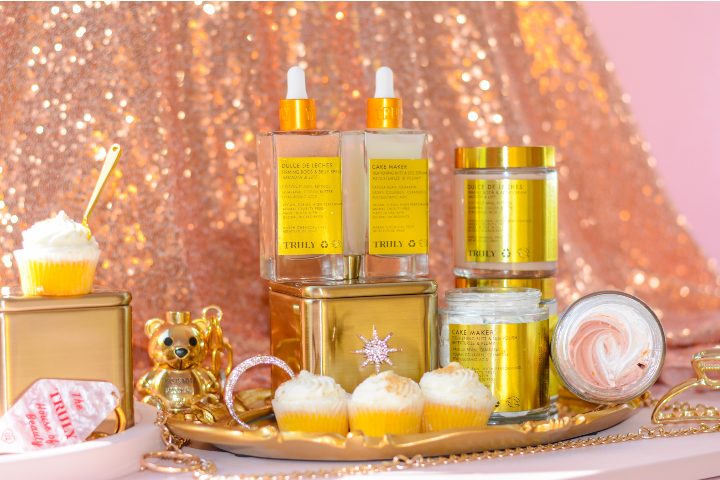 The dream team just dropped...our NEW Dulce de Leches + Cake Maker Lines designed to tighten, tone up, and smooth out the skin on your boobs, belly, legs, and butt.
Freshly-baked fragrance, irresistibly rich formulas, and made with only the finest vegan and cruelty-free ingredients…it's dessert for your dermis!
Scroll down to hear more about our freshly baked body care bundles.
DULCE DE LECHES KIT
Anyone else here digging Dulce de Leche? So are we! Which is why we whipped up our own version — using similar scents and textures with EXTRA skincare power.
Featuring three body-firming formulas: Dulce de Leches Polish, Dulce de Leches Cream, and Dulce de Leches Serum to buff, hydrate, and tighten your skin for ultra-perky boobs and a smoother, stripe-free belly.
Packed with collagen-boosting retinol, caffeine-rich guarana, and elasticity-restoring cocoa butter, this trio improves firmness of skin while helping to fade discoloration and plumping out stretch marks and dimples. Meanwhile, conditioning coconut milk and plumping hyaluronic acid work in tandem to deeply hydrate and seal in moisture for long-lasting softness.
How it Works
The reason this formula works so effectively is down to several carefully selected ingredients. If you're dealing with saggy breasts or a doughy tum, it means you're lacking skin elasticity. Ingredients like retinol restore elasticity in the skin thanks to its ability to boost elastin production, helping to firm up loose skin.
Retinol is a gold-tier anti-aging ingredient that's proven to boost collagen and elastin and speed up cell turnover to firm up skin while making fine lines and wrinkles appear less visible. Guarana is rich in caffeine and a natural skin constrictor to lighten up loose skin. Coconut milk, cocoa butter, and hyaluronic acid work together to deeply hydrate skin while warding off free radical damage for youthful, springy skin.
Incorporating these three products into your daily routine will work just as well as doing multiple reps of push-ups, bench presses, and crunches. It's not about weight loss, but working with your curves and making them just a little more sculpted. Get ready for your perkiest boobies and tum!
How to Use it
In the shower or tub, scoop out some of the polish and mix it with a little water to create a lather. Massage into your belly and

boobs

. Rinse thoroughly.
Apply 3-5 drops of the serum to your stomach and cleavage area.
Slather the

lotion

all over your

boobs

and belly.
Warnings
Avoid using this formula if you are pregnant or breastfeeding. The retinol in this formula can be harmful and cause undesirable side effects.
CAKE MAKER RECIPE
It's cake...for your cake!
We're serving up our freshly baked Cake Maker Recipe, a trio designed to tighten and tone your buns and legs while smoothing out cellulite and stretch marks. No squats or glute exercises needed here. You can actually indulge in cake...and sculpt up from it. Your cravings, fulfilled!
Featuring three body-tightening formulas: Cake Maker Polish, Cake Maker Cream, and Cake Maker Serum to buff, hydrate, and tighten your skin for smooth and sculpted legs and butt.
It's made with a mixture of free radical fighting vanilla, plumping plant collagen, and skin-tightening guarana to smooth out doughy skin and cellulite for fresher, plumper-looking skin. Ceramides and polyglutamic acid lend their skin-conditioning and strengthening properties, helping the skin seal in moisture for long-lasting hydration.
If you've lost a lot of weight and you're looking to tone up that loose skin, you couldn't possibly be dissatisfied with our Cake Maker Recipe.
How it Works
Looking to tone up in a short amount of time? Maybe you've been having a hard time lately sticking to gym sessions. Cake Maker won't give you next day results, but OMG, it will drastically improve the aesthetic and feel of your buns and legs. We're taking the hard work out of body toning.
Plant collagen and guarana are the superstar ingredients in this formula. If it's your first time hearing of any of these, plant collagen naturally boosts collagen and elastin in skin for plumper, juicier skin. Guarana is loaded with caffeine to constrict skin and fill in dimples for a tight and lifted booty.
Vanilla is antioxidant rich with the ability to fight off free radical damage, while ceramides and polyglutamic acid intensely hydrate skin for an ultra-smooth booty and legs.
Last year and the years following, we've been releasing more formulas targeted towards the butt and boobs. This is our first line that targets everything — boobs, belly, legs, and butt. When was the last time you showed any of those areas some TLC? Last week? Last year? Never? You'll thank us a million once you've tried these freshly baked skincare goodies! Be prepared to run out FAST!
How to Use it
In the shower or tub, scoop out some of the polish and mix it with a little water to create a lather. Massage into your butt and legs. Rinse thoroughly.
Apply 3-5 drops of the serum to your butt and legs.
Slather the

lotion

all over your legs and booty.
6 Products, 4 Bundles
You'll be able to purchase all the products individually as well as in bundles: Full Body TREATment (which features all six products), Batch Made in Heaven (Dulce & Cake Maker Polish Bundle), Dulce De Leches Kit, and Cake Maker Recipe.
Back up your workouts with these body-firming formulas, or use them alone to enjoy their sculpting superpowers. Your best friends, next door neighbors, and co-workers will definitely see a difference once you start using these products on a regular basis.
Whether you're a young woman with a low BMI or a 50-year old with a high BMI, everyone can benefit from using these products in their routine. These bundles are your allies for a smoother, firmer, super hot bod!
Whether you've experienced weight gain or weight loss, or you're simply looking to firm up, give our brand new products a try. Be sure to follow us on social media to see how they're used IRL. And remember to send your before and after pics! We'd love to hear what you think of these tasty little treats!
Now you really can have your cake and eat it too. No LOLs here! It's for real!
Share
---