How CBD Changed My Skincare Routine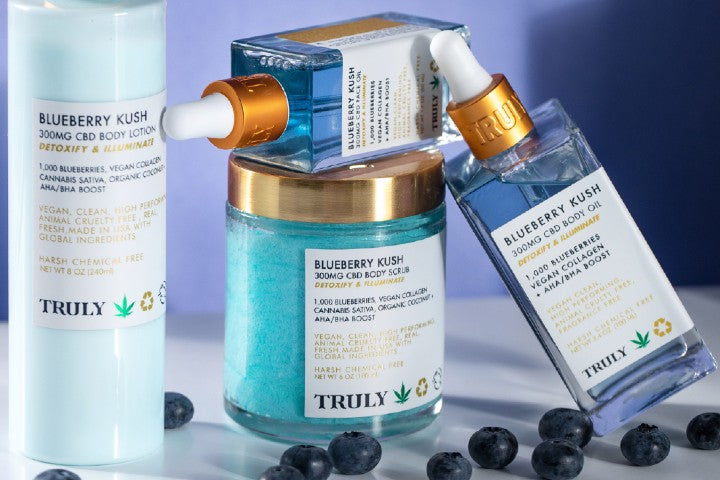 The cannabis beauty craze has been going hard for a while now. It still is! But is it really as good as they say?
The short answer? Absolutely!
If there's one ingredient to sink your teeth into right now, it's CBD. Packed with anti-inflammatory and antioxidant powers, CBD products can really transform your skincare routine. So if you've been hearing your friends ranting and raving about it, there is a reason why. 
To give you a little more background on CBD oil and its many skincare benefits, we've put together an article on how topical CBD works, why it can benefit your skin, and where you can get it. 
Take a read through and decide for yourself whether it's worth the investment.
THE SCIENCE BEHIND CBD
So basically, CBD stands for cannabidiol, a cannabinoid found in the cannabis plant. No, it won't get you high. That's because it doesn't contain THC - the element in cannabis that gives you a euphoric feeling. However, it can pose legality issues depending on its origins. See, CBD derived from the hemp plant is always legal. Cannabinoids derived from the marijuana plant is illegal except in certain states that allow medicinal marijuana programs.
Studies show that CBD skincare products deliver anti-inflammatory effects and antioxidant properties. 
According to cosmetic dermatologist Shereene Idriss, M.D., of Union Square Laser Dermatology, "There's a 2014 study in the Journal of Clinical Investigation that showed promising results for using CBD to treat acne." In other words, CBD beauty products could help banish your breakouts. That's because it balances oil levels, reducing sebum on the skin that clogs pores and leads to pimples. 
It is also said to treat various skin conditions like eczema and psoriasis. 
"We have receptors in every layer of our skin which trigger to our body when there is pain, an itch, etc.," explains Dendy Engelman, MD, board-certified dermatologist of Manhattan Dermatology and Cosmetic Surgery. "Topical CBD is designed to help those with pruritic skin conditions like eczema or painful conditions like post-herpetic neuralgia when our body's signals are going haywire. For example, it is not necessarily targeting eczema, but the hormones that are causing the eczema flare-up."
To sum up, the main benefits of CBD include reducing inflammation, regulating oil production, and neutralizing free radical damage.
HOW CBD LEVELS UP YOUR SKINCARE PRODUCTS
Besides offering a ton of skincare benefits, incorporating CBD into your skincare routine can give your other products a boost. In fact, it's a cost-effective way to enhance your products. So if you have a costly serum or facial oil, try adding a few drops of CBD oil in there too for a little boost. 
The great thing about CBD is its versatility. It offers a slew of benefits for the skin. Plus, it pairs well with many ingredients, like vitamin C, collagen, and hyaluronic acid. 
Of course, you can also look for it in products like moisturizers and serums. If you're the kind of person who prefers a simpler approach to skincare, it's worth investing in two or three good products that contain CBD. Just make sure you use them consistently (like, every day) so you can reap all the benefits from them. Staying consistent is key to seeing results from CBD.
THE SOOTHING POWERS OF CBD SKINCARE
Thanks to CBD oil's anti-inflammatory properties, using it in a lotion, face serum, or cleanser can help treat tightness, dryness, and any itching. It can also help reduce rosacea flareups and works perfectly for sensitive skin. If you have inflamed skin, we highly recommend making hemp seed oil a part of your beauty routine. And the best part: most new products that contain CBD in its purest form are suitable for all skin types. So you don't need to worry that it's going to leave your skin all tight, red, and sore. 
It might even be worth making it a part of your wellness routine. 
According to Cindy Capobianco, the co-founder and president of Lord Jones, "CBD has been used for centuries to successfully relieve pain and treat skin conditions such as eczema, psoriasis, and rosacea — even sunburn and bug bites — when used topically." She adds, "It has the additional benefits of mood stabilization, relief from anxiety, and promoting a calm sense of well-being."
So yeah, there's certainly evidence to suggest making CBD a part of your skincare and self-care routine is a very good idea.
BEST SKINCARE PRODUCTS WITH CBD
Truly's Blueberry Kush Bundle
This detoxifying and illuminating skincare bundle clears away impurities, while nourishing your skin cells with fatty acids to treat dry skin and provide anti-aging effects. The result? A beautiful, hydrated glow.
Inside you'll find a: Blueberry Body Scrub, Blueberry Body Lotion, Blueberry Face Oil, and Blueberry Body Oil. All these products contain high-quality CBD, as well as blueberry oil, coconut oil, vegan collagen, and an AHA/BHA boost. They're the perfect products to add into your self-care regimen. And thanks to their moisturizing abilities, they'll leave your skin feeling ultra soft and smooth. Major skin transformation superpowers! 
When using these products in your daily beauty routine, start with the scrub followed by the oil and then the lotion to seal in all that goodness. Apply the face oil after washing your face. You can also dab a little bit of the oil onto your lips for added moisture. Think of it as a lip balm substitute - that's sooo hydrating!
If you purchase good quality CBD skincare products and use them consistently, CBD really can change your skin. Whether you're struggling with dryness, redness, fine lines, or breakouts, CBD can treat a variety of skin concerns. Whatever yours is - it's definitely worth giving CBD a chance. 
As you've seen from above, you don't need to spend a fortune to get CBD-infused products that deliver results. So go grab yourself a Blueberry Kush Kit and start enjoying all those awesome benefits CBD provides. Just make sure you give it a couple of weeks so you can give it a chance to work.
Share
---