8 Truly Products Currently Trending on TikTok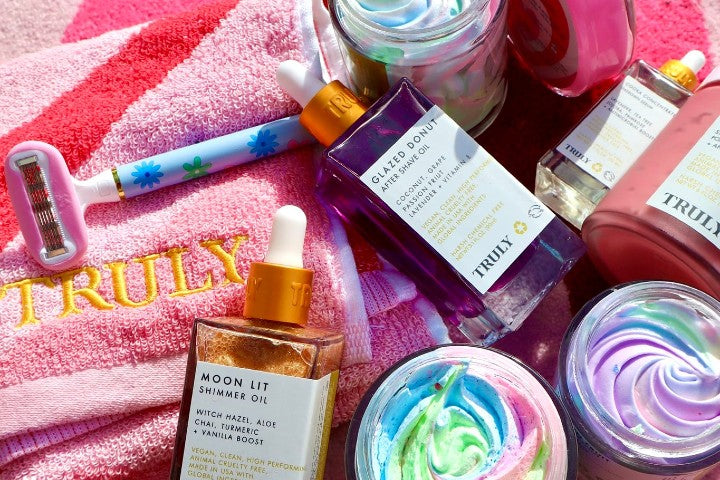 Wanna hear about the Truly products currently blowing up on TikTok?
Anyone who follows us on the social media platform should know that we've got tons of viral TikTok beauty products (hashtag #TikTokMadeMeBuyIt!) that actually owe their fame to beauty-savvy TikTokers. 
Since trends and hypes come and go, we want to update you on the Truly skincare products going viral on TikTok RN! 
Wanna be the first to know? Keep scrolling!
#1: Buns of Glowry Polish
Few knew butt care was necessary until Buns of Glowry Butt Polish arrived on the scene. Brightening, tightening, exfoliating, and moisturizing, this booty scrub is here to give your tush an extra push. Because she's honestly not getting enough love. Just saying. 
Retinol, watermelon, and wheat protein are the real heroes here. While retinol speeds skin cell turnover for smoother skin texture, wheat protein increases firmness of skin and watermelon intensely hydrates and plumps. Make it part of your weekly skincare routine for best results. 
TikTok users can't get enough! 
#2: Coco Cloud Whipped Shave Butter
Remember when shaving was just something you needed to do? We've officially revolutionized the shaving game to make it something you actually want to do. Cool, huh?
Our Coco Cloud Whipped Shave Butter is just one of many of our lush shaving products designed to leave you with the silkiest, ultra-close shave of your dreams. With no ingrowns, razor burn, or bumps in sight!
This whipped coconut milk-infused shave butter blends vanilla with argan oil and vitamin E to soak into your skin to combat ingrowns and leave the skin hydrated and radiating tropical post-vacation vibes. We're bringing the beach to your bathroom! No wonder TikTokers are obsessed...
#3: Moon Rocks Whipped Body Scrub
Glow recipe right here!
For soft, gleaming, glassy skin, massage your bod with this moisturizing and invigorating body scrub. This whipped sugar scrub is made with a nourishing base of organic coconut oil, brightening lavender, and protective vitamin E to buff and brighten dull skin. And that beautiful blue pigment? You'll have to thank blue tansy for that!
So why all the fuss about this viral TikTok product? There are multiple reasons! First, it looks adorable! Who wouldn't want this cutie sitting in their skincare fridge? Second, it's made with some badass ingredients known to diminish dry skin. And third, it's a fluffy sugar exfoliant containing zero harsh, non-biodegradable microplastics, making it accessible for all skin types.
#4: Happy Hairless Shave Butter
Another shaving superstar!
Happy Hairless Shave Butter first caught TikTokers' attention when influencer Amanda Cerny shared her collab on the Smooth Legend line. It instantly became a viral product!
Happy Hairless Shave Butter is a whipped, full-bodied butter formulated with a blend of hydrating coconut, antibacterial lavender, and elasticity-restoring passion fruit for an effortlessly gentle razor glide and an ultra smooth shave.
Besides restoring moisture, this formula wards off shaving code reds like ingrowns, razor bumps, razor burn, and redness. 
TikTokers tried it....and LOVED it.
#5: Smooth Legend Pre-Shave Scrub
"What I really like about this Smooth Legend scrub is that it's not super abrasive, yet still moisturizing. The perfect prep for an even closer shave." -- Amanda Cerny.
This lightweight, sugar-based scrub buffs away dead skin cells and body odor, loosens hair follicles, and cleanses away pore-clogging products to reveal smooth, glowing skin. It works great either alone or before shaving for a super silky finish.
So, what's the big deal? Apart from Amanda Cerny being a fan, Smooth Legend contains a nourishing blend of grape seed, coconut, and vitamin E to hydrate, heal, and spur cell turnover, keeping your skin bouncy, youthful, and healthy.
TikTokers agree it's a must-have grooming companion. Plus, it smells heavenlyyyyy.
#6: Glazed Donut After Shave Oil
After shave creams and oils used to be a thing for men. No more! 
Glazed Donut After Shave Oil is a cooling, flash-absorbing serum that's summer scented, moisture-replenishing, and heroically healing to comb ingrowns and active inflammation, while leaving skin smooth, soft, and subtly fragranced.
Need a tutorial on how to use it? Check out our TikTok page and watch the Truly babes putting it to work! It's seriously the best hack for preventing and alleviating post-shave irritation. 
Remember to finish with a generous layer of SPF!
#7: Moonlit Shimmer Oil
Ready to ditch the leggings in favor of something a little more....revealing??? TikTok beauty babes were! That's why they couldn't heart this sparkling body oil fast enough when it first hit the social media platform's spotlight.
Moonlit Shimmer Oil is a nourishing, flash-absorbing dry oil infused with champagne gold shimmer for a radiant glow on the go. Infused with brightening chai spices and soothing witch hazel, this lightweight formula can be applied anywhere for boosted luminosity: the cheekbones, cupid's bow, cleavage, or thighs. 
It's also buildable on all skin tones for a customizable glow ranging from sun-kissed to disco ball dazzling.
Pair it with a swipe of mascara, lip gloss, highlighter, and concealer -- and don't forget to slip on a cute LBD! 
#8: Cooka Oil + Concentrate
Excuse me, but your *nether regions* need more lurrrve. 
Whether you shave or rock a full bush, Cooka Oil + Concentrate are the perfect pair to soften coarse pubic hair, alleviate ingrowns and soothe even your most sensitive skin. Plus, they can be used on other areas of your body and not just *down there.*
Formulated with lavender, tea tree, jojoba oil, and primrose, these baddies banish post-shave dryness, promote healthy hair growth, and soften skin. You won't find products like these at your local drugstore. 
TikTok is forever churning out trending makeup looks, eye creams, and beauty dupes. One minute hyaluronic acid's all the rage. Next, it's cleansers infused with niacinamide and glycolic. Sometimes, even certain beauty brands like Cerave, E.L.F, Maybelline, L'oréal Paris, The Ordinary, and Revlon have their moments. Or often it's specific products like Sky High Mascara, Fresh Wear Foundation, and BHA Peeling Solution. 
Want to get in on the action? Try Truly's trending TikTok products that are getting the internet's attention RN. And probably already popping up on your FYP! You're going to LOVE what's in store!!!
If you have a skin condition, speak to your dermatologist before trying new products. 
P.S. You'll find these supers on Amazon, Sephora, Ulta...and of course...the Truly online store!
Share
---