A Look into Amanda Cerny's Shave Routine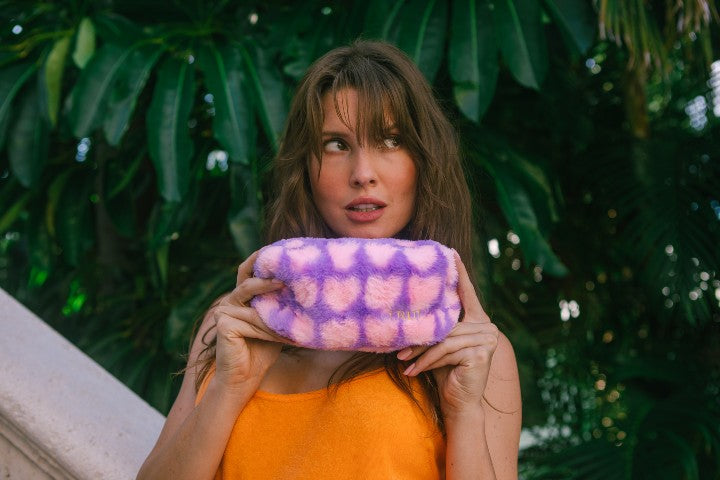 It's shave week at Truly Beauty!
We collaborated with the beautiful and talented Amanda Cerny on our brand-new shaving line to commemorate the special occasion.
If you're on social media, chances are you know of Amanda Cerny. She has a massive following on Instagram and TikTok and a slew of subscribers on YouTube. But it's not hard to see why. Besides her stunning appearance, the former Playboy model loves pulling pranks and sharing them on her YouTube channel. And honestly? We love watching them!
You've no doubt seen her doing hilarious (and heart-to-heart) videos with the likes of Jake Paul, Alissa Violet, Gabbie Hanna, and Sommer Ray.
As one of our fave YouTubers, she definitely gets the thumbs up from us! Seriously, go check out her vids!
Besides being a comedy queen who looks sensational in front of a camera, Cerny's also a UN Ambassador, savvy businesswoman, and something of a Hollywood star (you may have seen her in movies like 211, Rim of the World, or The Babysitter: Killer Queen). Yup, she's a pretty big deal on and off the big screen!
Just yesterday, we got up and close with the star to talk about her shave routine and how she stays soooo smooth with our spanking new, just-dropped  Smooth Legend Shave Kit. Lucky us!!!
Hear what she has to say about Truly's latest shaving kit...
Smooth Legend Shave Kit
Amanda Says...
"It's everything you need for the perfect shave."
Any good shave requires three essential skincare products: an exfoliator, shave butter, and shave oil. Without these three fundamentals, you just won't get that ultra-close soft-to-the-touch skin you're seeking.
Welcome, Truly's brand-new Smooth Legend Shave Kit Compilation which features our Smooth Legend Pre-Shave Scrub, Happy Hairless Shave Butter, and Glazed Donut Shave Oil -- everything you need for the smoothest shave of your life.
Even Amanda herself digs the kit, saying "I'm all about being productive and every step in this is fun and gets the job done."
She adds, "Ring ring a clean shave is calling."
Sound good?
Grab one of these kits yourself to get what Amanda calls "the perfect shave."
HOW AMANDA CERNY SHAVES TO SILKY SMOOTHNESS
The secret to the vlog channel star's super soft limbs? 
She Starts with a Fresh, Five-Bladed Razor
Everybody knows the importance of a fresh, clean, high-quality razor. So why do we rely on those cheap disposable ones? 
Being in front of the camera all the time and at big events like Cannes, Amanda Cerny knows the importance of a good shave. That's why she knows to start with a decent razor.
With a five-bladed razor like what Cerny uses, you can catch all those hairs with one stroke and you don't have to worry about next day razor burns, bumps, and ingrowns. Phew!
Make sure you do the same!
She Preps with Smooth Legend Pre-Shave Scrub
Exfoliation is an often overlooked yet crucial step in a shaving routine to slough away dead skin cells and prep the skin for a close, even, painless shave.
Smooth Legend Pre-Shave Scrub is a resurfacing, brightening exfoliator formulated with coconut, grape, passion fruit, lavender and vitamin E to spur cell turnover, loosen hair follicles, minimize inflammation, and retain moisture.
The formula ensures a super close razor glide and a baby-smooth post-shave feel.
"What I really like about this Smooth Legend scrub is that it's not super abrasive, yet still moisturizing. The perfect prep for an even closer shave," says Amanda.
She also points out that she loves the clean ingredients. 
Whether you're heading out for a first date, third date, or you just want to look smooth at your next cardio session, be sure to pick up this invigorating scrub.
She Lathers Up With Happy Hairless Shave Butter
"The name speaks for itself," says Cerny.
By that she means, you'll literally feel happy and hairless simultaneously when you use this shave butter.
This whipped, full-bodied butter blends hydrating coconut with elasticity restoring passion fruit for an effortlessly gentle razor glide. 
According to Amanda, "A little goes a long way," so you only need to use a small amount to get things started -- and finished.
She later points out that the butter "starts whipped, then lathers, and creates an amazing glide for your razor."
Using it, Cerny says, is "a whole experience in itself."
Want silky smooth legs like Kim Kardashian, Ariana Grande, or Amanda Cerny? You're gonna wanna try this. 
She Oils Up With Glazed Donut After Shave Oil
Live life to the fullest by treating your legs to this Amanda Cerny-approved shave oil.
"If the name isn't perfect enough, the results are," she gushes.
This cooling, summer scented, flash-absorbing formula is the perfect post-shave product to ward of dryness and bumps and heal active inflammation. It replenishes lost moisture and keeps you feeling smooth all day long -- without the greasy feel some oils have.
Amanda also agrees, chiming in "After using this, I don't feel greasy, I feel like I'm glowing."
And this is coming from a woman who's glowing 24/7!
She also emphasizes its effectiveness in easing irritation.
"After using this product, I'm able to finally say goodbye to razor bumps and ingrown hairs," says Cerny. "I look like a literal glazed donut after this."
The star is just as in love with the smell, saying it makes her feel "like the sweet little biscuit I am."
And that's the end of Amanda Cerny's shaving routine.
Want to give the star's shaving routine a try for yourself? 
Treat yourself to Truly's NEW Smooth Legend Shave Kit for that silky, fresh-shave-on-clean-sheets feel, every time.
Share
---