Pink for a Purpose: Supporting Clean Beauty During Breast Cancer Awareness Month 2023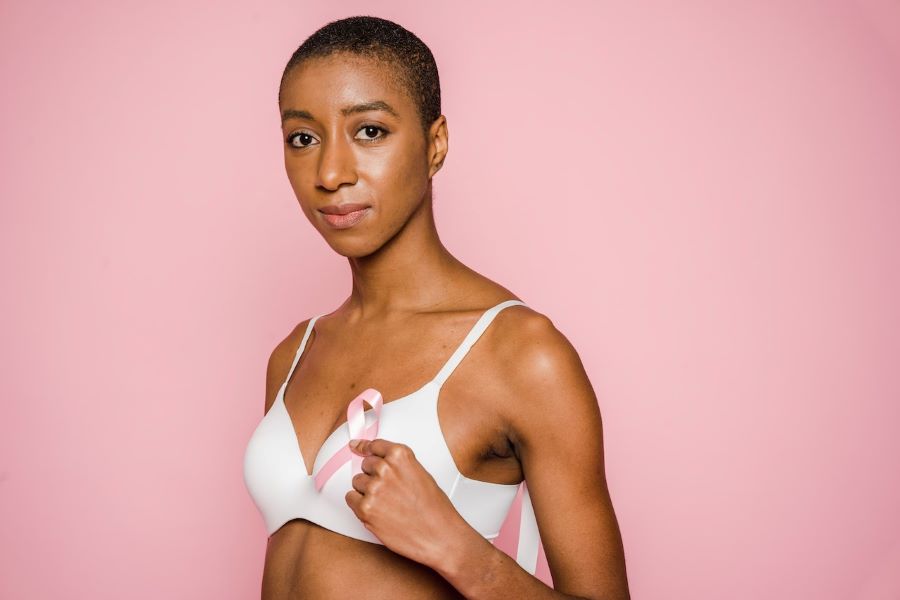 The 1st of October marks the beginning of Breast Cancer Awareness Month, otherwise known as "Pink October." Breast Cancer Awareness Month has been celebrated every October for the last 90 years with people all around the world wearing pink (and often a pink ribbon) to raise awareness about breast health.
Clean beauty plays a crucial role in this initiative as it offers safer alternatives to conventional products, reducing exposure to harmful chemicals linked to breast cancer risk. It minimizes endocrine disruption, supports patients in treatment with gentle ingredients, and promotes overall well-being. 
Ahead, we discuss the importance of choosing clean beauty products and most importantly, how to care for your breasts. 
Truly's Commitment to Clean Skincare and Breast Cancer Awareness
At Truly, we are and always have been committed to providing you with clean, vegan, and cruelty-free beauty products. Our products are developed with a clean and vegan base, combined with the most powerful, high performing skincare ingredients for transformative results–and the most luxurious experience. 
The connection between certain ingredients in cosmetics and breast cancer is a matter of growing concern. Many conventional beauty products contain potentially harmful chemicals like parabens, phthalates, and formaldehyde-releasing agents, which have been linked to hormone disruption and an increased risk of breast cancer. That's why choosing clean skincare is crucial. Clean skincare products, free from these harmful ingredients, offer a safer alternative for maintaining healthy skin without putting yourself at risk for breast cancer.
How to Take Care Of Your Breasts
Regardless of your age, everyone can benefit from practicing good breast self-care. Here's how to take care of your breasts. 
1. Perform a Monthly Self-Exam
Regularly perform breast self-exams in order to become familiar with the normal look and feel of your breasts. This can help you detect any unusual changes such as lumps, changes in skin texture, or nipple discharge. If you notice any of these changes, consult a healthcare professional.
In the mirror, look at your breasts with your arms by your sides and then raise them over your head. Look for any changes in the skin and shape, or changes in the nipples. 
2. Go For Regular Clinical Exams
Schedule regular clinical breast exams with your healthcare provider to ensure your breasts are healthy. These professionals are trained to detect subtle changes that may not be noticeable during self-exams. As part of the exam, a trained professional will carefully feel your breasts and underarms for any changes. 
3. Get a Yearly Mammogram
Most medical organizations recommend that women have an annual screening mammogram at age 40. A mammogram will find breast cancer at its earliest, which means it'll be most treatable.
4. Choose Clean Skincare
Certain skincare ingredients such as parabens, phthalates, and sulfates have been associated with adverse health effects, including an increased risk of breast cancer. Clean beauty products are formulated without these harmful ingredients, reducing the potential for exposure to substances that may contribute to the development or exacerbation of breast cancer.
5. Always Apply Sunscreen
Breast health organizations recommend daily use of a sunscreen with SPF 15 or higher. Sunscreen helps protect the skin from the damaging effects of UV radiation. Prolonged and repeated exposure to UV rays can lead to skin damage, including sunburn and the development of skin cancer, such as melanoma. While melanoma is not directly related to breast cancer, taking steps to protect your skin from UV radiation can reduce your overall cancer risk.
6. Eat Well, Stay Active 
Last but not least, keep your breasts healthy by eating healthy and getting plenty of exercise. The American Cancer Society's recommendations include eating more fruits and vegetables, getting regular physical activity, limiting processed food, and reducing high-calorie foods and beverages.
Try one of Truly's clean beauty boob bundles to keep your pair healthy, happy, and perky. 
Boobie Routine
Our bestselling boob routine featuring a polish, serum, and butter packed full of retinol, acai, and free radical fighting antioxidants. With the delicious scent of succulent blackberry. 
Dulce De Leches Routine
A deeply indulgent boob and belly routine with powerful firming and smoothing effects. It features a polish, serum, and cream full of coconut milk, cocoa butter, retinol, and hyaluronic acid for smooth, supple, and sculpted curves.
Think Pink with Clean Skincare
In support of Breast Cancer Awareness Month, we've rounded up our favorite pink products that are packed full of clean, vegan, and eco-friendly ingredients to nourish and nurture your skin. Take a look, and treat yourself to something Truly special. 
Unicorn Blast Bundle
A beauty routine that belongs in fairytales. Unicorn Blast Bundle features three iconic swirls–body polish, butter, and lip balm–plus a luxe and lathery bath bar. Enriched with matcha, rosewater, acai, and shea butter. Get fresh, plump, and silky smooth in four fun and fabulous steps.
Bubble Butt Set
Restore your firmest, tightest skin with the Bubble Butt Set. A scrub and serum infused with retinol, kombucha, saffron, and dragon fruit to repair damaged skin, plump out lines, and leave skin visibly toned.
Barbie™ Dream Bundle
It doesn't get pinker than this! Barbie™ Dream Bundle targets body acne, ingrown hairs, and dry skin with powerhouse natural ingredients like tamanu oil, witch hazel, lemon peel oil, and aloe. 
Ultimate Smooth Legend Shave Set
Don't settle for any shave. Enjoy a clean, ultra-close shave with the Ultimate Smooth Legend Shave Set. With a pretty pink scrub, swirly shave butter, and silky after shave oil, you'll achieve perfectly smooth results without ingrowns or razor burn. Razor and vegan fur bag included.

Feature photo by Klaus Nielsen, Pexels



Share
---