Celebrate St Patrick's Day with these Irish Beauty Tips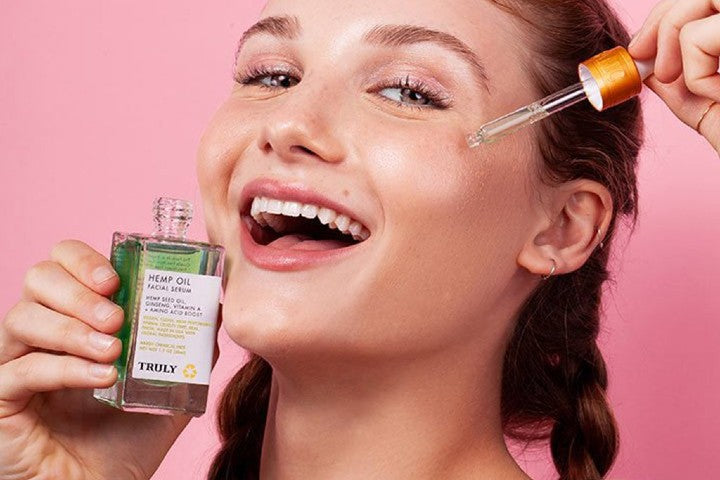 In honor of St. Patrick's Day, we've decided to put together some tried-and-tested Irish beauty secrets to leave your skin and hair feeling amazing.
You might not know it, but Ireland has borne a host of stunning Hollywood stars, including the iconic Irish actress Maureen O'Hara.
According to researcher James Potter, "She was glamorous and arguably stereotypically Irish, but she was a really respected Dublin talent."
Other Irish beauties you may have heard of include Saoirse Ronan, Eve Hewson, Evanna Lynch, and Katie McGrath, to name a few.
From beer rinses to seaweed baths, here's everything you should know about Irish beauty rituals.
OATMEAL FACIALS
Since the 1800s, Irish women have cleansed their faces with oatmeal and buttermilk. It's no old wives' tale. Oatmeal is proven to offer cleansing, moisturizing, and anti-inflammatory benefits, which can alleviate dry skin, irritation, rashes, and acne. There's even evidence to suggest oatmeal can strengthen the skin barrier.
"There are polysaccharides (long sugars) that bind water to the skin surface, making colloidal oatmeal a humectant," says holistic board-certified dermatologist Cybele Fishman, M.D. "It has lipids, which reinforce the skin's barrier, and saponins, which are like natural soaps and anti-infective. It also contains the antioxidants ferulic acid, caffeic acid, and coumaric acid."
Go green for St. Patrick's Day with Truly's Hemp Bundle, featuring a face mask and serum formulated with hemp, vitamin A, aloe vera, and oat amino acids.
FAKE TAN
According to Sonia Deasy, founder of skincare brand Pestle & Mortar, "Ireland is the biggest consumer of fake tan per capita in the world."
She elaborates, "It is estimated that over 40% of Irish women use fake tan on a regular basis. Irish women love to be tanned and much prefer this look over being fair-skinned."
The great thing about false tan is that you can maintain a sun-kissed look all-year-round without damaging your skin. It really is the safest way to stay bronzed.
To nail fake tan application, celebrity tanner Jules Von Hep says, "Work methodically from legs, upwards and take your time." She also recommends using a mitt when applying self-tan.
"A mitt protects the tan from absorbing into the hands but also helps evenly distribute the product," she explains.
And if you plan on tanning your face using the same formula as your body, Hep pleads,
"Repeat after me, two coats on the body and one on the face."
BEER RINSES
St. Patrick's Day wouldn't be St. Patrick's Day without beer. Don't want to drink it? Rinse your hair in it instead.
According to research, malt and hops (the two main ingredients in beer) contain proteins that strengthen hair cuticles, promoting healthier, shinier strands.
"Because beer is rich in proteins and vitamins, through the natural barley and hops, it does contain nutrients for helping to develop healthy hair," explains hair restoration surgeon Dr. Ryan Welter. "Many people have thus seen the benefits of fuller, thicker and more bodied hair through the use of a beer rinse. However, it's not acting on growing hairs, but rather existing ones. There is no evidence beer can help hair grow."
SEAWEED BATHS
The Irish have been enjoying seaweed-infused baths since the 20th century. Back in the old days, they would bathe in free sea water and actual seaweed leaves to heal body pain, increase circulation, and soothe the skin.
"It has long outlasted other beauty and health trends—and for good reason. It can provide comfort, as well as health benefits, during this difficult period," says Mark Walton of skincare brand Voya.
But what exactly is it that makes seaweed so powerful? This sea plant is packed with vitamins and minerals such as zinc, omegas, and magnesium – all known for nourishing and healing the skin. Experts say taking regular seaweed baths can also be helpful in treating chronic conditions like eczema and psoriasis.
Did you know seaweed is equally as beneficial to the hair, too? Try Truly's Seaweed-Infused Super Plant Bundle to get one step closer to a mermaid mane.
RED HAIR
How about taking a walk on the red side this St. Patrick's Day to embrace Irish beauty?
Like going blonde, red is a fun color to switch things up a bit. So if you're feeling experimental, try going red this season.
According to Clairol Color Director James Corbett, red hair fades quicker than other shades, so it's worth washing your hair less often to preserve the hue. Also, be sure to wash your strands in a color-protecting shampoo and conditioner to keep the shade fresh. 
"When deciding to go red, keep in mind whether your roots differ from your ends. If your ends are lighter, the red will show up more," says Corbett. "If your ends were previously colored a darker shade, the red may show up on your roots more than your ends."
Depending on the look you're going for, you can choose from warm reds like reddish brown if you want to keep things subtle. These are best for blonde or light brown base colors. For something more dramatic, opt for cherry, burgundy, or plum shades. These work best with darker skin tones and medium to dark brunettes.
BARLEY TEA
Whether applied topically or drunk, barley tea can boost the skin's epidermal growth factors and in doing so, reduce signs of aging.
Loaded with nutrients such as B vitamins, niacin, and calcium, barley can power up our brains and our immune systems. Besides that, it's an awesome skincare ingredient.
In addition to offering antiaging benefits, barley tea boasts powerful anti-inflammatory properties, which can ease everything from acne to eczema. It's a soothing ingredient worth incorporating into your daily diet or skincare routine.
While you may not be able to celebrate St. Patrick's Day 2021 at a fun event, bring the celebration to your home instead. Invite over some gal pals, decorate your pad with green balloons and giant clovers, and try out some of the Irish beauty rituals above. It can still be an awesome St. Paddy's Day.
Share
---