Hold on to Your Empties!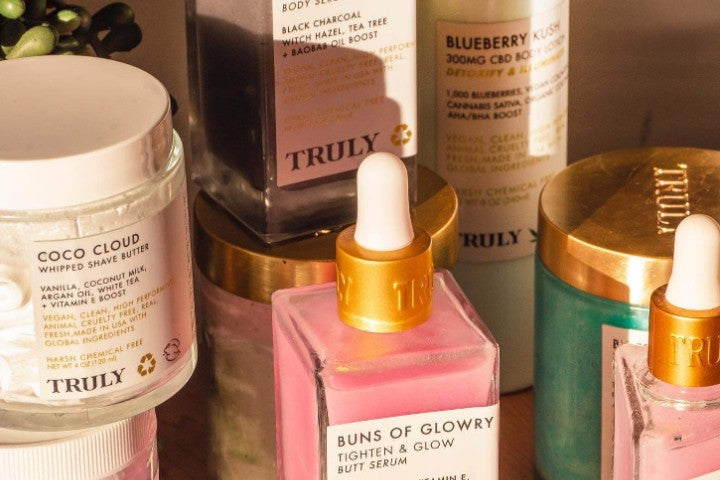 If you're a bit of a skincare junkie, you're probably going to end up with a dozen empty bottles and jars at some point or another. Before you mindlessly throw them in the trash, think about what you could do with these empties. Most of these skincare bottles can be recycled or repurposed to make the world a cleaner place, while saving you money!
So the next time you use up the last drops of your face cream or body lotion, keep them, wash them out and dry them, ready for re-use. 
Need some inspiration on what to do with your empties? Read on…we've got some great ideas for you.
WHY RECYCLING  AND REPURPOSING MATTERS
According to a survey carried out by Unilever, over half of Americans are aware that personal care products are recyclable, but as few as 34% recycle them. 
The worse part: cosmetics play a significant role in plastic waste. 
"120 billion units of packaging are produced every year by the global cosmetics industry," says Stephen Clarke, Head of Communications at TerraCycle Europe. 
He continues, "Most common beauty products and packaging contribute to the world's growing plastic waste problem and, without adequate recovery solutions, are tracked for landfills, burned, buried, or simply littered where waste management is insufficient. Many plastic waste items find their way into oceans and waterways, compounding the problem with environmental hazards."
And that is why recycling and upcycling matters! Luckily, we've found some fun ways to repurpose your cosmetic products.
A DIY Skincare Jar
Like whipping up your own skincare formulas? Instead of buying brand new containers, hold on to your empties and re-use them to store your DIY skin products. Because DIY skincare lacks preservatives, it doesn't last long. That's why it's more convenient, cost-effective and earth-friendly to pot them up in upcycled bottles and jars. 
You could even create your own labels to add a personal touch to your homemade beauty potions. And, with Christmas just around the corner, how about sending them as gifts?
For Travel
To prevent throwing your skin out of whack when traveling, keep those travel-sized cosmetic tubs and bottles and re-fill them with your favorite products. You don't need to go out and buy miniatures every time you prepare for a plane trip. As long as you hold on to your empties, you've always got containers ready to fill up. 
Plus, you don't need to worry about sudden breakouts or rashes on your vacation thanks to the generic hotel soaps and shampoo. You'll have your own stuff – you're safe!
A Place for Pre-soaked Cotton Pads
Fancy creating your own pre-soaked cotton pads? Right now, they're hot stuff in the skincare industry, so why not see if they're worth the buzz without splurging on store-bought pads? It's easy-peasy!
Keep a skincare container that's large enough to store cotton rounds. Make sure it's super clean before using and that there's no residue left of your old product. Put in some cotton balls or pads, then fill up the container with your go-to toner. Now you've got pre-soaked cotton pads that you can use right away.
Besides being really affordable to make, they're also handy for keeping on your dresser or in your handbag for whenever your skin needs a quick refresh.
Window Garden Planters
If you're living in an apartment, there's no better way to brighten up your home than with colorful window garden planters. Besides spicing up your home, they also cleanse the air you breathe. 
Truly's cute bottles would make wonderful window planters. All you need to do is wash the bottles thoroughly and let them dry, then cut the plastic in half using a knife. Add in soil, a few sprinkles of water, and the plant of your choice – you've now got your pretty little planting flower that you can place near the window. It may sound like a lot of work, but it shouldn't take more than 30 minutes max. Best of all, it's a chance to give your flat a little DIY décor. 
A Piggy Bank
After all, you'll need somewhere to store all the money you're saving. If you have kids, this'll be a fun activity you can do together – and educational! It'll teach them the importance of recycling and saving money. And don't worry, you don't need to be Picasso to nail the DIY piggy bank.
Wrap the empty bottle with colored paper of your choice, using glue to hold it in place. Next, draw the piggy ear shapes and glue the inner shape to the outer shape. Then bend back the bottom of the ear and glue it to the bottle. To finish up, create the piggy's eyes, snout, and nostrils with black sharpie. You should be left with a fun and colorful creation that's ready to use.
HOW TO CLEAN YOUR EMPTIES
Once you've finished with a product, it's best to wash the container out properly before re-filling it – even if it's with the same product. To do that, wash out the bottle or jar using soap and warm water. Leave it to dry, then store it for later use. Remember: it needs to be bone dry before re-using it. And there mustn't be any residue left behind.
OR SIMPLY RECYCLE THEM
DIY repurposing projects can be really fun and rewarding. In fact, you could also make your own personalized Christmas presents using upcycled skincare containers. 
However, if you're not really into the whole DIY thing, we urge you to recycle your empties. Most of them are probably going to be plastic, which is why they definitely shouldn't be thrown away. Do your bit for the planet and reduce your carbon footprint by recycling your empty skincare containers. You can either send them to a recycling plant or give them to cosmetic companies – there are many that accept product empties, even if it isn't their brand.
The important thing is that you don't mindlessly throw them in the trash. Repurposing and recycling your skincare empties can have a huge impact on reducing landfill waste and promoting a healthier, happier planet.
Share
---