This Middle Eastern Model is More Modest Than People Think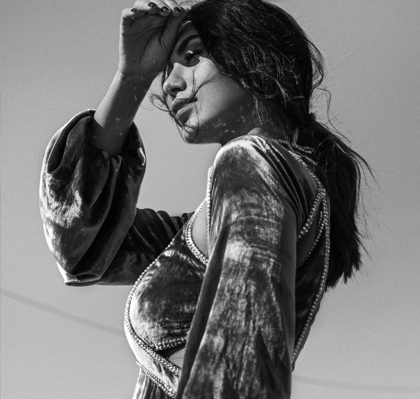 The #DontJudgeABook interview series focuses on the opinions of Truly's beautiful and accomplished community of customers. It's about looking beyond the exterior and neglecting the first impressions that bring no value.
Get in touch to get featured too! Alternatively – submit your own selfie with the hashtag #dontjudgeabook or #firstimpressions and tag us in @trulybeauty for the chance to get featured too.
A beauty and icon of the Middle East, Nadine Abdel Aziz knows a thing or two about first impressions. Even with 831k Instagram followers, there are a still a fair share of people who underestimate her. Here, Nadine opens up about her own experiences with being judged and gives us her take on not judging a book by its cover.
Hello, I'm Nadine Abdel Aziz. I am a half-Lebanese, half-Romanian model and social media influencer living in Lebanon.
I'm into beauty and fashion, so I love to make regular posts and content about them on my social media channels, especially Instagram, to share with my followers.
I think the "first impression" is a more sophisticated way of saying "hmmm… I judged you as of now, let's see how you seem to be the next time we meet." In my opinion, the first impression is pivotal. We human beings evaluate and are evaluated based on our body language and appearance, and the first few seconds matter to create a lasting first impression. A first impression is like a stepping stone to the next level. It opens the door for further discussions, opportunities, and relationships. I know a thing or do about the effects of first impressions and how they're not always accurate.
For instance, a lot of people are intimidated by how I look and make a wrong first impression about me. Most of them say I am arrogant and shallow because I don't smile often and look intimidating. However, once they get to talk to me and know me more, they are surprised by how modest, funny, and down to earth I am.
This is why I always say, "don't judge a book by its cover!"
Being judged by my cover has actually led to lost work because brands have a totally wrong impression of me. Some brands don't want to collaborate with me because they believe or someone must have told them that I am arrogant or shallow or whatever.
We all know we shouldn't judge people based on their looks. Beauty is only skin-deep, as the saying goes. Moreover, someone's appearance doesn't tell us anything about how kind they are or anything else about their personality. I also definitely get underestimated a lot because of my looks. Most people think that a beautiful woman must have no brains, which I totally disagree with. Some people underestimate me because I look pretty, but when I prove them wrong, I feel highly satisfied.
As for my first impression of Truly – it's definitely a positive one.
The packaging looks so fun, the products look almost child-like, and they look kind of like a novelty! But I can tell you with confidence that the products go way beyond "novelty." I have been a fan of Truly products for a long time because I'm really into organic products. I believe that high-end products should be high performing but still be organic, vegan, and cruelty-free – much like the Truly products. Not only is the packaging fun, but the products are so effective on the skin! My skin is glowing and has never looked this perfect! I love all the Truly products. In fact, I've even built a new skincare routine around Truly beauty products.
My skincare routine starts with the vegan collagen face cleanser formulated with collagen, retinol, and vitamin C. Infused with powerful anti-aging ingredients, it gives my skin a thorough cleanse, while leaving it plumped and youthful.
After that, I use the Purple Rain Facial Oil during the day. Since I've started using it, my skin looks and feels softer, and my skin tone has evened out.
At night I use the Vegan Collagen Jelly Mask, which I leave on my face overnight to let it really sink in and work its magic. It has really helped reduce the appearance of my fine lines and wrinkles while improving the overall texture and smoothness of my face.
Because I have very dry lips, the Unicorn Lip Plumping Balm is my new all-time favorite! It makes my lips tingly and plump, while also keeping them hydrated.
Last but not least, for my body, I use the Unicorn Fruit Whipped Body Butter. It's amazing. I kept seeing this beautiful body butter on their Instagram page. As soon as I saw it, I knew I had to buy it! And just like in the pictures, the swirl is perfect. It was so hard to bring myself to use it because it was so beautifully presented, but once I did, I fell in love even more. Best of all, this stuff feels like butter but doesn't leave you greasy AT ALL! It is so hydrating and smells like cake! I made all my friends try it, and they loved it too!
My final statement on how not to judge a book by its cover …
People have always thought I was this mean and shallow type of person, but I proved them wrong. You may look at this Unicorn Fruit and think it's just for fun, but its effectiveness proved me wrong. Don't judge a book by its cover!
Share
---