How to Be an "Expensive Blonde"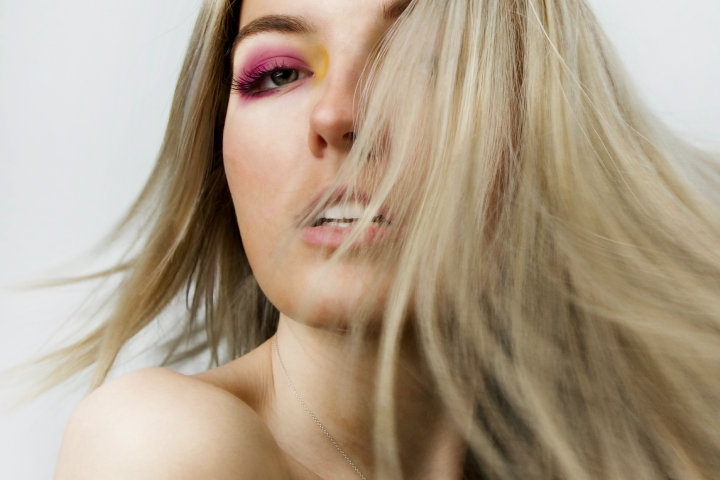 First it was "liquid hair", second it was "expensive brunette," and now it's all about "expensive blonde."
We've seen the hair color trend worn by everyone from Chrishell Stause to Jessica Alba, and now -- we want in!
Whether you already have blonde hair or you're looking to go lighter, here are some tips for nailing the expensive blonde look.
What is Expensive Blonde Hair?
From honey to platinum, there are numerous shades of blonde you can choose from if you want to go lighter for spring, or simply upgrade your current shade of blonde.
This color was first named by celebrity hairstylist Tom Smith. 
"It's a really soft contrast so there are fewer shadows in the hair, but it's not one set color," Smith said in his Instagram video.
According to expert hairstylists, "expensive blonde" is a stunning, sun-kissed hue featuring a mix of soft contrast for that Californian beach babe vibe. It's said to be Spring's hottest hair colour!
"Unlike the usual icy blondes, expensive blonde is leaning toward a warmer and deeper tone," says Sharon Dorram, master colourist at Sally Hershberger NoMad. "This trend is all about taking the everyday blonde we've seen and kicking it up a notch with strategically placed highlights and lowlights."
It's a warmer shade of blonde that's going to be BIG in 2022.
Keep scrolling to find out how you can achieve expensive blonde hair.
How to Get Expensive Blonde Hair
Here are some tips for achieving this super hot hair color you've been seeing everywhere lately.
#1: Book An Appointment With Your Hairdresser
To get the expensive blonde look, it's best to leave it to a professional rather than going the DIY route, which often leads to undesirable results.
As for what to ask for, expert colorist Rex Jimieson tells InStyle: "You want either foils or balayage highlights. It's a personal preference which you decide, but make sure you are using more than one shade of blonde and possibly lowlights as well to create depth and dimension."
Make sure you clearly express your vision to your hair colorist so that you're both on the same page and don't end up with any unwanted hues. You can choose from a variety of shades, including golden, sand, butterscotch, and beige -- whatever best suits your skin tone. Your hair stylist should scatter them subtly for an effortless and expensive finish. 
While the coloring sessions will be time consuming, the hair color itself can be low maintenance in between visits to your colorist. Expect to need touch-ups every three or four months. We do love a low upkeep hair color!
#2: Use Repairative Shampoos and Conditioners
Of all the hair colors, blonde hair needs the most love.
We recommend using repairative and strengthening shampoos and conditioners, like Truly's Super Fruit Bundle. They're packed with antioxidants and nourishing plant oils to hydrate, strengthen, and repair your strands while continuously to keeping your hair healthy.
Limit your hair washing sessions to twice a week to keep the color vibrant and your strands strong.
#3: Invest in the Right Hair Care Products
The expensive blond hair trend is all about healthy, high energy hair -- and that can't be achieved without an arsenal of quality hair care products. 
In addition to a restoring shampoo and conditioner, you'll need a purple shampoo for brassiness, a hair mask for hydration and shine, and a leave-in product to keep your strands strong.
To boost shine, try Truly's Star Fruit Hydrate & Shine Mask. For a leave-in conditioning treatment, reach for Truly's Coco Rose Milk Hair Mask.
Just like your daily skincare routine, make time to invest care into your hair to keep it strong, healthy, and super glossy.
#4: Limit Heat Styling
Opt for heatless hairstyles instead like messy buns and braids. We love a curl and bouncy blowout as much as the next blonde bombshell, but all that heat can cause severe damage to your strands. Since bleached hair is particularly fragile, you need to be extra careful when it comes to styling. 
If you want that luxe blonde mane, frazzled, stressed out strands will quickly ruin those vibes. 
Luckily, you'll find plenty of heatless hairstyle inspiration on TikTok and YouTube.
#5: Get a Gloss 
According to the pros, a gloss can quickly refresh expensive blonde shades. 
"I encourage my clients to come in every eight-10 weeks for a quick gloss to refresh the highlights," says Amanda Lee, Moroccanoil Color Ambassador & Celebrity Stylist. "The Moroccanoil Color Calypso Demi-Permanent Gloss not only will refresh the color, but also increases shine to give you more conditioned and more manageable hair."
If you want to nail the Selling Sunset star's gorgeous golden-hued mane, speak to your hairstylist for advice and regularly check in for a gloss. It'll instantly revive your strands!
#6: Pair Your New Hair with Neutral Makeup
Expensive blonde hair looks best with neutral makeup. You don't need anything bold with this blonde hue. Simply apply a little foundation and concealer, a dusting of cream shadow, a few lashings of mascara, and a little lip gloss. Done!
If you want to nail the expensive blonde look, it's wise not to overdo it with the rest of your look. After all, expensive looks tend to stay subtle. For that reason, keep your makeup as minimal as possible.
You can, of course, experiment with pinky, peachy lip shades and blushes, but don't go overboard.
Fashion trends come and go, as do hair trends. However, expensive blonde hair is one of those trends that always looks good, regardless of the season. Whether you take your hair inspiration from social media, beauty magazines, or Euphoria, it's worth talking to your hair colorist about your hair goals so you can achieve your dream shade.
You'll find all the Truly haircare products for sale on our official website, as well as on Amazon, Ulta, and Sephora. 
Share
---