How to Fix Lifeless Hair After Box Dye?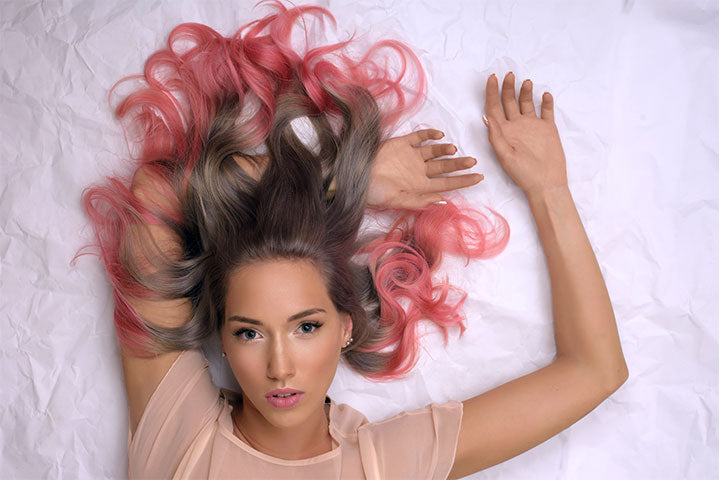 Home hair coloring is becoming the norm these days with COVID-19 closing down hair salons and forcing us to get DIY-handy. Even with salons reopening, not everybody's in a rush to spend two hours in a chair surrounded by groups of people – especially with infection still very much in the air. 
The problem is, box dye can be notoriously drying on your strands. So how do you restore lifeless hair after one too many home dye jobs?
It's definitely possible to keep your tresses healthy, glossy, and silky after box dye. You just need to maintain a few hair-healthy habits.
THE TROUBLE WITH BOX DYE...
Is not that it's cheaper, easier, and way more convenient than visiting your regular hairdresser. They're all the things we love about it! It's that the dye itself is usually a more concentrated formula than one would get at a hair salon. Because it has to be strong enough to work on all hair colors and hair types, it is a little too generic for its own good.
Whereas when you head to the hairdresser's, you get (or should!) a more tailored approach to the hair coloring process. They take everything about your hair into account – whether it's light, dark, thin, thick, highlighted, color-treated, or utterly virgin.
Still, that doesn't mean you should rule out box dye completely. Provided that you follow a few basic steps (and habits), you can make sure your hair stays healthy and happy post-color.
Step 1: Wash Your Hair the Right Way
Every good haircare routine includes a nourishing shampoo and conditioner. Neither should be skipped.
Restore your lifeless locks with Truly's Super Fruit Shampoo + Conditioner. With a blend of organic coconut, argan oil, jojoba oil, and organic tea tree, this duo is packed with high-performing ingredients to repair and rejuvenate dry, sad strands.
Apply Super Fruit Shampoo to wet hair and massage from root to tip, before rinsing. Then massage in a generous amount of Super Fruit Conditioner and leave it to sit for 3-5 minutes. Then rinse. For best results, use this duo every time you wash your hair.
It's not just the products you use that affect the condition of your hair. It's also the process in which you cleanse your mane. For instance, you could be damaging your hair just by washing in the wrong water temperature.
Step 2: Choose Cool Water Over Hot
There are pros and cons to washing your hand in cold water and in hot water. But which really is the best for ultimate hair nourishment? Weighing up the pros and cons of hot water vs cold, it looks like cool water is the clear winner.
While hot water opens the pores on your scalp and absorbs oils and grime, it can make your hair dry and frizzy. Cool water, on the other hand, seals in moisture and keeps your scalp hydrated.
However, for the ideal hair-cleaning routine, start by washing your hair with lukewarm water and ending the wash with cool water. This will allow the grime to go away, while preserving moisture in your mane.
Step 3: Mend Your Split Ends
Hemp oil is an excellent split end treatment. Deeply moisturizing with the ability to prevent moisture loss in your hair follicles, hemp keeps hair smooth and glossy.
"CBD oil contains all 21 known amino acids, which are the building blocks of protein," says Kevin Wachs, founder and CEO of Earthly Body. "Because of that, it helps to build up collagen and elastin, which are essential to hair strength."
In other words, by helping the hair to build protein, hemp prevents breakage, brittleness, and split ends.
Try Truly's hemp-packed serum to mend your split ends and promote healthier, smoother locks.
Apply 2-3 drops of hemp oil to the ends of your hair. Leave it in all day or overnight for best results. You can also use straight after washing your hair. 
Step 4: Lavish Your Locks in Unicorn Formula
Chill. No unicorns were hurt during the making of this hair repair mask – all our products are 100% vegan and cruelty-free.
To keep your hair hydrated and perk up dullness after a DIY hair dying session, indulge in a little TLC for your tresses. Trust us, it will be worth it. Just like your skin, your hair requires care and attention in order to stay looking fabulous. If you want bouncy, voluminous hair, you're not going to get there without the right products and the right routine. Even though you've already conditioned your hair, your mane still needs that extra oomph to look its very best.
With the help of keratin amino acids, avocado, banana, shea butter, and pure olive oil, Truly's Unicorn Hair Repair Mask promises great hair. By stimulating the scalp and supplying sulfur to the hair cells, this mask results in stronger, longer strands. It's the ultimate hair restoring mask that hydrates, heals, and enhances. Forget the mask that comes in your box dye. Use this instead for fast and effective results.
Layer Unicorn Mask all over your strands, avoiding the roots. If you're stuck for time and need to head out, try to leave it on for at least 20 minutes before washing out. For best results, put on a hair cap and leave the formula on overnight. Then rinse in the morning. You'll wake up with super smooth and revitalized hair.
Step 5: Stay Away from Your Flat Iron 
At least for the first few days anyway. Hot tools are known for damaging the hair and causing split ends. If you want to transform your locks from lifeless to lush post hair-dying, adopt more hair-friendly styling habits.
Instead of the flat iron, try blow drying your hair on the cool setting. Another good idea: leave velcro rollers in your hair overnight. Or if you're looking for a faster route to gorgeous hair, just spray some dry shampoo into your roots and strands for a quick voluminous do.
Thought box dye was the end of great hair? Turns out, you were wrong. With the right habits (and products!), your hair doesn't need to look lifeless after every self-coloring session. Rather, it can look fabulous instead!
Share
---