Introducing...the 'Skinification' of Hair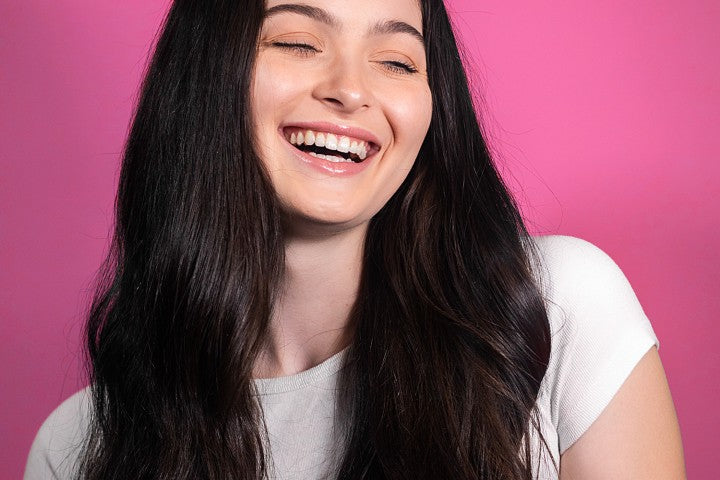 Since early 2020, the skinification of hair has become quite the craze. But what exactly does it mean? Essentially, it's a movement focused on caring for both the hair and scalp using ingredients traditionally found in skincare products. 
While most of you already use shampoo, conditioner, and perhaps the occasional hair mask in your hair care routine, 'skinification' brings your routine to new heights. With maximum results.
Join us as we uncover the skincare ingredients quickly making their way into hair care products -- and what they can do for your tresses.
WHAT IS THE 'SKINIFICATION' OF HAIR?
Over the past year, haircare brands have ventured into a world far beyond scalp scrubs and scalp serums. Now, they're bringing in well-known skincare ingredients ranging from rose to salicylic acid into their hair and scalp care formulas. 
"Over the years, people started spending lots of money on skin care, but were still washing their hair with [the equivalent of] dish soap," says Howard McLaren, R+Co co-founder.
He explains, "Millennials have become more transparent with brands about what they want and have dug deeper into the ingredients in their hair care and skin care. It has simply been a progress of education."
Now, more than ever before, consumers are growing aware of the anatomy of the hair including the scalp and follicle. As a result, they're intentionally seeking out high-quality ingredients often found in skincare formulations to provide their hair with hydration and nourishment. 
HAIR HEALTH BEGINS WITH SCALP HEALTH
Just like your skin, the scalp requires a delicate balance in order to thrive. In fact, it deserves just as much of your attention as your skin. Yet few of us have a scalp routine as methodical or consistent as our skincare routine. 
Now is the time to give your scalp the TLC it deserves -- because honestly, it really needs it.
For starters, your scalp has a lower barrier function than your skin, which means it is less efficient in maintaining or replenishing hydration, making it prone to dandruff, dryness, and irritation. What's more, we put a lot of stuff in our strands -- stuff that can end up causing detrimental consequences for our hair.
Product build-up can greatly affect the health of your hair. It can lead to clogging of the follicle, which can cause an imbalance in bacteria on the scalp and potentially even hair loss. 
To curb this crisis, switch conventional dehydrating scalp care products for skincare grade ingredients to nourish, hydrate, and restore balance to the scalp.
Optimising scalp health can help stimulate hair growth, swerve excess sebum production, and promote frizz-free, healthy hair.
UPGRADE YOUR HAIRCARE ROUTINE WITH THESE SKINCARE INGREDIENTS
In 2021, hair and scalp care products are more sophisticated than ever. Ingredients previously reserved for skincare, such as hyaluronic acid, ceramides, and vitamin E, are now hair care staples. Here are just a few skincare ingredients that can do marvellous things for your mane.
Hyaluronic Acid
This water-binding humectant hydrates dry, frizzy hair, leaving it smoother, shinier, and softer. You'll usually find it in facial serums and creams, as its main purpose is providing hydration. Since it's so useful at quenching skin's thirst, it makes sense that it would be just as beneficial for hydrating your hair.
Aloe Vera
You most likely know aloe vera from the gel you slather on your sunburned skin. Yet this soothing formula isn't just beneficial for the skin. 
According to Christophe Robin, brand founder of Christophe Robin, aloe vera boasts powerful hydrating powers which can be put to good use on your strands.
"Packed with over 75 active molecules as well as 20 minerals, 18 amino acids, 12 vitamins and even more nutrients besides, this unique plant delivers unrivalled hydrating properties for the hair fibre just as well as it does for the skin," says Robin.
You'll find aloe in Truly's Super Fruit Repair + Restore Shampoo & Conditioner.
Salicylic Acid
Salicylic acid is a mild exfoliant that helps dissolve dead skin cells and impurities that can clog your hair follicles and trigger hair loss. In skincare, it's typically used in the treatment of acne. In 2021, it's growing more and more popular in the hair care market as a scalp exfoliating treatment.
Rose
While there are different types of roses offering different effects on the hair and skin, look specifically for centifolia rose oil in your hair treatments. Rosa Centifolia Flower Oil is an antioxidant and helps strengthen the hair.
You will find this nourishing oil in Truly's Coco Rose Milk Strengthen + Shine Hair Mask.
Vitamin E
You've no doubt seen vitamin E in your lotions and potions. It's a popular ingredient for healthy skin -- and that extends to your scalp. Vitamin E nourishes, hydrates, and reduces oxidative stress to preserve the scalp's protective lipid layer and keep your hair in full health. 
You will find vitamin E in Truly's Super Flower Bundle - Shampoo & Conditioner. 
Ceramides
Typically used for their anti-aging benefits, ceramides help seal moisture into your hair while shielding it against heat. If you are someone who uses hot tools on a regular basis, it's worth searching for products containing ceramides -- and using them frequently!
Charcoal
Experts say it's just as clarifying for the scalp as it is for your skin. 
"A popular skincare ingredient, clarifying charcoal is known to help rid your scalp of impurities and deeply cleanse," says Nancy Twine, founder of Briogeo. "Product build-up is one of the most significant environmental aggressors that can impact the health and appearance of your hair so using a range with charcoal in is a good way to prevent related damage."
While there are numerous skincare ingredients proven to be highly beneficial for hydrating, healing, and strengthening the hair, dermatologists and trichologists recommend steering clear of essential oils in scalp care products. Essential oils can trigger contact allergies -- especially in sensitive skin types.
Whatever your hair type, everyone can benefit from the skinification of hair. Start now, start seeing results!
Share
---