This $5 Hair Mask Will Help Seal Your Split Ends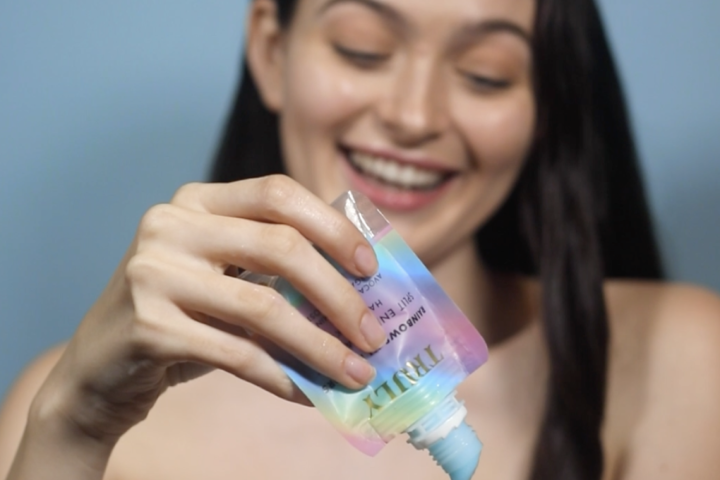 Split ends are a frustrating side effect of growing your hair. 
No matter how well you condition your locks, split ends can spring up due to heat tools, brushing, and coloring. Unfortunately, they're inevitable.
The experts say the only way to get rid of split ends is to snip them off, but if you're not prepared to part with your precious locks just yet, you'll be happy to hear that there is a product you can use to make them less noticeable in between cuts. No salon needed! 
Here's a $5 split end treatment you need IYL right now...
Rainbows in Mirrors Split End Treatment
Rainbows in Mirrors Split End Treatment is a repairing, moisturizing, and restoring hair mask that mends and seals split ends while preventing future splits from forming. This formula takes repair to new heights, restoring the color and vibrancy of fragile hair as it reinforces damaged ends. 
Its star ingredients? Hydrating avocado, illuminating argan oil, and strengthening vitamin F.
Research shows how effective avocado can be for preventing hair loss and diminishing dryness. As far back as early Egypt, people have been using avocado as a natural moisturizer to nourish, hydrate, and repair damaged hair. Alongside its hydrating abilities, avocado adds natural shine to your strands. It's a staple for dry hair.
Argan oil is an age-old beauty secret with a myriad of uses. According to hairstylists, this nourishing oil is excellent for hydrating, softening, and adding shine to your strands. Packed with antioxidants, essential fatty acids, and vitamin E, argan oil can also increase hair's elasticity, as well as keep your hair follicles free from damage while preventing future breakage. 
Vitamin F provides moisture and plumpness to your hair without weighing it down. While you may never have heard of it before, vitamin F has a solid reputation for rejuvenating brittle, damaged locks. Rich in essential fatty acids, this vitamin helps to maintain a healthy scalp and minimizes water loss in your hair. You'll find it in a range of repairing hair treatments.
Together, these ingredients work together to inject moisture into your mane, fortify your follicles, and mend split ends. 
How to Use it
To get the most out of this deep conditioning treatment, it's important to use it properly and pair it with a few other good hair products designed to bolster your tresses. Here's the best way to use Rainbows in Mirrors for your best hair ever.
#1: Wash Your Hair with a Hydrating Shampoo
Regardless of your hair type, anyone dealing with frayed ends should immediately start using a damage repair shampoo. Our personal favorite has got to be our Super Fruit Shampoo. It's made with a blend of coconut oil, argan oil, tea tree oil, and jojoba oil to make your hair look and feel instantly smoother and healthier.
Coconut and jojoba oil seal in moisture on damaged hair, promoting long-lasting hydration. Meanwhile, argan oil increases the hair's elasticity while bringing sheen to dullness. And tea tree oil works to cleanse the scalp of oil and product buildup for healthy hair growth.
#2: Follow Up With Conditioner
Prevent moisture from slipping away by coating the ends and mid-lengths of your hair with a deep conditioner like our Super Fruit Conditioner. It's the same formula as our shampoo, only with extra hydrating power! Apply to damp but not wet hair so that it can penetrate your hair shaft properly. Leave in for 5-10 minutes, then rinse well with lukewarm water. 
#3: Dry + Detangle
Towel dry your hair after washing, and use a detangling comb like our Rose Gold Hair Comb to get rid of knots and tangles prior to mask application. This will make the process so much easier, and allow the mask to cover every strand of your hair so nothing gets missed!
#4: Apply the Mask
Now for the fun part! Let's apply the mask!
Layer the Rainbows in Mirrors Hair Care Treatment on towel-dried hair starting at the ends all the way up to 2-3 inches from the root. Leave it on for at least 20 minutes, or overnight for an even deeper hydration and repair treatment. Rinse well. 
If you've got chronically frizzy hair, you can also leave this mask in to smooth out frizz and make the hair appear super sleek.
You're done!
What Else Can You Do to Stop Split Ends?
Apart from the obvious (getting a haircut), here are a few ways to stop split ends in their tracks so you can enjoy a good hair day -- every day.
Lay off the Hot Tools
Heat styling is detrimental to your hair health, and is a known contributor of split ends. Flat irons and curling wands are off limits until your hair gets back to full health. Even blow drying your hair can cause damage if the heat setting is too high.
If you absolutely must use your straightener or hair dryer, always apply a heat protectant spray product beforehand to protect the cuticle and shaft. 
Stop Coloring Your Hair
Hair coloring can also cause split ends. Why not embrace your natural hair color for a while so you can keep your tresses thriving?
Curb Chemical Treatments
As great as keratin treatments may be for smoothing your strands and straightening curly hair, they can be damaging to colored hair. Focus on nourishing masques and plant seed oils instead to bring your hair back to full health.
Choose Ingredients Wisely
When it comes to purchasing hair care products, don't just buy a product because it's Kérastase, Olaplex, or L'oréal Paris. Look for the ingredients inside. Steer clear of parabens, silicones, and sulfates, and load up on shea butter, coconut, amino acids, and other powerhouse hair healers.
You will find all our hair care products on Trulybeauty.com, as well as on Amazon, Sephora, and Ulta. Keep living your best hair life. Stock up on our $5 split end miracle worker. This mask is all you need to seal up those split ends and rock silky smooth strands this season.
Share
---