12 Beauty Products You Need this Spring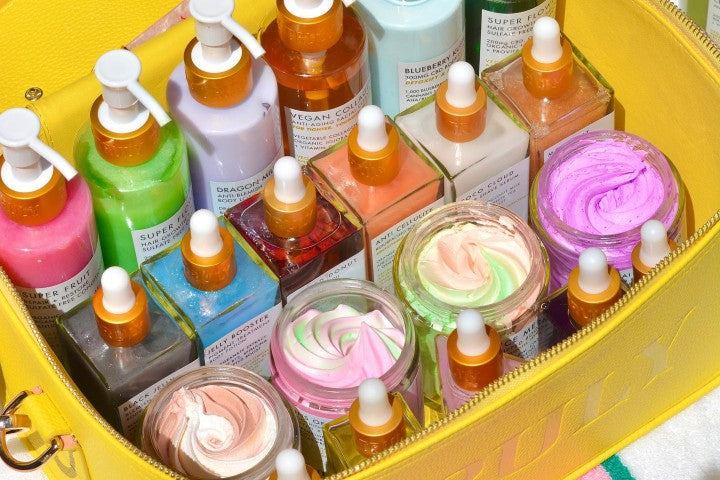 When it comes to spring skincare, it's all about lighter, airier products that focus on hydration, extra protection through sunscreen, and of course: glowing skin.
Wondering what beauty products to stock up on this spring?
Here's a list of our top 12 beauty essentials to keep your hair and skin blossoming throughout the season.
#1: 24k Gold Black Soap Impurity Cleanser
If you've been skipping exfoliation throughout the winter months, it's time to reintroduce the process to buff away old, dead skin cells in replacement of fresh, new ones — for that dewy complexion you've been craving.
This 2-in-1 face and body cleanser offers exfoliating benefits and aids in warding off breakouts with the help of cleansing chamomile, impurity-eliminating African black soap, and antibacterial 24k gold — all for a clearer, glowier, smoother complexion.
#2: Flower Child Face Cream
You no longer need to rely on mega rich creams and lotions to keep your skin flake-free. Switch to a lighter formula like this youth-restoring face cream. It's made with ultra-hydrating hyaluronic acid and anti-inflammatory hemp to keep your skin babysoft all day.
Include it in your daily routine to keep your skin moisturized and healthy, while improving overall skin tone and texture. It also works as the perfect base for makeup.
#3: Mary Jane Glow Mask
Spring beauty products tend to focus a lot on glowing skin. You can get that dewy, radiant skin by slathering on this exfoliating CBD face mask. It contains a lineup of powerhouse ingredients like retinol, caffeine, CBD, and glycolic acid to firm, brighten, tighten, and soothe skin. It's one of our faves for enhancing our natural glow.
Plus, it gives you the chance to indulge in some well-deserved me-time. Seriously, putting on a mask is an excellent de-stressor — both for your skin and your mind.
#4: Unicorn Fruit Lip Plumping Balm
A lip balm and plumper — all in one cute, multicolored swirl.
Unicorn Lip is an ultimate hydrating, lip plumping duo that melts into skin and give your pout that extra push for subtle plumpness. While shea butter lends its moisturizing properties, peppermint stimulates blood flow for temporary plumping effects, and matcha soothes any dryness or irritation.
Wear it alone or under your favorite gloss for juicy, luscious lips.
#5: Blueberry Kush CBD Face Oil
This illuminating face oil is perfect for balmy, spring days. It offers featherweight coverage and keeps skin smooth and glowy all day long.
Made up of 300mg hemp, vegetable collagen, and 1,000 blueberries per bottle, this daily facial oil is rich in antioxidants to plump the skin, protect from photoaging, and deliver a gleaming complexion.
#5: Ultimate Coco Cloud Shave Kit
This dreamy, creamy shaving bundle brings the Bahamas to your bathroom. Using ingredients like coconut milk, mango, vanilla, and shea butter, your skin will feel like heaven once you're done shaving with these gorgeous goodies.
Inspired by our TikTok-famous Coco Cloud Whipped Shaving Butter, this shave routine guarantees the smoothest shave every single time. With a splash of tropical beach vibes!
#6: Starface Jelly Sleep Mask
An overnight treatment for your face — to wake up with brighter, firmer skin. Starface Jelly Face Mask blends retinol with vitamin C and alpha hydroxy acids to dissolve dead, dry skin and speed cell turnover for a rejuvenated AM complexion.
Incorporate this into your night time skincare routine to wake up with refreshed skin and fewer fine lines and wrinkles.
#7: Super Flower Shampoo + Conditioner
Keep your hair strong and your color thriving with this hair thickening shampoo + conditioner bundle. It's a must-have in any beauty routine if you want longer, thicker, shinier strands for spring. If you neglected hair care throughout the cold months, make this season the season to show your strands some TLC.
#8: Volcanic Rosewater All-Over Hydrating Mist
To get your skin extra sparkly this spring, give your skin a big drink of this balancing rose water spray. Spritz it all over whenever your skin's feeling dry for instant hydration and soothing effects. Think of it as your daily toner. Plus, it's perfect for sensitive skin.
#9: Boobie Bundle
It may not be bikini weather just yet, but you're most likely changing into your sleeveless shirts and cleavage bearing pieces. Make sure your tatas are looking extra tight and toned with this Sculpting Polish + Butter + Serum trio. The bundle is a cult-favorite, and for good reason. It's clinically proven to firm and improve skin texture in just four weeks of daily use.
Without a doubt, they're the best beauty products for your boobs if you're looking for a little extra perkiness down there.
#10: Hotter in Person Tanning Cream
Ready to get bronzed this spring? Reach for our Bronze and Blur Cream, a formula made with hydrating jojoba oil, naturally bronzing DHA, brightening strawberry, and gold shimmer to smooth, soften, boost radiance, and develop a subtle, gradual tan without UV exposure.
It's one of our new beauty products that ensures an even, sun-kissed hue without that usual unpleasant self-tanner scent.
#11: Truly Duffle Bag
Pack it all — your mascara, concealer, eye cream, eyeliner, eyeshadow, nail polish, and SPF. This spacious pink vegan leather duffle fits all your makeup and skincare products inside so you can transport them wherever you go — in style.
#12: Moon Lit Shimmer Oil
Use it to highlight your cheekbones, cupid's bow, cleavage, or thighs — Moon Lit Shimmer is the on-the-go sparkle you need this spring.
It contains a nourishing and brightening blend of chai spices, witch hazel, and vanilla to tighten pores, reduce inflammation, and boost your skin's luminosity for a radiant glow wherever you go.
Beauty trends come and go, but these twelve products are well worthy of a permanent place in your beauty cabinet or fridge. Our clean beauty brand is dedicated to providing you with the best and cleanest products available on the market at purse-friendly prices. Take your pick, and be sure to enjoy them this season!
P.S. Happy Springtime, beauty babes!
Share
---