5 Summer Beauty Hacks That Are Actually Harmful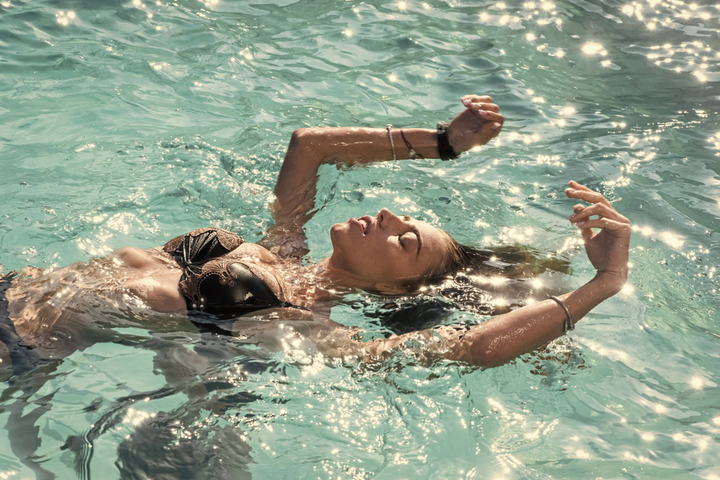 Whether you're relaxing by the pool with friends, taking a much-needed vacation, or just enjoying the warmer weather - there is so much to love about the summer months.
Unfortunately, these few months of pure bliss come with a price. The extra heat and humidity alone can wreak havoc on your hair, complexion, skin, and nails - just to name a few. Over the years, you've probably seen (and tried) several cost effective beauty hacks that claim to combat the laundry list of beauty challenges.
Do they work? Possibly. Is it worth it? Maybe not.
There's something exciting about discovering a quick and easy hack that 'transforms' your typical beauty routine. You immediately want to tell everyone you know, but these hacks can get out of hand and some of them cause more harm than good.
Without further ado, here are the top 5 beauty hacks you should consider avoiding this summer.
#1 Using Lemon Juice to Lighten Your Hair
So you want to lighten your hair instantly without going to a salon?
Squeezing fresh lemon juice and sitting in the sun for a couple hours is a "trick" that has been around for decades. While lemon does effectively lighten your hair, the risk may outweigh the reward.
Although lemon juice is natural and cost effective - it's still acidic. This means that when you use lemon juice to lighten your hair, you run the risk of drying out your scalp and hair which ultimately causes breakage and thinning - according to researchers at Healthline Medical. The high acidity content shrinks your hair shaft over time, resulting in a decreased diameter.
AKA - Your hair might be brighter and lighter, but flatter and frizzier. Huge bummer.
Nourish your strands with Truly's Super Plant Bundle instead.
#2 Swapping SPF for Coconut Oil
Using coconut oil on your hair, skin, and nails has been a huge trend as of late. You've probably seen articles that show you how to make your own SPF using coconut oil.
Coconut oil is super moisturizing and nourishing for your skin, so it sounds like a win-win.
But if you want to protect your beautiful, glowing skin - coconut oil is not the way to go. Coconut oil only blocks about 20% of the sun's damaging UV rays (the same rays that damage the skin, cause wrinkles, and could lead to skin cancer!) In addition to this, a 2015 study led by the Society of Cosmetic Scientists showed that natural oils - like coconut oil - don't absorb UV rays at the correct wavelengths. This means that if the oil isn't absorbing the UV, your skin is. Not cool.
The good news: According to the American Academy of Dermatology, using an SPF of 30 or higher will block 97% of UV rays! So go ahead and plan that beach vacation, just  be sure to ditch the oil.
Use coconut before sunscreen, like in Truly's Vegan Collagen Facial Serum.
#3 Setting Your Makeup with Hairspray
Everyone's been there. You're out and about on a hot summer day when you catch a glimpse of yourself in the mirror - gasp - your fresh makeup is shiny and smeared due to the heat.
There are several hairspray hacks that have flooded the internet over the years - one of them being using hairspray to 'set' your makeup to keep it looking fresh all day long.
Unfortunately, this quick fix can be pretty damaging to your skin.
According to Amanda Von Dem Hagen, a skincare expert at Glo Skin Beauty, hairspray contains several chemicals - like alcohol and lacquers - that can dry out your skin rapidly and create a dehydrated look. On top of that, hairspray contains toxins that can irritate your skin resulting in an itchy, bumpy rash - yuck.
Don't fret! Luckily, there are several sprays out there designed to keep your makeup in place. And, they're safe for your skin!
#4 Treating Chlorine Damaged Hair with Baking Soda
Nothing says summer like lounging by the pool with your friends. If you're a frequent pool-goer, then you've probably experienced the dreaded light green tint your hair gets from too much chlorine - the chemical used in pool water to kill germs.
Several sources suggest washing your hair with baking soda to restore its original hue. The high pH in baking soda may help remove buildup of oils and chemicals, but there are risks involved.
A study conducted by the U.S. National Library of Medicine found that using a product with a pH higher than 5.5 can seriously damage your scalp over time causing flaky skin and dandruff. Baking soda has a pH of about 9 - eek!
The same study also found that using products with higher pH levels increases friction between hair fibers. Increase in friction = frizz.
Treat your hair with Truly's Coco Rose Milk Hair Mask instead.
#5 Exfoliating with a DIY Sugar Scrub
Exfoliation plays a key role in maintaining your healthy, natural glow - especially during the summer months. Exfoliating regularly gets rid of dead skin cells from sun exposure while reducing the appearance of acne and fine lines which is, of course, super important.
Using sugar to exfoliate may get rid of dull skin, but these types of scrubs are often too abrasive and harsh for sensitive skin types.
The rough nature of DIY scrubs can create small tears in the skin that lead to irritation, redness, and overall dryness. Essentially, using a DIY sugar scrub can cause you to over-exfoliate your skin.
According to Dr. Annie Chiu, the founder of The Derm Institute, over-exfoliation causes "irritation, inflammation like acne, makes you more susceptible to sunburn and you can lose moisture and disrupt the natural skin barrier."
Exfoliate with Truly's CBD Jelly Toning Solution instead.
In a nutshell, no matter what type of exfoliating you're doing, it is critical to practice caution and not overdo it. Your skin will thank you!
Share
---