A Dozen Presents, One Box: Truly Beauty's LTD Edition Holiday Gift Box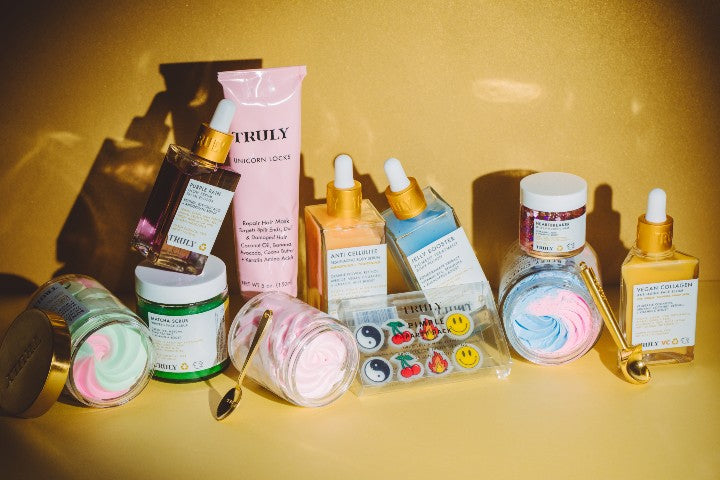 Roll out the red carpet...our VIP Collection Box just arrived.
Whether you're looking for a luxury beauty gift for yourself or your loved ones this holiday season, Truly's limited edition VIP Collection Box features a lineup of bestsellers, bundled. This holiday giving box can also be split among friends, family, and even yourself. FYI: a dozen presents, one box.
For this month only, you can get this one-time bestselling collection for gift giving ahead of the holidays! Packed with hair + skincare goodies, it's a beauty box guaranteed to please beauty lovers all over!
WHAT'S INSIDE?
Scroll down to hear what's inside this luxe, limited edition holiday gift set...
Coco Rose Fudge Whipped Body Butter 
A luxurious whipped and buttery body lotion with delicate aromas of feminine floral. Made with a blend of coconut, rose, and shea butter, this nourishing butter will hydrate, brighten, and smooth dull, dry skin, giving it a youthful, radiant appearance.
Matcha Scrub 
A green tea sugar scrub intertwined with glycolic acid and vitamin A for gentle yet invigorating facial exfoliation. 
This delicate, whipped scrub helps remove dead skin cells while soothing skin and reducing inflammation. Used as part of your regular skincare routine, this face scrub can help treat and prevent blemishes, fine lines, discoloration, and wrinkles.
Buns of Glowry Tighten Glow Smoothing Butt Butter 
A luxurious and hydrating moisturizer designed specifically for your bum. Its two ingredients -- wheat protein and watermelon -- increase firmness of the skin while minimizing the appearance of fine lines, discoloration, and cellulite. They'll also intensely hydrate your skin, leaving your butt healthy, happy, and glowing! It's the perfect gift for anyone who cherishes self-care, or likes trying new beauty products.
Berry Cheeky Clearing Butt Polish 
An acne-fighting butt polish made with a fruity blend of berries, jojoba beads, and allantoin to clear active butt blemishes and fade hyperpigmentation. 
We're one of the few beauty brands to offer butt-specific skincare. While it may seem kind of intimate, it's a great stocking stuffer for anyone who complaints about body breakouts. It's also a great gift for yourself if you're looking to perk up your booty.
Anti-Cellulite Serum 
A skin refining body serum formulated with fat-mobilizing bitter orange, collagen-boosting retinol, and hydrating vitamin E. It's extremely effective in plumping, tightening, and smoothing skin on the tush. Giftees are guaranteed to love it!
Jelly Booster Pigment Treatment Body Potion 
A scar-fading body serum infused with antioxidant-packed pomegranate extract and collagen-maintaining vitamin B2 to target and treat hyperpigmentation caused by acne scars, ingrown hairs, and hormonal fluctuations.
Unicorn Locks Repair Hair Mask
A magical formula for silky, healthy, and bouncy hair. Loaded with keratin amino acids, coconut oil, and avocado, this hair mask nourishes the scalp, prompts hair growth, and diminishes dryness. Besides its strengthening and repairing abilities, this mask will leave your strands shinier than ever! It's a haircare staple!
Pimple Party Pack Acne Patches
Our biggest acne patches yet! Perfect for treating body breakouts! This pack of 24 chemical-free 12mm patches suit all skin types and are extremely handy for tackling larger body blemishes. Hydrocolloid -- its one and only ingredient -- works to draw out impurities from active breakouts, actively accelerating healing and avoiding pesky scarring.
If you plan on sharing out the items in this gift box, feel free to grab these patches. They're an acne sufferer's BFF!
Purple Rain Facial Oil 
A fan favorite and for good reason! This youth-restoring, skin resurfacing facial serum targets visible signs of aging with retinol and glycolic acid. It irons out creases to give you a healthy, glowing complexion even Rihanna would be jealous of. Purple Rain is one of our fave products -- and it's definitely worth the splurge!
Vegan Collagen Facial Serum
One of our best-selling products, Vegan Collagen Serum is a cult-favorite. This high-quality anti-aging face serum is formulated with powerhouse ingredients like retinol, vitamin C, and vegan collagen to plump, rejuvenate, and brighten your complexion. It's the best gift for moms! Or basically any beauty or wellness enthusiast looking to get in on some skin transforming action!
Heartbreaker Lip Plumping Mask
A unique spin on the traditional face mask -- our glittery lip plumping mask. Made with youth-restoring ceramides, soothing aloe, and moisturizing vitamin E, think of this jelly mask as skin care for your pout. Planning a glam night out? Scrub your lips, apply this lip mask, and follow up with lip balm and a swipe of lip gloss. It's great for enhancing makeup looks -- and making your pout look juicer than ever!
Gold Spoon
From hand cream to face moisturizers and even some cleansers, use this travel-size gold spoon on your trips to keep skincare hygienic. You can use this spoon to take just the right amount of product while avoiding the transference of germs.
Gold Ice Cream Scoop
Scoop out your lotions, conditioners, and best makeup products with this adorable gold ice cream scoop. It's the perfect gift idea for people who prioritize hygiene. Pair it with one of the products above to create a cute little gift set for a friend.
Order our LIMITED EDITION VIP Collection Box while stocks last!!!
All of the products featured in the VIP Collection Box are full-size. The cool thing about this gift set is that it doesn't need to be gifted to one person alone. This 13-piece set can be split among friends and family so everyone gets something nice at xmas without leaving you broke. You could even turn it into your own personal beauty advent calendar! 
Most gift guide list items like Charlotte Tilbury eyeshadow palettes, Jo Malone makeup brushes, mascaras, eyeliners, matte lipsticks, and highlighters. While they're worth keeping on your shopping list for last minute gifts, we recommend investing in something that'll deliver long-term results. Like skincare! 
You can also purchase these products separately on Truly, Amazon, Sephora, and Ulta. 
Share
---