Ask Tyler: Hot Takes from Inside the Beauty Industry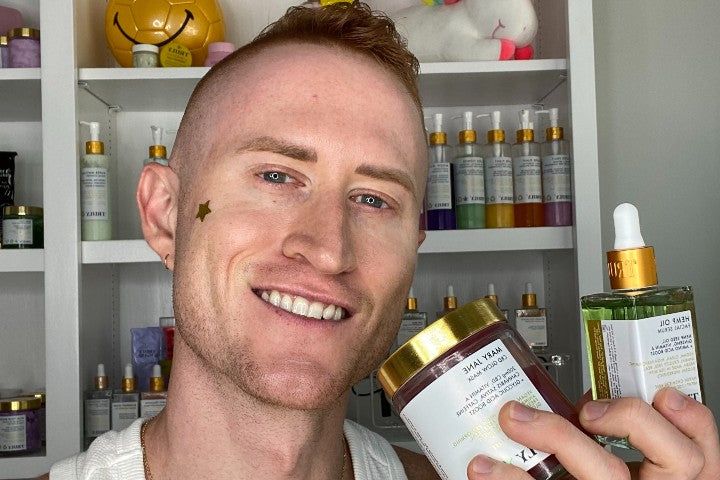 Truly's
Hot Takes
series has officially arrived!
In this series, we'll be talking to different members of the crew about what they've learned during their time here, their wisdom about the beauty industry in general, and of course, their favorite Truly products.
To kick things off for the first part of our series, we spoke to our resident skincare expert Tyler Moore about his views on skincare, the industry, and working at Truly.
From "testing" to "skincare fasting," Tyler reveals all his juicy secrets!
WHAT ARE YOUR FAVORITE TRULY PRODUCTS AND WHY?
Ooo sucha tough question! We have SO many valuable products that I adore, but I'll name off my personal must-haves.
Mary Jane CBD Glow Mask: I've been a huge fan of the serum since my first day at Truly, but the mask has taken its place! I just like jelly masks overall, but it's really effective for me. I use this mask 3-5 times per week, and it really helps keep my breakouts at bay. 
Blueberry Kush Body Oil: the ultimate hydrator, and probably the best body oil I've personally used. I mix it with my body butters, my body lotions, and it just adds that extra moisture my skin craves. 
Vegan Collagen Facial Cleanser: okay, so I'm 30 and anti-aging products are something that I should have started about five years ago – this cleanser is reversing that missed time! I notice my wrinkles diminish, plus I like a good hydrating cleanser, which you get from this. I'm also obsessed with the Vegan Collagen Facial Serum!
Super Flower Conditioner: I've noticed my hair thinning the older I get – and this conditioner has helped thicken my hair over time. I primarily co-wash (not using shampoo except 1-2 a week) and my hair is just eating the Super Flower up! Plus, I really enjoy the smell – it's like an earthy lavender. 
Pineapple Haze Body Balm: this is my newest favorite. I started using it on my hands & feet before bed and have noticed how SOFT they are now. I used to have to scrub my feet weekly and now they are just naturally soft. I'm super impressed!
WHAT HAVE YOU LEARNED AT TRULY VERSUS AT OTHER COMPANIES?
I started at Truly as one of the first employees, and it's been my first job working in the skincare industry. What I've really learned at Truly versus other companies, is to tap into the consumer's experiences. Using your fanbase as almost an advice column – asking the customers what they want, and then creating products based on those desires.
I've also learned the importance of "testing" – which is basically a marketing term for trying out different ways of advertising, using certain lingos and trendy elements on your content per different social media platform. For instance, a video on TikTok may perform so well there, but if you use the same video on Facebook, it may not get any views at all. You can have a super vibey Instagram caption that is targeted for a younger audience, but then your older audience may be like "wtf?!".
So it's been a fun journey, testing different pieces of content throughout my 1.5 years here whereas other companies may feel like they no longer need to "test," because they think that they have it figured out. Testing is always so important, no matter where you are as a company. 
WHAT IS SOMETHING YOU'VE LEARNED ABOUT THE BEAUTY/SKINCARE INDUSTRY?
I've learned a LOT about product knowledge in general. Before starting at Truly, I knew the basics like having to wash your face twice daily, using SPF daily, etc. But once you are really in the industry, you have to know what you're talking about. The amount of "skincare homework" I've done has been insane! Reminds me of college, the research I've done and pages after pages I've written regarding skincare. 
I've also learned about trends, especially when it comes to skincare marketing. A lot of brands play off of each other I've noticed, like replicating similar content that is currently trending. It's kind of fun because you will make a TikTok and then see someone else replicate the style but in their own way – it's not concerning, it's actually pretty cool because it makes you realize how small the market truly is. 
HOW HAS YOUR SKINCARE ROUTINE CHANGED/NOT CHANGED SINCE JOINING THE INDUSTRY?
When I first started my skincare journey, I wasn't so concerned about chemicals and dyes. With Truly, I've definitely learned to avoid certain ingredients and have focused on more natural-focused products. My skin has never felt healthier – I do use primarily Truly products with a few non-Truly products, but all have a natural-focus. 
Some tips I can give out: double cleansing is SO important, especially at night after wearing sunscreen all day. Also, wear SPF every single day even if you aren't going to be outside much. Also, skip your routine every now and then! I take a "skincare fast" about 1-3 times per month and my skin really appreciates it. 
WHAT'S YOUR NUMBER 1 BEAUTY SECRET?
Gua Sha + Jade Roller + facial exercises to prevent the signs of aging! Cannot recommend looping these into your practice enough – it makes your routine even more meditative and helps your skin so much. 
Like what you hear? Want more of where that came from?
Remember to come back for the next part of our series where we'll be interviewing another Truly resident on their beauty secrets, lessons learned, and much more!!!
Share
---