Best Black Friday Skincare Deals 2023: What's on OFFER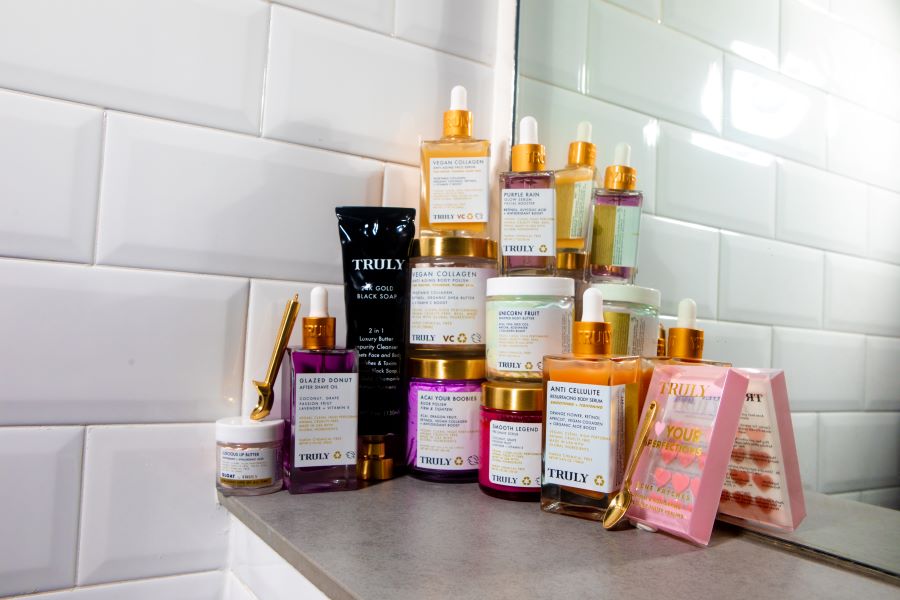 If you're looking for the best Black Friday skincare deals 2023 you're in the right place. Black Friday is your chance to save BIG on skincare's best. In other words, there's no better time to fill up your cart! 
Whether you're looking to stock up on body butters and serums or getting ahead with gifting for Christmas, we've got the best Black Friday skincare offers you won't want to miss. Set your alarm, babe, and bag up the best Black Friday skincare 2023. 
The Best Black Friday Skincare Deals 2023
Truly's Black Friday sale is COMING SOON! Sign up to be the first to know when our Black Friday beauty deals arrive. While you're waiting, click here to check out our current deals and discounts. You'll also get up to 50% off skincare sets right here—fyi, you always save big when you bundle.
At the moment, all we can reveal about our Black Friday skincare deals is that they're going to be HOT. Got a Truly wishlist as long as your arm? Be sure to come back for some of our best deals of the year. It's the perfect opportunity to try Truly's bestsellers–and stock up on your faves.
With our Black Friday sale, you'll save on your favorite Truly products or discover a new addition to your skincare routine to help you achieve plump, radiant skin. Just remember, these limited-time-only discounts won't last long so bag up all the best deals while stocks (and sales!) last.
Black Friday 20% Off
This Black Friday weekend, we're giving you the best Black Friday beauty deals you could ask for. For starters, you can enjoy 20% off sitewide when use this Black Friday coupon code.
Whether you're looking for a special serum, whipped body butter, or bestselling bundle, now is the time to save BIG on Truly's best. All you need to do is add your faves to your shopping cart, checkout, and add in the coupon code.
Black Friday Mystery Bags
For SIX whole days, we're giving away a FREE Mystery Bag when you spend $150 or more on Trulybeauty.com. Each day brings a different bag full of full-size Truly products and a luxe accessory.
There's no better time to save on your Christmas shopping than now. After all, bundles make the best gift. Alternatively, treat yourself to a Black Friday Mystery Bag and get a taste of the Truly magic.
Save on Skincare With These Bargain Bundles
While you're waiting for our Black Friday surprises to arrive, here are some sets you can save on RIGHT NOW.
Honey Buns Tightening Mask and Serum Set
Get firm and tight in two! This delicious, drizzly duo smooths out lines while sculpting sag to leave you noticeably tauter. 
VIP Collection 
Unbox the best of Truly with this limited edition VIP Set. It features 11 formulas, two gold spoons, and a luxury travel trunk worth $250. You can mix and match to create multiple routines that treat fine lines, body acne, split ends, chapped lips, and so much more. 
Unicorn Blast Bundle
Give our swirls a whirl! This set features our iconic Unicorn Fruit formulas to plump, soothe, and smooth while leaving you smelling like cotton candy. 
Ultimate Glazed Donut Skin Set
Get our famous Glazed Donut set for less! Dream of dewy, sheeny, Hailey-Bieber-worthy skin? All it takes is three steps. Featuring a facial serum, cream, and body oil to get glazed from head to toe.
Barbie™ Dream Bundle
Bag a Black Friday Barbie bargain! Barbie™ Dream Bundle might look pretty on the outside, but she's fierce when it comes to combating acne, ingrown hairs, and dry skin. 
The Smooth Legend Complete Collection
Invest in your best shave ever. From your pits to your butt, bikini line and legs, Smooth Legend secures the smoothest shave of your life—without uncomfortable razor burn and ingrown hairs. It's everyone's favorite shave! Get it now while it's 50% off! 
What is Black Friday?
Black Friday is the greatest shopping day of the year, where brands and retailers throughout the US and other countries slash prices just in time for the holidays. Black Friday is always on the fourth Friday of November, after Thanksgiving. However, many brands (including us!) kick off sales early and continue to offer discounts through to Cyber Monday.
While Black Friday is a significant shopping day, it has also been associated with long lines, crowded stores, and sometimes chaotic scenes as shoppers strive to secure the best deals. In recent years, some retailers have extended their Black Friday sales to the entire week or even the entire month, and there has been a growing trend of online shopping to avoid the in-store rush. Lucky for you, our Black Friday skincare deals will be available to order online so you can avoid the crowds.
Black Friday Perfume Deals
Our Black Friday perfume sale is here! Want to save $$$ on our luxurious perfumes and mists? Now's the time to shop and save. Get 20% off all our perfumes this weekend when you use our code. Here are some of the best Black Friday perfume deals 2023.
Signature Perfume Mist Trio
Coco Cloud Eau De Parfum
Unicorn Fruit Eau De Parfum
Black Friday Discount Codes 2023
Get 20% off sitewide when you use Truly's Black Friday coupon code. All you need to do is go on a shopping spree, check off all the products on your wishlist, and checkout with the Black Friday beauty discount code to save 20% off your order.
When is Black Friday 2023?
Black Friday 2023 will take place on Friday November 24—the day after Thanksgiving. Time to set that calendar alert! 
How to Find the Best Black Friday Skincare Sales
Wanna know the secret to bagging the best Black Friday beauty deals? Here are some tips to help you find the best skincare offers during BF.
Tip #1: Plan Ahead
Start planning early. Research the skincare products you want and create a list of your must-haves. Also have a think about who's on your Christmas list. What kind of gifts are you looking for? There's no better time to shop for Christmas gifts than on the cheapest shopping day of the year. Okay, so it probably won't be the cheapest for you, but you will get the best bargains.
Tip #2: Subscribe to Retailers' Newsletters
Be the first to know about Black Friday sales and sign up for newsletters from your favorite beauty retailers. Many stores send out exclusive Black Friday deals to their subscribers.
Tip #3: Follow Social Media
Follow your fave skincare brands and stores on social media platforms like Instagram and Facebook, where they often announce and promote their Black Friday skincare deals. 
Tip #4: Take Advantage of Bundle Deals
Look for bundle deals or gift sets that offer multiple skincare products at a discounted price. Besides making great Xmas gifts, it's your chance to discover (or stock up on) luxury, cult-fave skincare for a whole lot less.
Black Friday Skincare Sale Coming Soon….
The best Black Friday skincare deals of 2023 are approaching! Stay tuned to hear what we have on offer this BFCM! We can't wait to show you what we have in store for you. While you're waiting, check out our current deals where you can enjoy up to 50% on select items. 
Share
---