Shop Barbie™ x Truly Skincare 
Get the complete collection for only
$125

only
Save

$115.60

today

FREE
SHIPPING

EASY
RETURNS

MONEY BACK
GUARANTEE

SECURE
CHECKOUT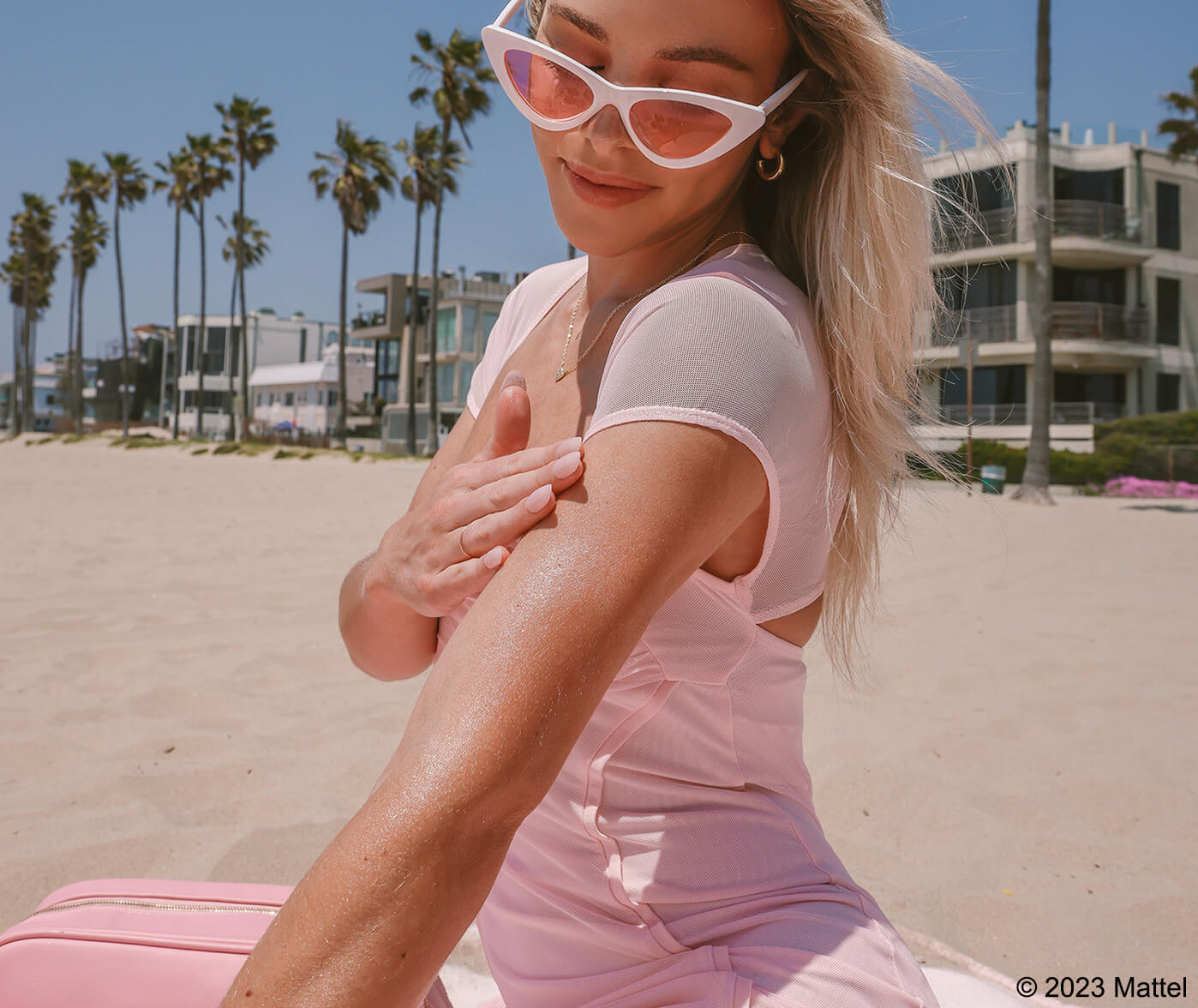 Adaptogenic Formulas for
Firmer Skin and Better Sleep
Start your glow up for the movie premiere now with Barbie™ The Movie Glow Jelly Face Mask and Dreamy Barbie™ The Movie Adaptogenic Bedtime Butter.
Adaptogenic herbs like ashwagandha and ginseng alleviate stress, improve sleep, protect against premature aging, and combat acne.
Therapeutic scents help you drift off into a deep, restorative sleep.
Wake up to brighter, firmer skin and way more energy for all those exciting adventures ahead!
Magical Ingredients to Get You
Bright, Tight, and Silky
TAMANU OIL
With its high fatty acid content and antibacterial properties, tamanu oil can be helpful in treating dry skin, acne, and ingrown hairs.
AHA/BHA
Alpha and beta hydroxy acids are chemical exfoliants that work in tandem to shed dead skin cells, unclog pores, and fight bacteria. They have been proven effective in reducing visible signs of aging, clearing acne, and minimizing pores.
ASHWAGANDHA
An adaptogenic herb with collagen boosting properties, ashwagandha protects against oxidative stress, prevents fine line formation, and soothes inflammation.
GINSENG
Ginseng is an antioxidant-rich adaptogenic ingredient that's been proven to boost collagen production and impede melanin production. In turn, it can help treat fine lines, wrinkles, loose skin, and hyperpigmentation.
VITAMIN C
A powerful antioxidant, vitamin C prevents premature aging and inhibits melanin production, helping to fade dark spots and hyperpigmentation. It also makes the skin appear more radiant.
WITCH HAZEL
Full of antiseptic and anti-inflammatory properties, witch hazel cleanses skin, absorbs oils, and tightens pores while quelling redness and irritation. It's an effective remedy for treating ingrown hairs and blemishes.
Shine Bright From Day to Night
Barbie™ x Truly offers everything you need to get bright, tight, and full of that fearless Barbie™ spirit. 
Scrub
Start off fresh and fearless with Barbie™ Smooth Scrub.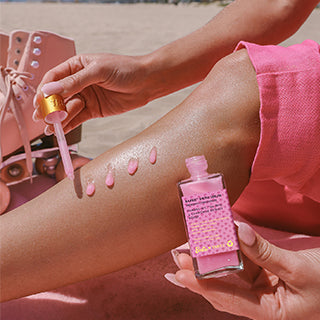 Smooth
Get beach-ready with Barbie™ Bikini Serum.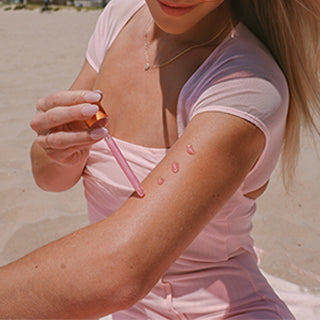 Shimmer
Shimmer and shine with Barbie™ Bright Serum.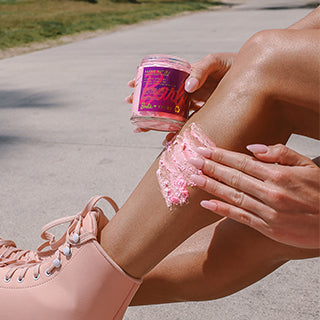 Hydrate
Look and smell your sweetest with Barbie™ Butter.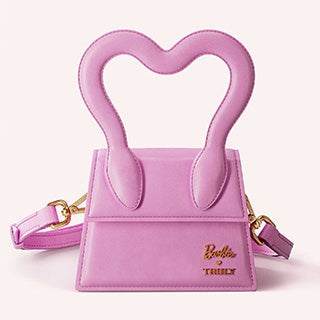 Adventure
Adventure in style with your Barbie™ Mini Purse.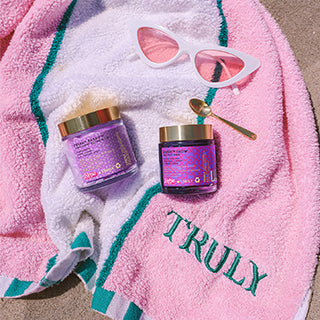 Glow
Wind down with Barbie™ The Movie Glow Jelly Face Mask.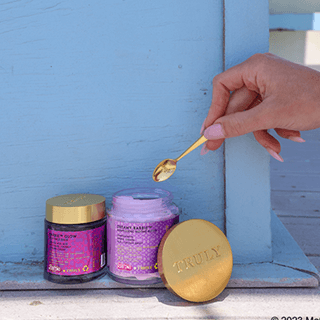 Chill
Ease into a deep, rejuvenating sleep with the Dreamy Barbie™ The Movie Adaptogenic Bedtime Butter.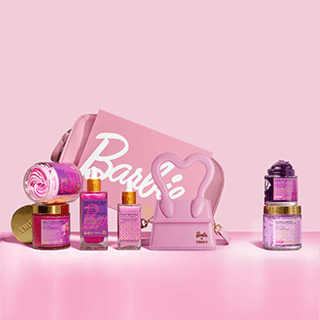 Pack
Pack up all your treasures in the Pink Vanity Case–and glow on the go!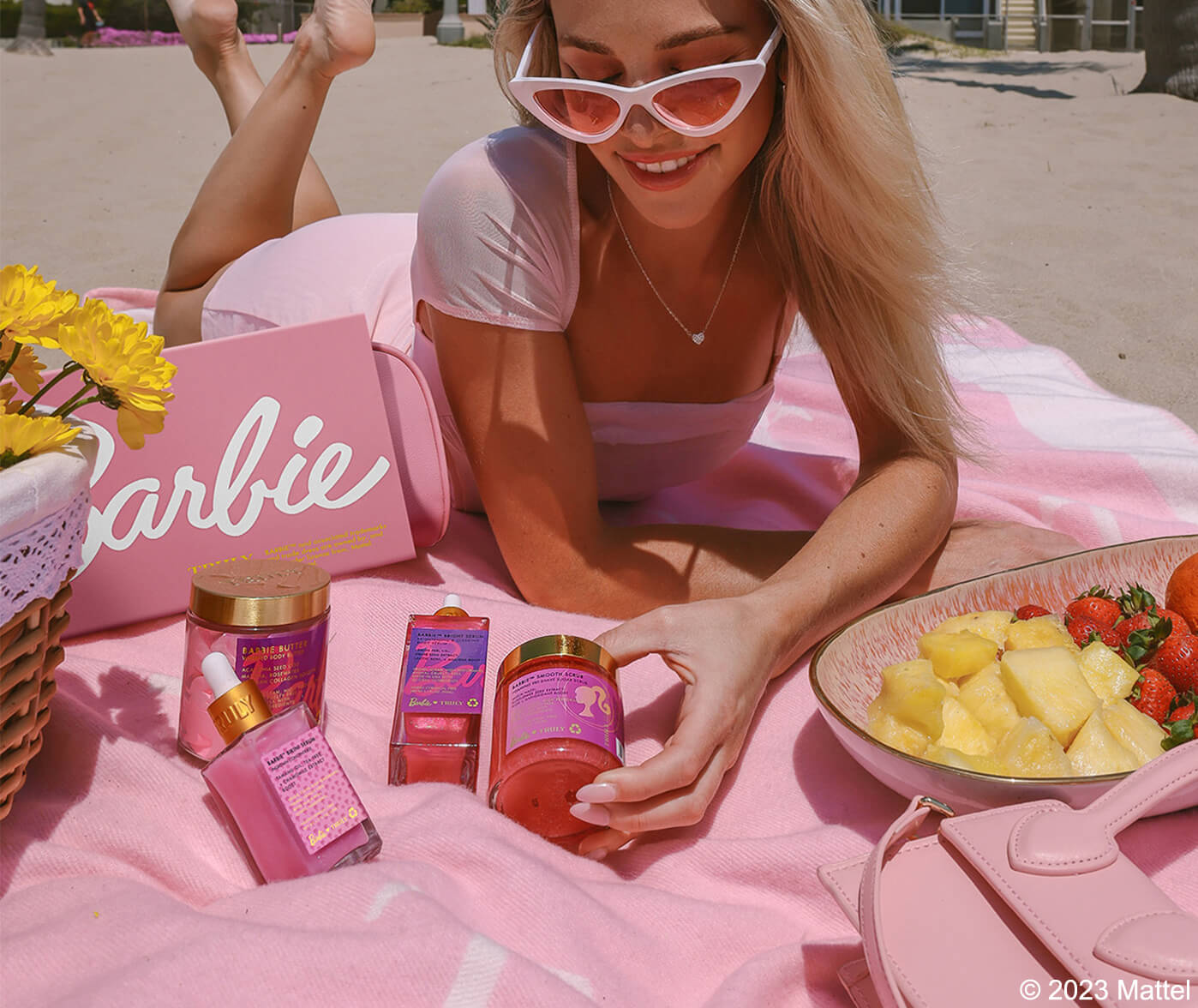 Customer Reviews
"The Barbie items are my new faves! I couldn't believe how clear my skin looked after just one use, the bumps and redness were practically gone! These are some of the most hydrating products I've used. They also smell AMAZING, like sweet and fruity at the same time."
Subscribe for Exclusive Perks
Join today for a year filled with fun, fantastic deals, and gleaming skin! You can also put this collection on auto-ship for straight-to-door delivery every month—and 10% off every order!