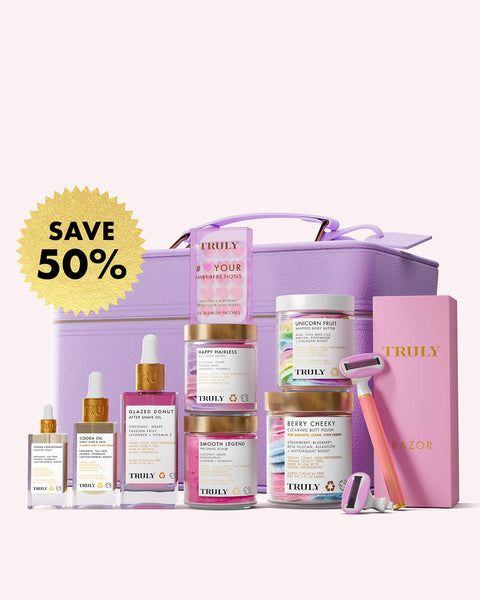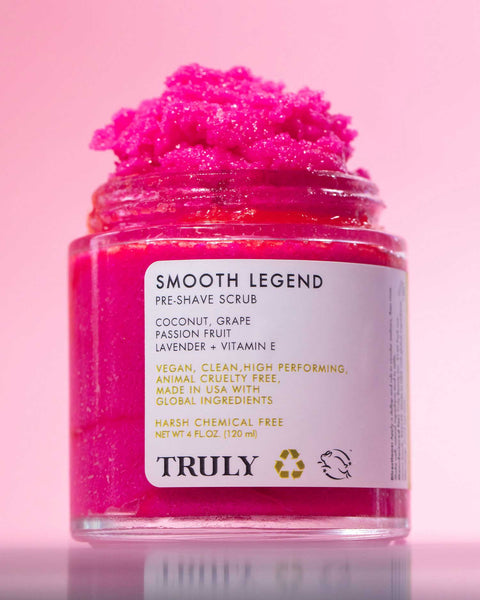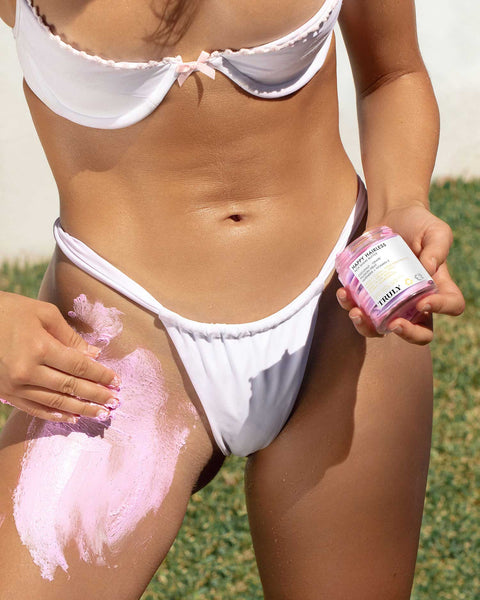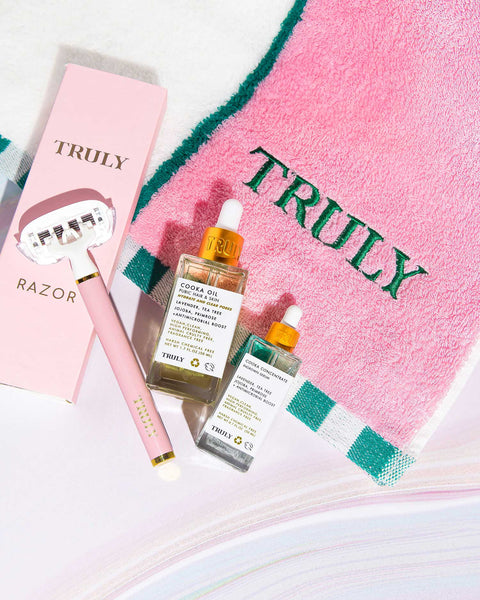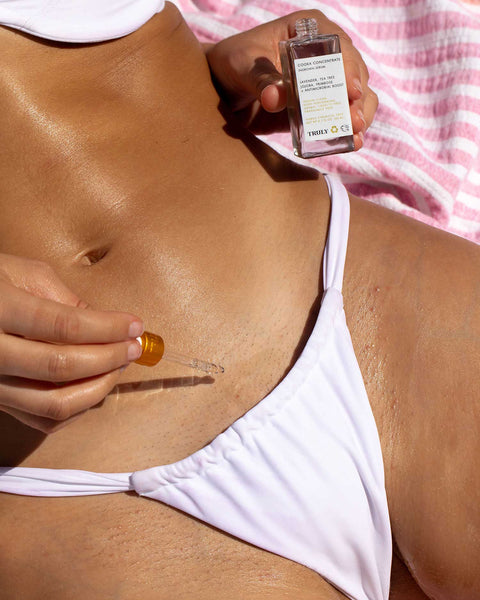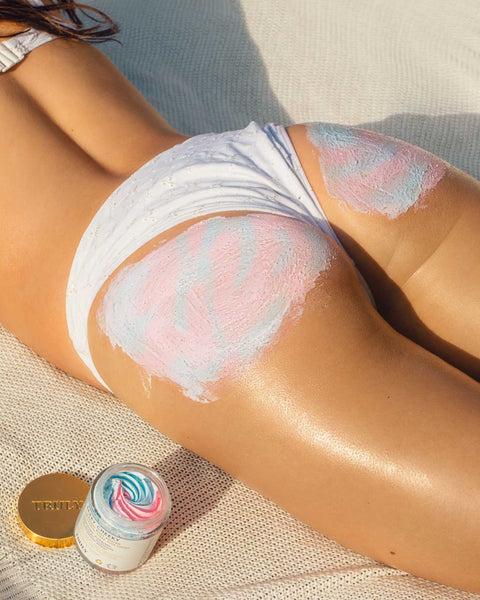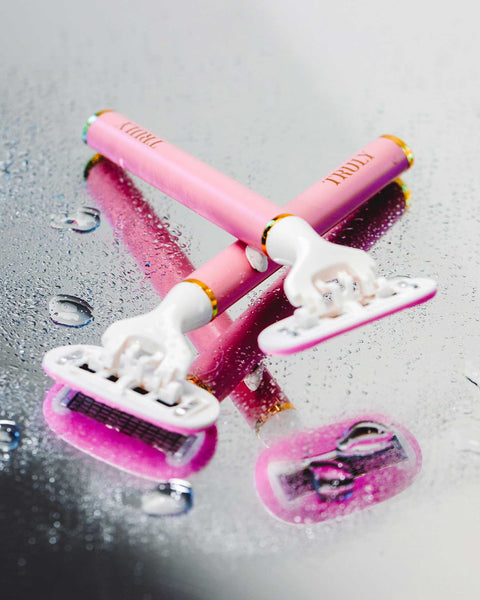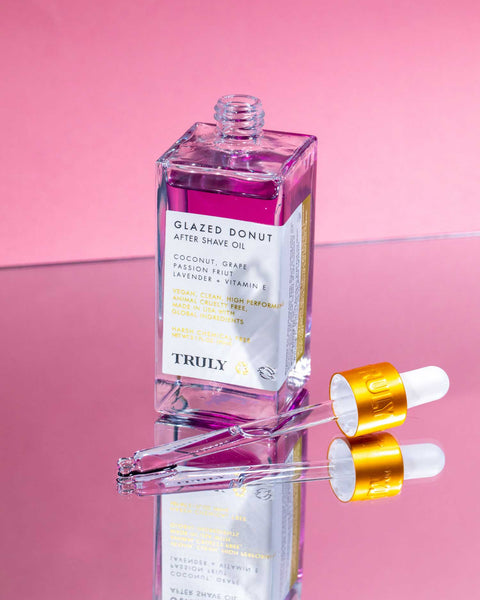 The Smooth Legend - Complete Collection
#1 Full Body Shaving Routine + Luxury Trunk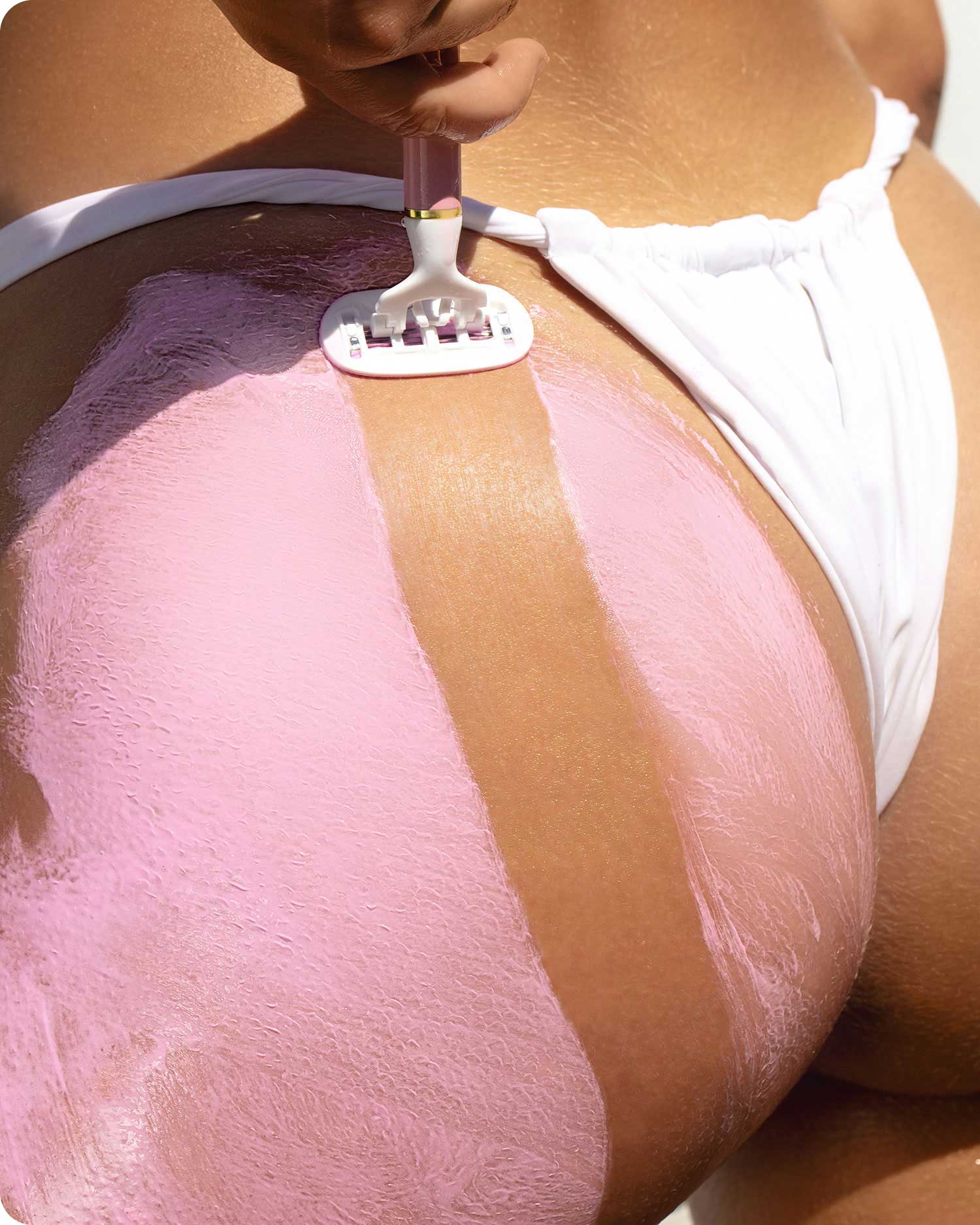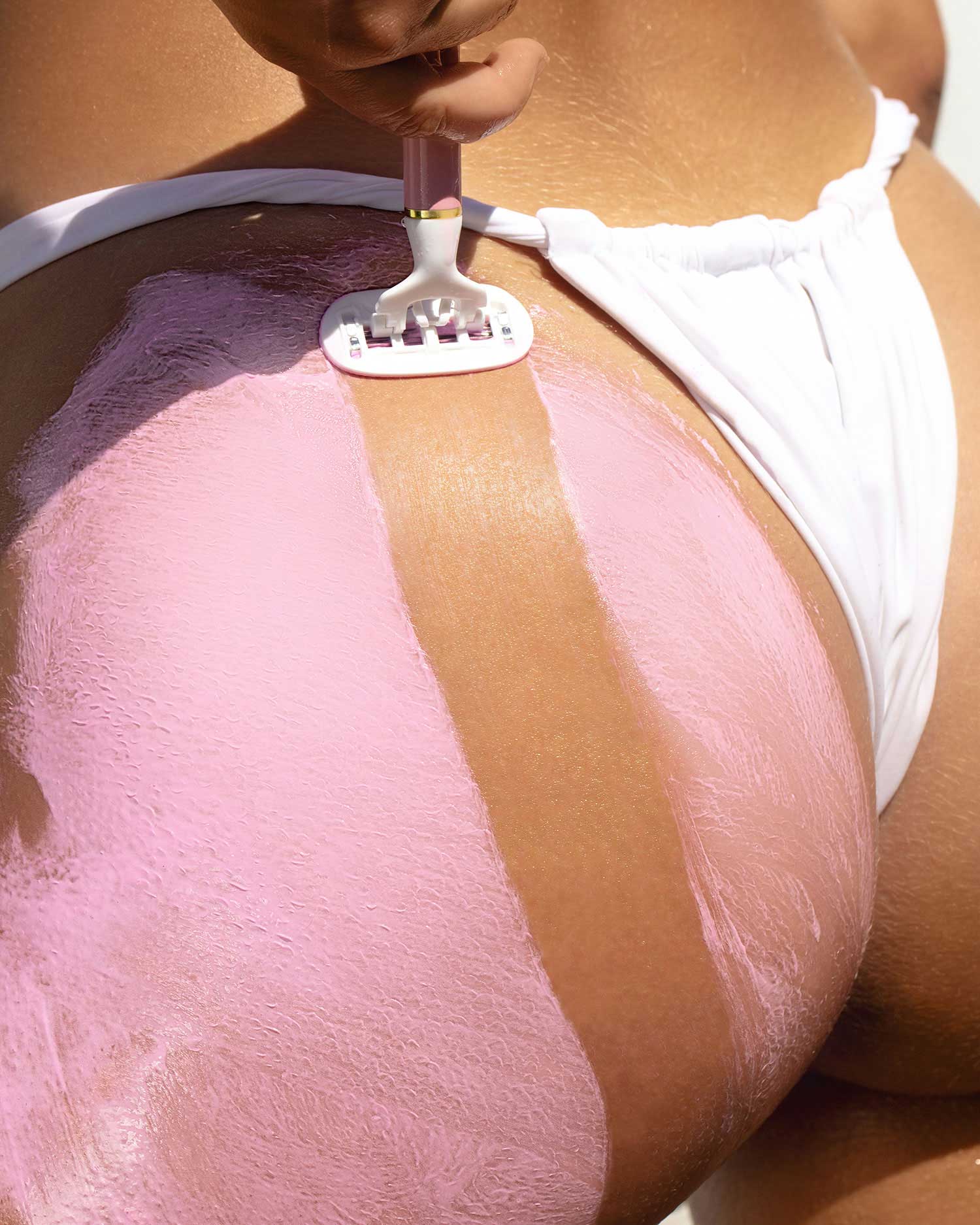 What makes The Smooth Legend - Complete Collection better?
Featuring a lineup of Truly's best shaving formulas + our award-winning razor, enjoy a better shave with fewer glides, zero ingrowns, and velvety-smooth skin that lasts up to two weeks.
Dry, Coarse Hair
Softens, hydrates, and nourishes for smooth skin and hair
Ingrowns & Razor Burn
Heals, calms, and soothes post-shave irritation
Strawberry Legs & Hyperpigmentation
Unclogs follicles and promotes cellular turnover for fresher, clearer skin
Easy to use, validated by
real results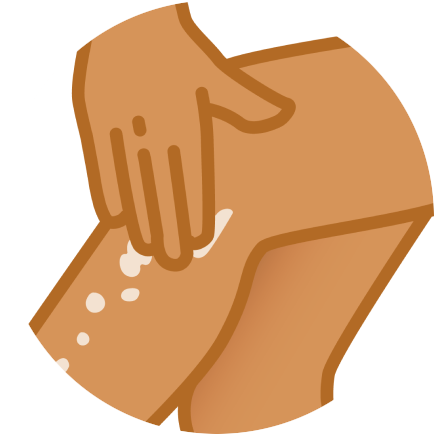 Step 1
SCRUB
Using warm water, massage a palmful of body scrub into the skin to work up a lather. Rinse off.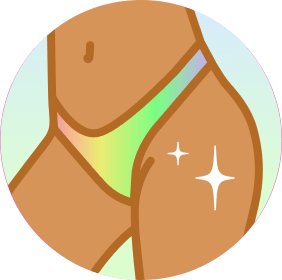 Step 2
LATHER
Lather up your fuzzy areas using this whipped shaving cream prior to shaving.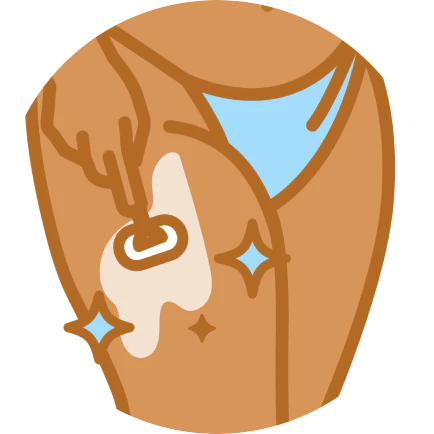 Step 3
SHAVE
Take your Truly Pink Razor and shave with the grain, following the direction of hair growth.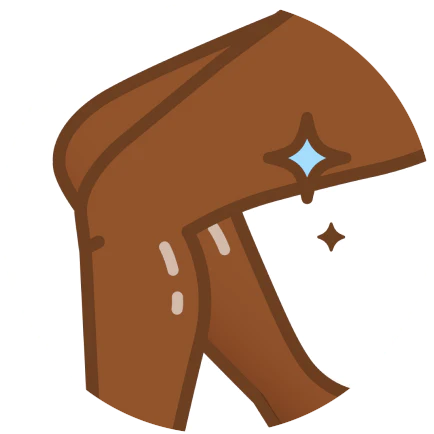 Step 4
OIL
Pat skin dry, and swipe Glazed Donut Shave Oil across desired area.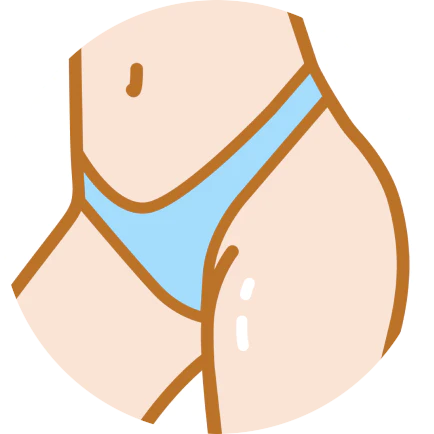 Step 5
BUTTER
Scoop out a dollop of Unicorn Fruit Body butter, and apply to the entire body after showering or bathing.
Step 6
STASH
Stash all your shaving supplies in your Amalfi Luxury Travel Trunk.
Essential ingredient
for best results
Lavender
With its powerful anti-inflammatory and antimicrobial activity, lavender calms inflammation while preventing bump formation, promoting a clean, ingrown-free shave.
Tea Tree
Packed with antiseptic and antimicrobial properties, tea tree oil helps to minimize redness, irritation, and ingrown hairs while promoting healthy hair growth.
Vitamin E
A fat soluble antioxidant, vitamin E protects cells against oxidative damage while strengthening the skin barrier and locking in moisture for silky smooth skin.
Allantoin
Extracted from the root of the comfrey plant, allantoin is known to soothe irritation and quell breakouts while spurring the skin's natural healing process.
Shea Butter
Rich in fatty acids and vitamins, this natural emollient creates a barrier that locks moisture in to soften, smooth, and plump skin.
Reviews
What are people saying about
The Smooth Legend - Complete Collection
Great value
Such a great value! I loved everything in this kit and the case is beautiful!
Great set
I love this set, love that it comes with the travel trunk. Will be purchasing again.
Love!
Everything smells so yummy and my skin looks great! Happy girl here!
Beautiful 😍
I ordered the Ultimate Smooth Legend shave set, JUST IN LOVE WITH THE SMELL OF ALL THE PRODUCTS!!! Will be ordering again!!! Shipping was fast!!😍😍😍😍
My fav!!!!
All of the shave sets are amazing but smooth legend is my top fav. It's such a good exfoliator and the shave butter smells so good. It's very fruity but pretty . The razor just glides so easy on the skin and gets every little hair . Leaving you super soft and moisturized. I highly recommend. This bag is so cute .and don't forget the glazed donut oil. OMG !!!
Amazing
I followed all steps suggested (Smooth legend - Happy hairless- shave- glazed donut) and OMG. My skin feels amazing, so bright, hydrated and soft. And you don't need to use a huge amount, just a truly spoon is enough. I will definitely be buying again.
The Best Shave Kit Ever
This is the best shave kit I've ever gotten. It included the smooth legend scrub, the best razor I have ever had in my life, (my skin is so smooth!!) a cute happy hairless shave butter, glazed donut (my personal fav) and a cute fluffy bag!