Best Holiday Beauty Gift Ideas Under $50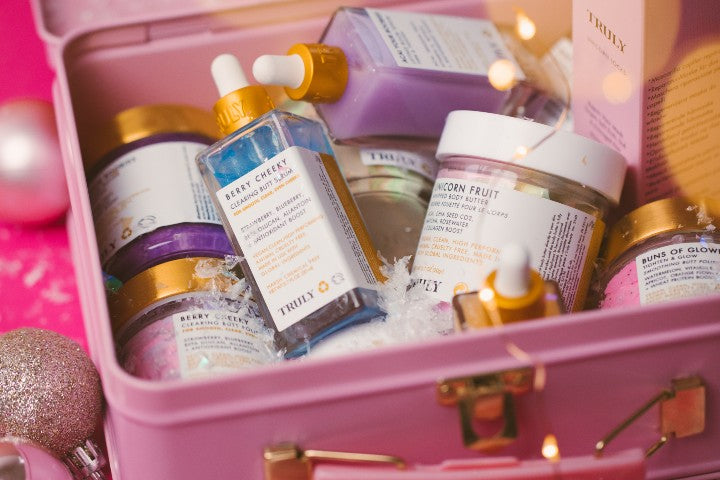 It's holiday season! Which means it's holiday shopping time!
If you're looking for the best beauty gifts for beauty lovers in your life, scroll down for our holiday gift guide featuring Truly's top products that fall below $50.
Happy festive shopping!
Unicorn Fruit Eau de Parfum
Perfume is always a good choice.
Our first signature scent, modeled after the cult favorite fragrance of our bestseller Unicorn Fruit Body Butter. With its fruity and feminine base of candy floss and vanilla, and light top notes of citrus and black currant, this full-bodied scent is perfect for sweethearts with a seductive side. It's a great stocking stuffer for your loved one or bestie. 
Moon Bath Essentials
Searching for the perfect gift for that special someone who adores self-care? Pick our Moon Bath Essentials gift set. Featuring an ashwagandha-based body cleanser and a eucalyptus-based shower mist, this duo help calm skin and mind, promote relaxation, and soothe nervous tension. 
There's nothing wrong with a little self-care every day. After all, with the year we've all had, we could do with treating ourselves to a relaxing spa session -- even if it is at home. The Moon Bath kit lets you do that!
Plump Your Lips Bundle
Got a best friend who couldn't live without her lip gloss? Treat her to this volumizing lip kit which includes a glittery lip mask and plumping lip balm designed to moisturize, plump, and nourish pouts. 
Heartbreaker Lip Plumping Mask is a ceramide-based glittery lip mask formulated with aloe and vitamin E to soothe and protect. Unicorn Fruit Lip Plumping Balm is a lip butter made with peppermint, acai, and matcha to plump and hydrate lips. It's a great Christmas gift for that lady in your life who loves beauty products. 
Super Fruit Shampoo + Conditioner
Instead of mascaras, eyeshadow palettes, and nail polishes, fill her stocking with some hair care essentials instead!
Repair and restore your locks with our Super Fruit Shampoo + Conditioner -- formulated with argan oil, coconut oil, tea tree, jojoba, and antioxidants. This duo work in tandem to coat your locks and restore their naturally strong, smooth, silky form.
If you've got a friend who's always complaining about her parched strands, treat her to this shampoo and conditioner set. It's a great gift idea for helping her achieve the mane of her dreams. And it's only two steps away!
Booty and Boobies Bundle
Looking for a holiday beauty gift that isn't matte foundation, body lotion, or hand cream? Consider our Boob and Booty Bundle. 
Combining the anti-aging retinol powerhouse of our boob polish with our intensely hydrating buns polish, users of this luxe duo can expect the ultimate tightened, banging bod. This skincare set is the best gift for girls who work their curves. Plus, it offers visible results.
Wheat protein in Buns gives the skin a smoother, softer feel while smoothing out fine lines and cellulite. Retinol boosts the production of collagen, reducing fine lines and wrinkles. Acai fights off free radicals while soothing redness and acne. Both formulas are made with all-natural, biodegradable jojoba beads that buff off dead skin cells without irritating the skin.
Coco Rose Bundle
A body butter + hair mask formulated with hydrating shea butter, nourishing coconut milk, and scalp-soothing rose. This pretty pink bundle will hydrate your skin and your hair!
It's the perfect Christmas gift for moms, sisters, or besties. Or basically anyone who loves pretty pink things. 
Unicorn Babe Bundle
Beauty lovers may also like our Unicorn Babe Bundle -- packed with our bestsellers: Unicorn Fruit Body Butter, Unicorn Fruit Lip Plumping Balm, and our #Heart Your Imperfections. 
Unicorn Fruit Whipped Body Butter is a buttery, multicolored swirl of head to toe hydration. Unicorn Lip Balm contains peppermint and acai for a plumper, juicer pout. #Heart Your Imperfections are a heart-shaped hydrocolloid patch, which drain fluid from zits and prevent future ones from forming.
Everybody has a unicorn in their life. Gift your unicorn our Unicorn Babe Bundle this Christmas to show her just how special she is!
Satin Sleep Set
Give her the gift of next level beauty sleep with our Satin Sleep Set. Inside, you'll find a satin pink pillowcase to help with hair frizz and breakage, an eye mask for a restful night's sleep, a headband and a scrunchie to keep your hair in place as you snooze. This vegan set is your frizz- and crease-free solution to a legit night of beauty sleep.
Goodnight Moon Chest/Neck Sleep Mask
Instead of traditional face masks, choose a sleep mask formulated for the chest and neck. It'll be the gift she never knew she needed!
This revitalizing decollete mask is infused with moisturizing hyaluronic acid, firming vegan collagen, and circulation-boosting ginseng for a youthful, radiant glow each morning.
Goodnight Moon chest/neck mask provides visible lift, while smoothing the appearance of wrinkles and creases.
Mini Holiday Sets
We just made our full-size beauty favorites -- miniature. Our limited edition holiday bundles save you 20% while offering an adorable, skincare sampling, handpicked by our team! 
You can choose from three bundles -- Unicorn Kit, Melons + Berry, and Acai + Buns. 
It's the perfect opportunity to take Truly on a test-drive, give it as a holiday gift, or keep it all to yourself. Remember, you deserve as much of a treat as anyone else! 
Truly's ready to reign in the holiday season with you! Wanna join us?
When it comes to holiday gifting, the best gifts are those with heart. Really think about what your mom, sis, bro, or bestie would want or need -- and build on that. Lucky for you, we've got a huge selection of beauty products under $50 so you can get a great gift for your special someone without breaking the bank!
You can also purchase our full range of products on Amazon, Sephora, and Ulta. 
Share
---