Everybody's Making DIY Sunscreen. Here's Why You Shouldn't.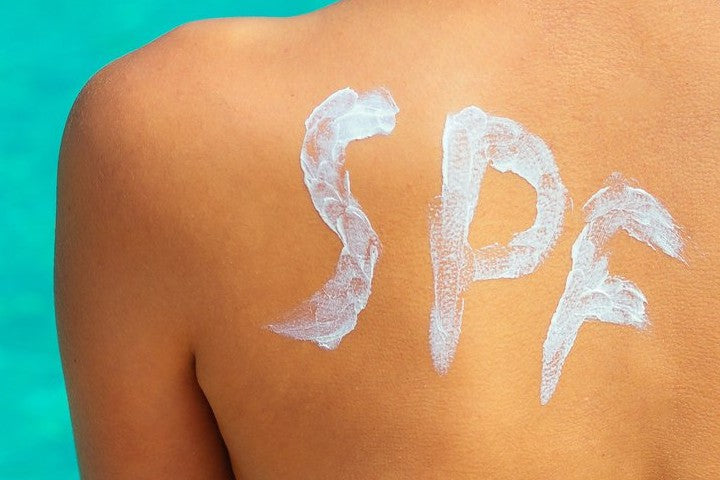 Everybody loves DIY skincare. From homemade scrubs to face masks and lotions, it's easy and fun to create your own formulations instead of relying on drugstore skincare products. That said, not all skincare should be DIY-ed, especially products your skin relies on to stay healthy — like sunscreen.
Recently, a trend has been circulating on TikTok and other social media channels that has left dermatologists fearing for people's safety: DIY sunscreen.
While it's definitely possible to create your own DIY SPF, dermatologists advise against it for a number of reasons.
Here's what DIY sunscreen actually is, how it's made, and why you should stick to buying your regular broad-spectrum sunscreen.
WHAT IS DIY SUNSCREEN?
With each passing year, consumers are looking for cleaner products free of chemicals and other additives. Hence, the birth of the DIY SPF trend. Since many sunscreens available today contain synthetic ingredients, people are looking for more natural alternatives. And that is why they're concocting their own sun protection lotions and creams.
DIY sunscreen is pretty easy to make. It requires a handful of ingredients — coconut oil or raspberry seed oil mixed with shea butter and then topped with zinc oxide or titanium dioxide for sun protection. All ingredients are heated together on the stove, thoroughly blended, and then left to cool until being transferred to a container.
The only problem is, it doesn't work. According to dermatologists, these DIY formulas don't provide much protection against UV rays, leaving you prone to sunburns, skin cancer, melanoma, and a slew of skin concerns including fine lines, wrinkles, and discoloration.
WHY HOMEMADE SUNSCREEN IS A BAD IDEA
Making your own sunscreen might sound like an interesting experiment, but there are many reasons why you shouldn't. And if there's one thing all dermatologists can agree on, it's that homemade sunscreen is a bad idea.
As beneficial as plant oils can be for hydrating the skin, there's not much evidence to show that they actually protect the skin against UVA rays. And as cosmetic chemist Victoria Fu explains, "Plant oils aren't regulated as sun filters."
But what about zinc and titanium oxide commonly found in mineral sunscreens? Surely, they provide some kind of protection against the sun's rays?
Unfortunately, not really. Even if your homemade SPF contains titanium dioxide, these DIY formulas haven't been tested for their true UV protection, water resistance or stability, leaving people at risk for sunburn and even skin cancer.
"Traditionally, sunscreens go through rigorous testing by the FDA to determine sun protection factor and resistance to water," says Forum Patel, MD, a dermatologist at Union Square Laser Dermatology. "DIY options aren't, and so even though conceptually they might sound good, they might not actually be protecting you."
Dermatologist Joshua Zeichner agrees, saying "I never recommend opting for a DIY option."
Always stick to using a tried and tested sunscreen formula that has gone through UVA and UVB rays testing to ensure you're getting the most protection from your sunscreen.
WHAT TO USE INSTEAD
Everyone should wear sunscreen every day. But not just any sunscreen. Invest in a quality formula with SPF 30 or an even higher SPF. SPF 15 is fine if you're just leaving the house for a few minutes. However, if you're spending long periods in the sun or have very fair skin, you should be using SPF 30 or even SPF 50 to get proper protection and avoid sun damage.
You can choose from mineral and chemical sunscreens. Both are helpful in protecting skin against sun exposure. However, sensitive skin types would be better off with a mineral sunscreen, as these tend to be gentler on the skin. Apply a generous amount (around the size of a shot glass) to your face, neck, and anywhere else on your body that may be exposed to the sun. Reapply every two hours.
Certain moisturizers and makeup products also contain UV protection. While these aren't ideal, they can be useful if you're indoors or only going for a short walk that doesn't require as much protection.
Remember: sunscreen use should be a daily thing. Whether it's sunny or rainy outside, always apply adequate sunscreen to protect skin against sunburn, blisters, and skin cancer. While small doses of unprotected sun exposure can be beneficial for getting your daily dose of vitamin D, you don't want to spend long than 10 minutes outside without wearing SPF.
SHOP UV ABSORBING SKINCARE PRODUCTS
In addition to your daily sunscreen, stock up on some of these UV absorbing products below that are here to save your skin this summer.
Hydrating Summer Set
This 4-step kit comes complete with Best Frenemies Whipped Polish, Best Buddies Body Butter, Jellyfish Jammin' Body Mask, Golden Pineapple Body Serum + a SpongeBob-inspired gold spatula applicator & bag. Each product contains a plethora of hydrating and protective ingredients such as hyaluronic acid, pineapple, algae, and sea kelp. All of which help to shield skin from UV rays, deeply moisturize, and brighten your bod.
Blueberry Kush CBD Body Oil
A berry-scented body oil packed with antioxidant-rich blueberry seed oil to protect skin against UV radiation and blue light emissions. Flooded with fatty acids, this daily oil strengthens the skin barrier, promoting healthy, hydrated skin.
Pineapple Haze Sensitive Skin Balm
An all over body moisturizer that provides quick relief to sunburned or irritated skin. Formulated with the anti-inflammatory properties of hemp and the hydrating benefits of vitamin E, this treatment cools, heals, and calms irritated skin. If you've spent too long tanning, this is the treatment to apply for speedy healing.
Making your own natural sunscreen might sound like fun, but all dermatologists agree that DIY SPF is not a good idea. For the sake of your skin and your skin's future, stick to using proper sunscreen formulations, otherwise you could wind up with sunburn or worse — skin cancer.
Even if you do blend together the best sunscreen ingredients and essential oils, there's no way of knowing how stable or effective the formula is for protecting skin against UV rays.
Share
---