Here's Your Hot Girl Summer Checklist For Sensational Skin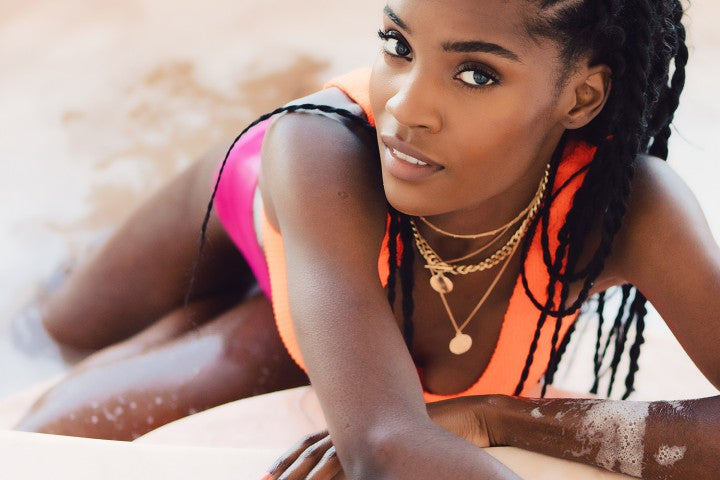 'Hot Girl Summer' has been the 'it' phrase dominating the cultural world lately. Coined by rapper Megan Thee Stallion, the term has become part of the day-to-day vocab of young women across the globe — and nobody can cancel it!
So, what exactly does 'hot girl summer' mean? According to Megan thee Stallion: "To be you, just having fun. Turning up, driving the boat and not giving a damn about what nobody's saying." Sounds good to us!
You will hear it in songs, on social media hashtags and statuses, and frequently from the mouths of millennial and Gen Z women.
Ready to hone in on your hot girl summer? Here's our hot girl summer checklist for making 2022 the best summer ever — for your skin, mindset, and your soul!
#1: Thaw Out Your Winter Skin
As the saying goes: out with the old, in with the new!
Achieve summer-ready skin with Truly's Defrost Summer Bod, a 7-step skincare kit designed to smooth, firm, brighten, and hydrate for unstoppable summer skin.
Featuring vegan summer skincare products made with firming retinol and hydrating coconut to exfoliate, shave, and moisturize your way to perky, glowing skin.
What's inside: Smooth Legend Pre-Shave Scrub, Coco Cloud Whipped Shave Butter, Truly Blue Razor, Dulce de Leches Firming Boob & Belly Polish, Cooka Oil, Buns of Glowry Butt Tightening Serum, Unicorn Fruit Whipped Body Butter + FREE vegan leather minty skincare pouch. 
#2: Make Sunscreen Your New Bestie
Don't go anywhere without it. SPF protects skin from the sun's harmful UV rays, which can cause premature signs of aging, such as fine lines, wrinkles, and discoloration. They can also cause painful sunburn, sun damage, and even skin cancer. To prevent all of these unthinkables, slather your skin in sunscreen every day before leaving the house. And not just your face! Wherever your skin will be exposed is where it needs to be applied!
Sunscreen should be your best friend this time of year, since this is when you'll be outside most — and ultimately most exposed. That said, dermatologists recommend wearing SPF all year-round, whether it's summertime, wintertime, or spring. That's because even when it's dull outside, UV rays are still lurking.
#3: Banish Bacne Once and For All
If body acne's stopping you from wearing your cutest tank tops and dresses, it's time to do something about it. You're a hot girl summer, remember! You go out and make things happen for you...so make them happen by taking action against your acne.
See the back of body acne with Truly's 4-Step Bodne Bundle. It features a cleanser, mist, moisturizer, and spot treatment, formulated with acne-fighting ingredients like salicylic acid, allantoin, and glycolic acid to help you achieve a blemish free bod.
To get the most out of this bundle, use all four products in the kit on a daily basis. Stick to this skincare routine for 4 weeks, and you'll be visibly clearer. So what are you waiting for? Go bring out those cute strapless shirts and backless dresses! 'Cos your about to get clear!
#4: Shave in the Clouds
Shaving is normally one of those beauty tasks that's tedious and sometimes even painful if you're prone to ingrowns. Level up your shave with Truly's Coco Cloud Shave Kit, a tropical shaving routine developed to deliver a dreamy smooth shave.
This 3-step shaving kit features our O.G. bestselling Coco Cloud Shaving Butter, plus a soothing post-shave oil + luxuriously rich moisturizer to leave you smooth, coconut-scented, and irritation-free every single time. You'll feel like you're on cloud 9 using these fluffy, whipped, tropical-fragranced formulas. Hello beach vibes!
#5: Shimmer Up, Hon
Glow up for your TikTok vids and swimsuit selfies!
Truly's Moon Lit Shimmer Oil is a flash absorbing body oil infused with champagne gold shimmer for an instant radiant glow. Vanilla, vitamin E, and chai spices work together in this formula to leave skin luminous while minimizing pores and diminishing dry skin. Thanks to vanilla's antioxidant properties, it can also neutralize free radicals to reverse skin damage and prevent the formation of fine lines, wrinkles, and dark spots.
This sparkling body oil is buildable on all skin tones for a customizable glow ranging from sun-kissed to dramatically dazzling.
#6: Treat Yourself to a Soothing Soak
Bubble baths make everything seem better, don't they? While baths might not typically be a summer thing, there's no reason why you can't enjoy a relaxing soak at the end of a hard day or over the weekend when you can just slide down and unwind.
Douse your tub with Truly's Mary Jane Bubble Bath, a CBD-infused formula to soak away stress, muscle pain, and irritated skin. It's also formulated with vitamin A, glycolic acid, and caffeine to rejuvenate your skin while alleviating acne-related irritation.
Dreamy, bubbly, CBD baths really need to be on your hot girl summer bucket list!
#7: Have Your Cake, Wear it Too
Truly's Full Body TREATment is a dessert-inspired body sculpting routine featuring six supercharged skincare products designed especially for your boobs, belly, butt, and legs. High-performing vegan ingredients like retinol, hyaluronic acid, coconut oil, and vegan collagen work together to tone your curves, smooth out cellulite, and leave skin visibly brighter.
Luxurious, decedent, and incredibly indulgent...dig into this dreamy body care line with all of the satisfaction and none of the guilt. You really can have your cake — and wear it too! No next day guilt after these body care binges! We promise!
What's inside: Dulce de Leches Polish, Dulce de Leches Serum, Dulce de Leches Cream, Cake Maker Polish, Cake Maker Cream, and Cake Maker Serum.
Hot Girl Summer is your way of having fun, not caring what others think, and above all: being you. The most natural and authentic version of yourself!
In addition to following this hot girl summer checklist for your skin, we also urge you to truly enjoy yourself this summer. Meet new friends, do something new, go on an adventure...just have fun and embrace your hot girl summer, Stallion-style!
Share
---