How Draining Your Lymph Nodes Can Help Your Face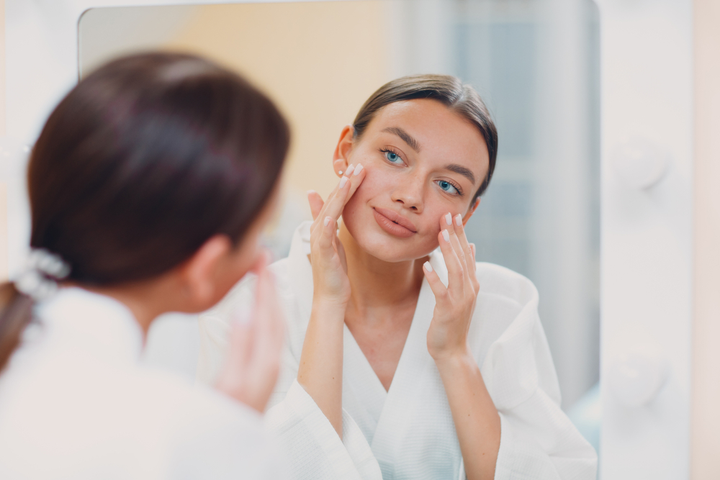 Ever heard of the lymphatic drainage technique?
It involves massaging the skin manually to stimulate lymphatic drainage and remove waste and toxins from your body.
Besides boosting your immune system and easing certain medical conditions, a lymphatic drainage massage can also benefit your skin.
According to derms, this massage technique instantly de-puffs and lifts the face. It can even treat skincare issues like breakouts, dull skin, and dark circles. 
Do we have your attention? Here's everything you should know about the lymphatic drainage facial and how it can transform your complexion.
Making it part of your skincare routine might be the best thing you ever do...
First, How Does the Lymphatic System Actually Work?
It's worth getting familiar with what it is and how it works before going any further.
The lymphatic system plays a crucial role in the immune system. It helps the body remove excess fluid in tissues, and transports water, fats, proteins, and toxins to the lymph nodes where it gets processed and cleaned. Once this is done, the lymphatic fluid goes back into the venous system.
Lymph vessels are responsible for moving lymph around the body from tissues to lymph nodes - the organs that filter out dangerous waste and substances.
The Link Between the Lymphatic System and Your Skin
The lymphatic system needs your attention to function at its best. 
"It doesn't have its own pump, so the lymphatic system relies on our own body movement to perform vital functions," says celebrity facialist Joanna Vargas said. "A stagnant lymphatic system will cause acne, breakouts, [and] even full dry skin."
According to aesthetician and massage therapist Jennifer Findley, manual lymph drainage is one of the most effective ways to remove puffiness from under the eyes, sculpt your jawline, and promote healthy skin.
BENEFITS OF A LYMPHATIC FACIAL MASSAGE FOR SKIN
Glowing Skin
Lymphatic drainage helps to get rid of toxins below the skin surface. Because it promotes blood flow, it can instantly transform a dull complexion into a glowing one.
"Good circulation and coherence in the various layers of tissue is reflected in healthy, glowing skin," says Sadie Adams, celebrity aesthetician at New York City's and Los Angeles's Take Care spas. 
After your lymphatic drainage massage, continue massaging your face as you apply your skincare products. It'll boost your glow even more and make your serums and moisturizers work harder.
Pair your massage with Truly's Glow Up Kit.
De-Puffed Eye Area
Massaging your eye area with gentle pressure can help reduce the appearance of puffiness and dark circles, reviving fatigued eyes. It works by decongesting the area and removing the build up of fluid that causes puffiness.
Maximize its de-puffing effects by using Truly's Eye Candy Anti-Puff Eye Cream.
A Natural Facelift
Firing up your lymph system can stimulate those sagging muscles, making facial features look fuller and sharper. It can also amplify your skin's natural collagen production, which can help fade fine lines and wrinkles.
According to a study, "Impaired function of dermal lymphatic vessels lead to accumulation of subcutaneous fat, which ultimately causes 'sagging' of the skin."
So if you're seeking a shaper jawline or more pronounced cheekbones, this dermatologist-approved technique can help significantly.
Follow up with Truly's Vegan Collagen Skincare Bundle. 
Fewer Blemishes 
Lymphatic drainage enhances the circulation of lymph fluid in the subcutaneous tissue. When you regularly stimulate lymph node draining, you're helping the body remove waste and toxins quickly and efficiently. As a result, it's a great skincare therapy for acne-prone skin.
It encourages the release of toxins for a clear and clarified complexion. If you have breakouts, try doing this self-care technique five minutes every day prior to applying your skincare products. 
Pair it with Truly's CBD Jelly Bundle.
HOW TO DO A DIY LYMPH MASSAGE
In order to do a self-massage at home, you don't need anything special.
Some people choose to use gua sha tools like jade rollers, but you can also just use your hands for an equally beneficial effect.
Master the Technique 
The primary goal is to move your lymph fluid towards your heart and lymph nodes.
"When performing this treatment at home, a great way to start is by gently massaging the neck and collarbone since that is the location of an important chain of lymph nodes," explains Camila Perez, an esthetician, massage therapist, and Clarins ambassador. 
Add a Serum into the Mix
"You want to be sure you have ample slide over the skin, so massaging with a serum or moisturizer will reduce friction and pulling of the skin," says New York City dermatologist Dr. Dennis Gross. 
Make sure you choose a nourishing, antioxidant-loaded serum, as the act of massaging will help the product penetrate more effectively into the skin.
Apply Light Pressure
The lymph system relies on gentle contraction from our muscles during everyday activity, so avoid using too much pressure when performing the massage. 
"Heavy massage is not necessarily any better and can just lead to inflammation and swelling," says NYC dermatologist Dr. Joshua Zeichner. "The only pressure you really need is enough to gently move the skin."
Work Downwards
Using the heel of both hands, work your way from the top of the forehead down to the eyebrows, massaging in upward motions. Then move along to the temples and then the jawline. Go down through the sides of the neck and finish by moving down the clavicle. Repeat this routine five times.
Draining your lymph nodes is a fabulous well-being treatment that can benefit your health, mindset, and your complexion. 
Best of all, you don't need to pay hundreds of dollars for an in-office treatment when you can easily perform a lymph facial massage from the comfort of your own home.
With just your hands and a few good skincare products, you can instantly enjoy a brighter, clearer, perkier complexion.
Share
---