How to Make Your Foundation Last Longer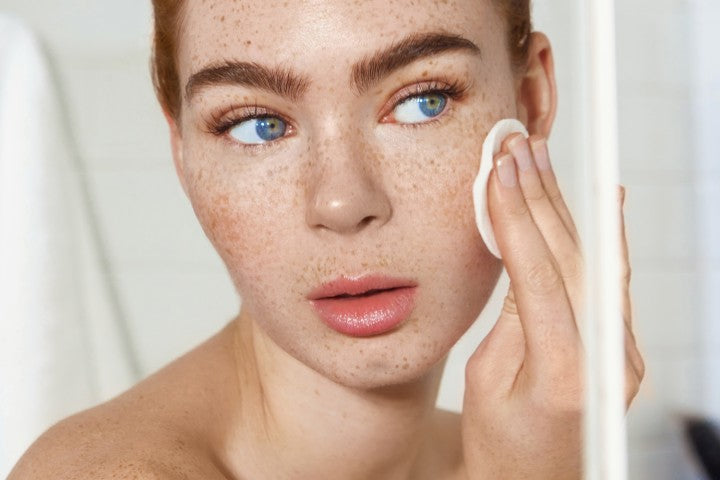 You've purchased a new foundation and you're in love with the way it looks on your skin. However, after just a few hours of wear, your makeup starts to fade away altogether.
We've all been there. And we know how frustrating it is when you've spent time creating the perfect base only to watch it slide off by lunch time. It's a common issue and luckily, one you can fix with a few simple tips and tricks.
In this article, we show you how to make your foundation last as long as possible without having to buy a new foundation altogether. Because the secret to long-lasting foundation is in the technique…and the preparation!
Prep the Skin 
To make foundation last longer, skincare is essential. Make sure you cleanse, moisturize, and apply serum prior to slathering on your makeup.
In addition to preventing breakouts, following a good skincare routine before applying foundation can make the product penetrate better – and last longer. Goal, accomplished!
Moisturizing is also important to prevent dry patches from showing up through your finished look. It also helps smooth out pores so that they can't be as easily picked up on camera or in person.
In conjunction with a face cream, use a hydrating serum. A serum is a must for those with dry skin, but even people with oily skin need to apply it before foundation to help balance out their natural oils and keep the makeup from clumping together and breaking down quickly.
"Balancing the water and oil in the skin enhances the performance of make-up by preventing oxidisation and makes products wear and look better for longer," says Jill Tomandl, vice president for product development at Smashbox. 
Start with Truly's Super Matcha Facial Cleanser to wash away dirt and oil, followed by Truly's Purple Rain Facial Oil to lock in hydration without leaving a greasy residue. Then apply a thin layer of Truly's Cream Skin Moisturizer to seal in all the goodness and create the perfect base for what's to come next.
Use a Primer
Primer is important for ensuring makeup doesn't disappear. Using a strong primer will make your foundation last longer. You can also take an oil-based product and mix it into your skin before applying makeup to create a natural finish.
"Primer is essential as it locks moisture into your skin to help prevent make-up disappearing when your pores start to perspire, while setting sprays act like a sealant and cement powders into place," says award-winning make-up artist Lan Nguyen-Grealis. 
Apply Concealer First
This is counterintuitive, but if you want flawless coverage with minimal touchups later on, start by covering up any blemishes or red areas first. This way you are already prepping these spots for when they show through underneath your other layers of makeup!
Use a Beautyblender
The tools you use to apply foundation can also impact its longevity. For a more natural look, use a beautyblender or makeup brush to apply it. And take your time – there's no rush!
"I really believe you have to take your time putting on foundation," says makeup artist Jamie Greenberg. "I usually buff it on with a brush, and then set it in by dabbing a Beautyblender on and then pressing set with powder."
Put a small amount of foundation onto your blender and then dab onto the skin in circular motions for a flawless, even finish.
Learn how to Layer
Instead of caking on your foundation, layer it on instead.
As tempting as it may be to apply as much as possible in the hopes it will last until evening, light layers work out a better investment.
For best results, apply your concealer, followed by a light layer of foundation, and then if you feel you need more coverage, apply a little more. Build it up until you achieve your perfect look.
Make sure not to use too much of each product because this will only create caked-on makeup! Using too much of one product can make the skin feel heavy while creating an uneven finish.
Powder, Blot, and Powder Again
The secret to making your foundation last hours is all in the finishing touches.
Set your foundation with powder, then press with blotting paper, then add a final dusting of powder to make your foundation last longer.
"Setting your makeup really means keeping everything looking flawless for as long as possible," says Sarah Lucero, global executive director of creative artistry at Stila. "It's like using a final mist of hairspray to hold your hair in its perfect 'do." 
Applying Foundation on Bare Skin vs Skin with Skincare Product
It's always better to use skincare products before applying foundation to prolong its lifeline. The problem with applying foundation on bare skin is that it won't set as well. Plus, you might end up watching your foundation cracking or peeling if you haven't given your skin sufficient hydration beforehand. Then there's the matter of oiliness – something that also affects how long your foundation lasts.
"Oiliness is one of the biggest factors in make-up coming off as foundation is less likely to adhere as well," says Dr. Emma Wedgeworth, consultant dermatologist for the British Skin Foundation. "Every day we lose millions of skin cells without noticing and because make-up sits on the surface, it also sheds. However, with oily skin, cell turnover is often disrupted and more skin cells are produced than normal so more of those cells will be lost." In other words, applying makeup to oily skin is a recipe for foundation disaster.
Try Truly's Pore-Shrinking Kit to set the perfect, pore-less base for your foundation.
It's possible to make your foundation last hours longer without having to splurge on a hundred-dollar product. We're not saying investing in a high-quality foundation doesn't make a difference – it certainly can – but what you do before, during, and after makeup application can also impact the lifeline of your foundation. So use these above tips to get the most out of your foundation for hours of flawless skin!
Share
---