How to 'Marie Kondo' Your Skincare Routine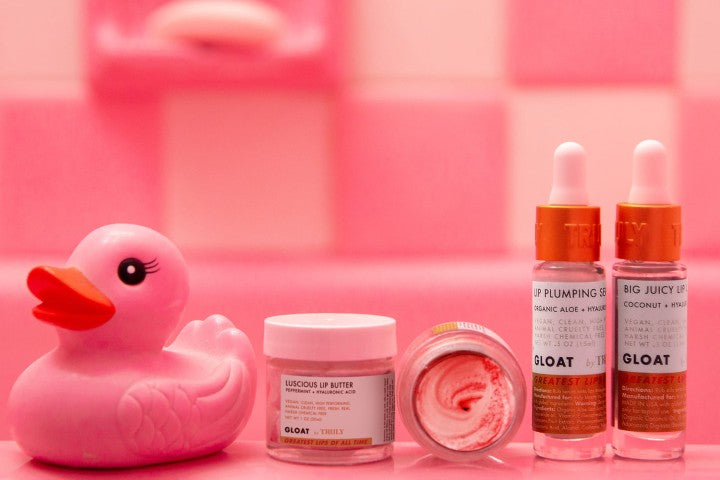 She's the bestselling author of The Life-Changing Magic of Tidying Up and the lead role in the Netflix series Tidying Up with Marie Kondo. Marie Kondo is the queen of clutter-free living, and the creator of the KonMari method.
The KonMari method is a minimalism-inspired approach to decluttering your things category-by-category and only holding on to stuff that sparks joy.
Frankly, we love how this Japanese babe roles. And we adore her approach to tidying up! That's why we've applied the method to skincare products. 
Are you ready to organize your cleansers, lotions, and serums the KonMari way?
Let's get started!
Bring Out All Your

Beauty Products
If you want to Marie Kondo your beauty collection, you're going to have to make a few hard decisions. But it'll be worth it in the end!
Bring out all the skin products you have -- moisturizers, toners, oils, sunscreens etc. You can also do this with your makeup products like mascaras, eyeliners, eyeshadows, and so forth. Lots of makeup artists are doing it with their foundations and blotting paper. Get it all out and let's get honest about what we're really using and what we're not.
Kondo insists it can be a transformative activity.
"For a lot of my clients, organizing products the KonMari way, it's an opportunity for people to really think about their relationship with beauty and what they aspire to, and I've seen people make drastic changes after tidying their bathroom or vanity."
Declutter

those Products that Don't

Spark Joy
According to Marie Kondo, "The best way to choose what to keep and what to throw away is to take each item in one's hand and ask: 'Does this spark joy?' If it does, keep it. If not, dispose of it. This is not only the simplest but also the most accurate yardstick by which to judge."
It really is an effective way to streamline your skincare routine. 
Go through every product you use in your daily beauty routine as well as the products hiding in your cabinet and decide which spark joy and which don't. It's also worth checking the expiration dates on those products you haven't used in a while. Old products don't need to stick around!
Now, you may be thinking to yourself, "my sunscreen doesn't bring me joy but I use it nearly every day!" You may think the same about your deodorant or your hair oil. It's about changing your perspective on what you consider to be joyful.
Do you like the protection your sunscreen gives you from harmful UV rays? Do you like the sweet fragrance your deodorant provides? If your answer is yes, that's a clear sign it's sparking joy for you.
Create a Designated Space for Your Dailies
For those products you use daily, make sure they're within reach. 
You could display them on a designated shelf or place them in a skincare fridge so you always know where to find them when you need them. 
If you like to take certain products with you to work, why not create a designated makeup bag filled with work skincare essentials? This way, you can take it with you every day and never need to unpack or pack it. Easy!
Organize the Others into Categories
Unfortunately, it's not as easy as throwing your lotions and potions into a drawer. You'll need to invest in some organizational tools like little boxes you can put inside your drawers to segment everything. Then simply group your products into categories -- cleansers, serums, lotions, and so on. 
Doing this allows you to see all of your items at once, while preventing you from piling things into a drawer when you're done with them.
It's also super convenient on stressy days. Instead of rummaging through your cabinets and closets for that Chanel night cream or Tatcha lip conditioner you want to use, you'll be able to open a drawer and find it straight away. No rummaging required!
Honestly, Marie Kondo would be prooooud!
SOME SKINCARE PRODUCTS THAT SPARK JOY
Looking for some products to breathe sparkle into your soul? Try our top picks!
Unicorn Fruit Eau de Parfum
Our first ever signature scent, this irresistible aroma delivers a freshly fruity and feminine base of candy floss, vanilla, and subtle sandalwood with top notes of citrus, black currant, and white flora. A sensationally sweet, seductive scent for sweethearts with an edge.
Lemonade Mist
Want to smell like summer all year round? Our Lemonade Mist is the way to go. Light, citrusy, and spunky, this spritz features vegan collagen, lemon, and hyaluronic acid to visibly plump, smooth the skin, and deliver crazy levels of beach-ready glow.
Smooth Legend Shave Kit
How does the best shave of your life sound? Well, that's what your Smooth Legend Shave Kit delivers. This 3-step kit includes our Smooth Legend Pre Shave Scrub, Happy Hairless Shave Butter, and Glazed Donut Shave Oil. Together, these products work to exfoliate, hydrate, and treat ingrowns for irritation-free, smooth to the touch skin. 
GLOAT: Greatest Lips Of All Time
Because are they everyone's dream? 
Our 4-step lip kit gives you everything you need for a plumper, juicier pout. Plus, it's also Chantel Jeffries approved! Featuring a scrub, serum, oil, and butter, these products rely on powerhouse ingredients hyaluronic acid and peppermint for their hydrating and plumping powers. It's certainly a kit that sparks joy -- for you and your BF or GF!
Moon Shower Adaptogen Spa Mist
Shower your stresses away with our healing adaptogen mist. Made with adaptogenic herbs such as Ashwagandha and soothing natural ingredients like Eucalyptus oil, this shower mist promises to address the effects of stress on the mind and body for a perfect's night sleep.
You'll find all our products on our official website, Ulta, and Amazon.
If you've had enough of rummaging through drawers to find the things you need, start Marie Kondo-ing your skincare collection. The sooner you start, the sooner you'll radiate joy!
Share
---