How to Prep Your Skin for Self-Tan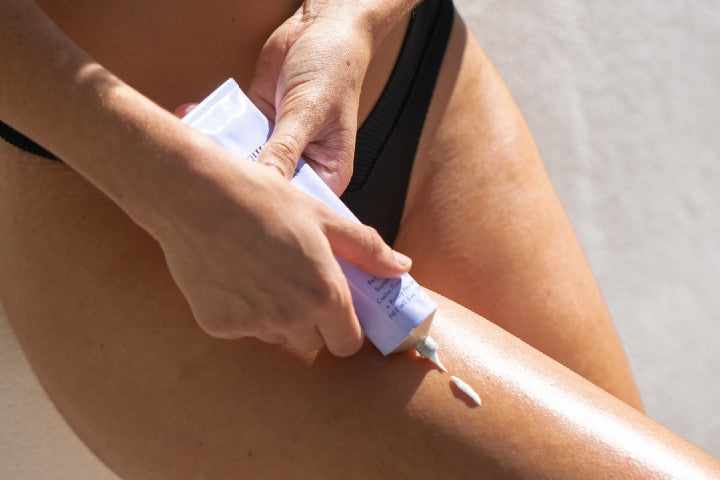 Nailing the bronzed beach babe look with self-tan can be tricky.
First, you need to choose the right type of fake tan. Then you've got to master the technique. Most importantly, you must prep your skin properly to ensure blotchy limbs or streaks never happen.
Self-tan is the quickest and safest way to fake a sunkissed holiday glow or full-on bronzed chic look. It's not the easiest way, though.
That's why it's worth learning how to apply fake tan to acquire a beautiful, naturally-looking tan minus patchy parts.
To help you out, we've created a list of pre-tan prep tips to guarantee seamless application and gorgeous results. You will get that golden glow.
24 HOURS BEFORE
Shave
Whether you're more of a waxing woman or shaving babe, it's always best to be hair-free before tanning. Shave or wax at least 24 hours before applying self-tanner to ensure the hair follicles have closed up, preventing a speckled look. These hair removal methods can also remove tanning product, which is why the pros advise you to do it ahead of your bronzing session.
We love Truly's Coco Cloud Whipped Luxury Shave Butter for providing a smooth, ultra-close shave.
Exfoliate
If you want your bottled tan to stick around, exfoliation prior to tanning is a must.
"You need to blitz and buff away all evidence of your previous tan to ensure an even base so your new glow goes on beautifully and looks flawless," says Carly Hobbs, Sienna X Expert Tanner and Brand ambassador. "Fail to do so and you could get patchy results, with some darker areas."
Applying color over unexfoliated skin will only fade as the skin cells shed.
"I urge all tanning pros at home to exfoliate gently the morning or evening before tanning application – you'll really notice a difference in the strength of the tan," says tanning expert, James Harknett.
Choose a scrub like Truly's Moon Rocks Whipped Body Scrub. It's made with all-natural ingredients like lavender, blue tansy, and jojoba oil to exfoliate, soothe, and moisturize the skin, preparing it for flawless application.
Moisturize
For an even tan, moisturize your skin at least 24 hours before applying tanning lotion. Moisturizer acts as a barrier, preventing your chosen formula from penetrating the skin. Avoid using it directly before tanning to prevent streaks and patches.
Dab a lightweight lotion like Truly's Body Star Perfecting Cream around your nostrils, elbows, knees, and ankles to keep them from turning too dark. These areas are prone to build-up and can end up looking a different color to the rest of your skin. Always use a moisturizer prior to applying fake tan to ensure smooth and seamless application.
Global Tanning Director at Tan Luxe, Jules Von Hep recommends applying it to your wrists too. "Apply a light layer of hand cream to your wrists to help avoid the annoying muddy marks that always accumulate there."
Steer Clear of AHAs
As awesome as AHAs are for exfoliating the skin, experts recommend avoiding them 24 hours before getting your tan.
"If you're using a retinol, or any face or body products that have AHAs in them, like glycolic, lactic, and citric acids, avoid them for at least 24 hours before your spray tan," Jules Von Hep tells Marie Claire. "They cause your skin to exfoliate on a deeper, cellular level, which can cause the pigment to fade faster."
Shun Oils
Body oils, oils in moisturizers – stay away from anything that contains oil.
"Oils act as a barrier on your skin that will prevent the tanner from evenly absorbing," explains Von Hep, "so if you use an oil-filled exfoliator or moisturizer before you tan, you're basically guaranteed to have problems."
You also shouldn't use oils post-tan, either, as they will "break down the pigments in the tan, so I definitely recommend avoiding them if you have a spray tan," says Hep.
DIRECTLY BEFORE
Dry Off
As most tanning formulas recommend you wait several hours before showering the following application, it's a good idea to shower first. But if you do that, be sure to wait until you are 100 percent dry before using your self-tanner.
"Your skin has to be completely dry," says tanning pro and St. Tropez brand ambassador Sophie Evans. "Water left on the skin will cause a big problem as water will erase and dilute the tan resulting into dreaded streaks and patches."
Avoid Wearing Deodorant or Perfume
Your skin should be super clean before applying false tan. Otherwise, you could end up with undesirable results. Even just a spec of perfume or deodorant is enough to leave you blotchy.
"Deodorant will go green as it reacts with the tan on contact, and while it doesn't stay green, it's not a good look," warns Hobbs. "If you are able to shower pre-tan, be brave and go for a cold rinse to encourage pores all over the skin to close so your tan goes on seamlessly."
Perfume also isn't a good idea pre-tan.
"I was once working with a client on Strictly Come Dancing and each week she'd come in on show day with a huge patch on her neck, it took us weeks to work out that immediately after her spray tan, she was spraying her neck with fragrance which was breaking the tan down as it developed," shares Hep. "Do not do this! Spritz a hair mist if you need a scent."
Or slather your skin in Truly's candy-scented Unicorn Fruit Body Butter as a natural perfume.
It's Tanning Time!
Now you're ready to go with your self-tanning session. Make sure you select the right tanning product and invest in a tanning mitt to nail your fake tan. You could also ask a close friend for help if you struggle to reach certain areas.
Follow the tips above, and your skin will be perfectly prepped for acquiring a golden glow. If you do this before each tanning session, there's no reason why you can't enjoy all-year-round sunkissed skin. Provided that you follow these pre-tanning steps and master the self-tanning technique, you are guaranteed a flawless out the bottle tan every time.
Treat yourself to Truly's Silky Smooth Shave Set for all the pre-tanning essentials you'll need.
Share
---