How to Use Berries in Your Summer Skincare Routine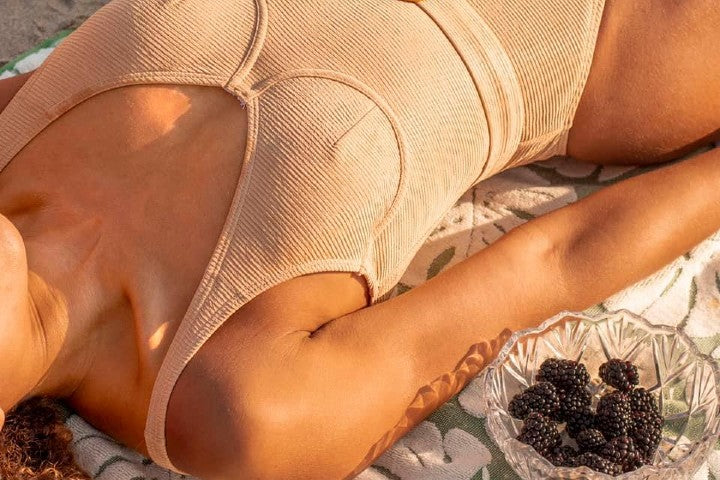 If you're trying to improve the appearance of your skin, you might be willing to try nearly anything to make a difference. Maybe you want to have glowing skin, or you might want to fight against acne, wrinkles, or another skin concern. While there are many skincare products available for purchase, you can also treat many skin concerns and improve the look of your skin with items from your home.
One great way to improve your skincare routine in the summertime is by using berries. Berries offer many benefits to the skin, and there are lots of different ways to use them. Raspberries, blackberries, blueberries, cranberries, and strawberries are all helpful in making sure your skin looks its best.
Let's take a look at how berries benefit the skin and how you can incorporate them into your skincare routine for beautiful, glowing skin.
WHAT ARE THE SKIN BENEFITS OF BERRIES?
If you're trying to decide if you should add berries to your skincare routine, check out these great benefits.
Berries Hydrate the Skin
Because berries contain a high amount of water, you can use them to hydrate your skin without extra oils. When your skin is properly moisturized, elasticity increases and helps to reduce signs of wrinkles.
Try Truly's Acai Berry Booby Bundle to smooth and soften your twins. Acai berries are packed with antioxidants to keep the skin youthful and glowing.
Blueberries are Filled with Antioxidants
Antioxidants are an important part of reducing free radical production. Free radicals can cause damage to your skin, create oxidative stress, and lead to pigmentation, fine lines, and wrinkles. By using antioxidants, you can help to promote a healthy, natural glow.
To enjoy the benefits of blueberries, invest in Truly's Blueberry Kush Bundle, which contains four blueberry-infused skincare formulas for luminous skin.
Berries Help to Brighten Your Complexion
Blueberries can improve circulation. When your blood is circulating properly, the skin cells can be fully nourished. This helps with many skin concerns, including acne and wrinkles. Proper blood flow can remove waste, such as free radicals, to further promote healthy skin.
Berries can Help Prevent Sun Damage
Raspberries and strawberries both contain vitamin C, which helps to protect your skin from the sun's harmful rays. This also helps to prevent skin cancer and other damage caused by the sun.
Berries Promote Younger-Looking Skin
Another way that vitamin C supports your skin is with its anti-aging benefits. This essential vitamin increases the elasticity of your skin. Vitamin C also promotes your skin by brightening and toning it.
Strawberries Remove Dead Skin Cells
Strawberries contain alpha-hydroxylic acid, which is used to exfoliate the skin and get rid of dead skin cells. When you exfoliate, you can unclog your pores and prevent acne, as well as reveal healthier skin.
Enjoy the smoothing effects of Truly's Unicorn Fruit Whipped Body Polish. Made with acai berry, chia seed, rosewater, and matcha, this formula polishes and buffs the skin for an ulta-silky surface.
HOW TO ADD BERRIES TO YOUR SKINCARE ROUTINE
Now that you know about all of the benefits of using berries to improve your skin, you may want to give them a try. There are several ways to add berries to your summer skincare routine. Remember to test skincare products on a small area of your skin before you use them regularly. If you have a negative reaction, discontinue use.
There are many berry-based do-it-yourself recipes for masks, scrubs, lip balms, and more. Give these a try and see how berries can improve your skin.
Berry Face Mask Recipe
For this face mask, you can use any type of berry you have on hand. This recipe also uses argan oil, which is useful in slowing aging.
Ingredients:
½ cup berries
1 teaspoon argan oil
1 tablespoon coconut yogurt
1 teaspoon raw honey
To make this mask, simply puree the ingredients in a blender. Apply the mask to your skin and let it sit for 30 minutes before rinsing with warm water.
Berry Face Scrub Recipe
This sugar scrub should be used once or twice per week to remove dead skin cells. The strawberries can help to lighten acne scarring. Because this recipe makes a whole batch, be sure to have jars or another storage container available. It can be kept in the fridge for about a month.
Ingredients:
1 cup sugar
½ cup coconut oil
½ cup thawed frozen strawberries
Puree the strawberries in a blender, melt the coconut oil in the microwave and mix the coconut oil, sugar, and strawberries together. Store in an airtight container.
Berry Lip Balm Recipe
Because of the natural color of berries, they make a great tinted lip balm. The berry flavor makes this do-it-yourself lip balm even better.
Ingredients:
5 blackberries
1 tablespoon beeswax
1 teaspoon coconut oil
Coffee filters
Small container with lid
Microwave the berries in a dish for 20 seconds with a small amount of water.
Mash berries with a fork. Transfer mashed berries and juice into a coffee filter. Squeeze the juice into another bowl. Melt beeswax and coconut oil together in the microwave for about 2 minutes. Stir occasionally. Combine beeswax, coconut oil, and blackberry juice. Stir and let harden.
Berry Lip Scrub Recipe
The raw sugar combined with the citric acid in strawberries polishes your lips. Vitamin C also provides anti-aging benefits to your lips and skin.
Ingredients:
1 strawberry
½ teaspoon coconut oil
2 teaspoons raw sugar
½ teaspoon honey
Mash the strawberry with a fork. Combine mashed strawberry with coconut oil, raw sugar, and honey. Massage into your lips. Rinse, dry, and moisturize your lips.
As you can see, there are many great reasons to use berries in your summer skincare routine and just as many ways to use them. Be sure to try some of these recipes so you can start improving your skin with the help of berries.
And of course, if you don't fancy making your own skincare berry formulas, hop over to our skincare collections for a range of berry-infused beauty products.
Share
---