Hungry for 'Skin Snacking' -- 2022's Tantalizing New Skincare Trend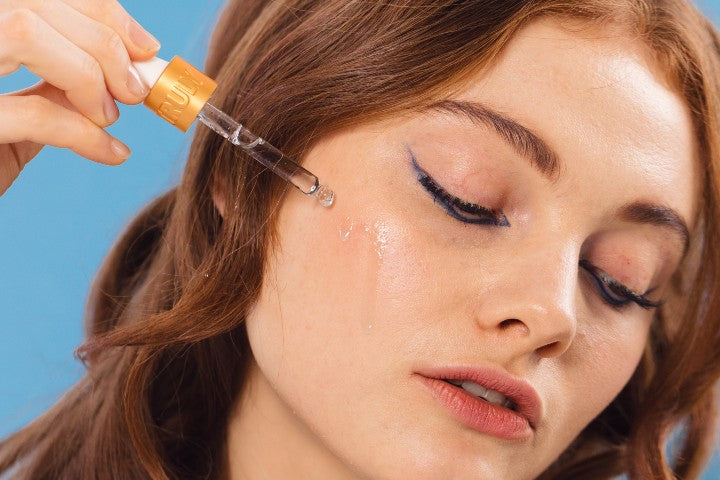 It's early 2022, and we're already seeing a ton of skincare trends making headlines. The most recent (and the most intriguing) has got to be 'skin snacking,' or 'beauty snacking' as it is also known.  
Coined by trend forecasting authority WGSN, the 'skin snack' consists of micro-skincare treatments which offer small pick-me-up beauty moments that you can do at your desk or on-the-go. These treatments are easy to use and mess-free, so you can literally use them anytime, anyplace. 
Want to hear more about the beauty industry's hottest new trend? Here's everything you should know about skincare snacking, what it can do for you, and the skincare products to use. 
WHAT IS BEAUTY SNACKING?
Everybody, regardless of where they work, is familiar with the 3am slump. It's that post-lunch lull that leaves you feeling tired and less productive. But with a few hours left in your work day, you know you need to keep going in order to get the job done. 
If you're anything like us, you might reach for a sugary-snack or a nice, long latte. However, post-pandemic, a new trend has emerged in the beauty world that allows you to break up the day and indulge in a brief moment of self-care -- aka, skincare snacking. 
Skincare snacking is all about easy, bite-sized ways to use your beauty products throughout the day -- wherever you are. It's about seeking life-enhancing products that spark happiness and pleasure, and stop that 3pm slump. 
"With the disruption of the morning skincare and make-up ritual caused by our working-from-home lifestyles, we are seeing small 'pick-me-up' beauty moments that can be applied easily throughout the day, while working, relaxing or on-the-go," explains Jenni Middleton, director of beauty at WGSN. 
Sounds great to us!
BENEFITS OF SKIN SNACKING
The concept may be new, but we're already seeing lots of advantages to incorporating skin snacking into our daily lives. Here are a few of the benefits you can expect when you begin beauty snacking.
It Breaks Up Your Day
Sitting at your desk from 9-5 (or longer!) can definitely leave you feeling frazzled. Skin snacking is a trend focused on improving your overall wellness by allowing you to temporarily escape the desk and workload throughout the day and indulge in a little self-pampering. It's not about doing your full skincare routine, but breaking it up and spreading it out across the day. 
It Brings You Joy
Skincare is a calming and satisfying experience. Whether you're lathering up with your favoite cleanser, slathering on your go-to vitamin C serum, or massaging in your moisturizing lip balm, the simple act of applying skincare is candy for your mind and mental health.
It Improves Skin Health
Paying more attention to your skin is a great way to improve its appearance and overall health. Regardless of your skin type, everybody needs cleansing, exfoliation, hydration, and sun protection. By investing a little more time into your skin, you will see the benefits. Plus, did we mention most formulations work better when applied in small doses? 
It Prevents Irritation 
When it comes to certain potent skincare ingredients such as retinol, exfoliating acids and vitamin C, skin snacking can be extremely helpful -- especially if you have sensitive skin. Dermatologists insist that using these powerful ingredients in smaller doses can improve their effectiveness and prevent irritation. 
You see, many people believe more is better. That's actually untrue. Bombarding your skin with potent active ingredients can leave you sore, red, and flaky -- something nobody wants. By applying smaller concentrations of these products, you can reduce your risk of irritation while actively improving skin health. 
THE BEST PRODUCTS FOR SKIN SNACKING
Last year may have been all about 'skinimalism,' but this year it's all about 'skin snacking.' Celebrate the new year by giving skin snacking a try. Here are the best skincare products to do it with.
Lemonade Mist
Whenever your skin feels dry throughout the day, spritz hydration back into your skin with this hyaluronic acid-rich face and body mist. It's also infused with brightening lemon, soothing aloe, and plumping vegan collagen to leave your skin smooth, glowing, and smelling like sunshine.
Blueberry Kush CBD Facial Oil
A daily facial oil packed with free-radical fighting vitamins and antioxidants, and blue-light-shielding blueberry to keep skin protected from your digital devices. This formula will hydrate, illuminate, and protect your skin all-day long. You can also use it on your nails and cuticles during the day for a boost of hydration. 
GLOAT Lip Plumping Serum
Revive your dry, chapped lips with this volumizing lip serum. Like all our beauty brand's products, it's cruelty-free, vegan, and as eco-friendly as possible. Packed with plumping peppermint and hydrating hyaluronic acid, this formula instantly smooths and adds volume to your pout. 
Unicorn Fruit Body Butter
Do you have an interest in trying trending products? Then you'll LOVE our TikTok-famous Unicorn Fruit Whipped Body Butter. This topical moisturizing treatment is loaded with shea butter, matcha, rose, and vegan collagen to nourish, soothe, and hydrate your skin while supporting skin barrier function. No wonder it's social media-famous! Just remember to follow up with sunscreen if you're going outside.
Besides improving skin tone, texture, and health, this product can be used as a lip balm, split end sealer, and cuticle softener. 
Unicorn Fruit Eau de Parfum
Unicorn Fruit Eau de Parfum is the perfect post-lunch pick-me-up. Spritz your skin in this fruity, uplifting scent to boost your mood and enhance your motivation.
We are a skincare brand committed to sustainability and ethical product testing practices. You'll find a range of products including face masks, shampoos, and enzyme-packed creams on our official store. And we guarantee you'll feel the best in your own skin using and wearing these products.
Most of our products are also made out of glass, making them refillable -- if you want to be extra eco-friendly. 
Don't leave it till next year to try skin snacking. We urge you to try it now. 
Share
---