Photo Tip: How to Make Your Skin Shine on IG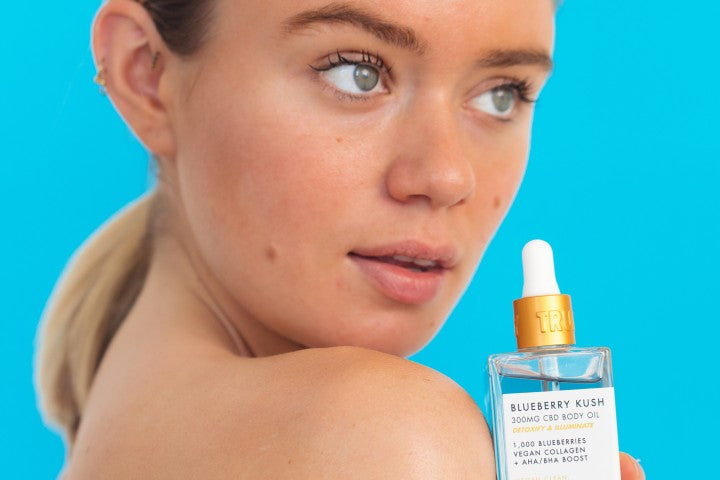 The perfect Insta selfie doesn't necessarily have to mean filtering your pics to death. While all kinds of filters are at your fingertips, sometimes the exposure, contrast, and blur tool aren't doing you justice.
Why not challenge yourself to go #NoFilter and get the perfect selfie first time around? With a few good skincare products and natural light, you can achieve flawless Instagram photos every time without relying on photo editing tools and filters.
Here's how to give some va va voom and vibrance to your social media selfies.
Every. Single. Time.
FOR THOSE CLOSE-UP, NO-MAKEUP SELFIES
Want to nail the "I woke up like this" selfie? You know the one. Then you're going to need to pay some serious attention to your skincare routine.
Follow these steps that will help you look (and feel!) fabulous when the camera faces forward.
Prep Your Skin
To achieve that influencer-like glow you know and crave, start by cleansing your face with Truly's Matcha Facial Cleanser to get rid of dirt, oil, and product build-up for a nice, clean base. Follow up with a gentle scrub like Truly's Matcha Face Scrub, which will slough away dead skin cells for smooth, glowing skin.
Slather on a Brightening Serum
Cleansing and exfoliating removes the accumulation of oil and dead skin so other skincare products can absorb better. Apply several drops of Truly's Mary Jane Glow Serum which uses retinol, CBD, caffeine, and glycolic acid to resurface, rejuvenate, and brighten the complexion. This formula can also help improve skin tone and replenish essential hydration (so bye-bye dull, dry skin!). Then lock everything in with Truly's Cream Skin Face Cream.
Apply Foundation and

Concealer

(Sparingly!)
Now that your skin is prepped, you're ready to apply foundation and concealer. A makeup artist's motto is always less is more, so go with that! Light makeup looks fresh and youthful, and that's the look you want on your Instagram account profile.
For best results, dab and puff the foundation and concealer into your skin so that it blends in nicely and gives a fresh, dewy finish. Got blemishes? Don't feel forced to cover them up. You can also embrace them by sticking one Truly's Super Heart Pimple Patches over them. Millie Bobby Brown aced it. So can you!
Add Some Extra

Skin Shine
And by shine, we don't mean greasy skin. Cover up your oily bits with powder and then light up your skin with a few swipes of highlighter to shine like an insta star!
FOR THOSE BIKINI SELFIES
Want to show off your steaming hot bod? After all those seriously sweaty home workouts, you'd be crazy not to take a few snaps!
If you usually use photoshop, Snapseed, or other blogger-approved programmes to give your bod extra glow, you'll be happy to hear that you can get that glow in the mo. Here's how.
Butter Up Your Bod
To give your bikini pics an even glow in the sun, slather your skin in Truly's Acai Your Boobies Butter and Buns of Glowry Butter. 
These two products are designed to hydrate, tighten, and resurface the skin on your boobs and butt for a bikini body that glows. Sadly, not enough women are pampering their lady lumps the way they should be. Start doing that, start seeing visible boob and butt sculpting results. 
It's best to apply these butters after taking a shower. Apply a thin layer to clean, damp skin for enhanced penetration and even better results. From now on, expect your DIY glow selfies to attract many more likes.
Get a Little Golden
Nothing gives you natural glow more than a good old-fashioned tan. Forget sunbathing and damaging your skin. Opt for Truly's Hotter in Person Bronzing Cream instead for a light even tan and natural finish sparkle.
We like to call it the blur tool IRL. This silky body cream is formulated with super-nourishing argan oil, brightening strawberry, soothing green tea, and flecks of gold shimmer to visibly smooth, boost radiance, and develop a natural, even tan without UV exposure.
All the influencers swear by fake tan to look naturally summer-kissed all-year round, and yup, they've certainly got us convinced.
Get Oily
... Like Truly's Blueberry Kush Body Oil oily.
Nothing gives skin a sexier glow than a hydrating, nutrient-infused body oil. It's a quick fix for sexing up your bikini selfie in seconds. 
NOW FOR THE PIC
So, you've got your skin and body prepared. Now's the time to start snapping away on your iPhone. But before you do, bear these tips in mind for taking the perfect, filter-free selfie:
Snap Early in the Day
There is a right and wrong time to take pictures.
"When the sun is really high above you, that's when you start to get raccoon eyes in photos," says New York City photographer Jeffrey Graetsch. "Harsh light also tends to bring out the pores in your face, so stick to earlier in the day when the sun's coming up — or later in the day when it's going down — the light is just a little bit more graceful." 
Make the Most of Cloudy Days
Feel free to go snap happy on cloudy days. Think of it as a free pass for pictures, because cloudy days make your pics so much more flattering.
Pose from Your Best Angle
We all have one. What's yours? It could be that you like the way you look better from the right side, left side, or at a specific angle. Either way, embrace it and take lots of selfies from that angle. 
It's not about hiding or masking anything. It's about embracing the best of what you have and the parts you love the most.
Smile!
Smiling makes everyone beautiful! Cheesy, sure. True? Absolutely!
Always wondered how the Insta peeps look sooo...radiant? It could be the filters, it could be a good makeup artist, or it could be a few genius skincare hacks. Let's make it the last one!
Share
---