Road Trip? Bring these Beauty Essentials Along With You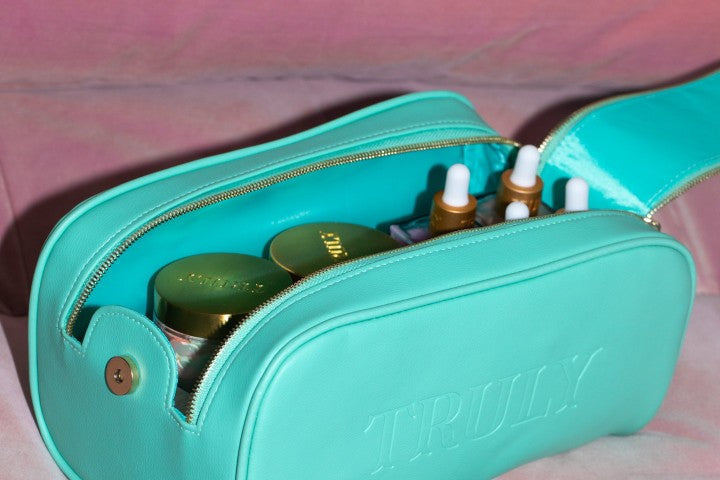 Hitting the big open highway this summer?
Then you're going to need a few beauty essentials to keep your skin glowing along the way. 
Road trips are wild, fun, and unpredictable -- everything you deserve after a year refined to the four walls of your condo. 
However, if you're a bit of a skincare junkie (like us!), you may find it tough to streamline the skincare products you'll need on the road. 
On the plus side, you have no TSA to deal with, which means you can pack whatever the heck you want on your getaway. Still, it's worth streamlining your travel beauty essentials to a few good, multipurpose products -- just to make life easier for you, really.
Here, everything you need for your next trip on the road.
Shampoo + Conditioner
It really depends on how long your road trip's going to be. If it's just a day or two-day thing, you can definitely get away without this duo. Pack dry shampoo instead. Any longer and you'll probably want to pack them in your toiletry bag if you want to stay fresh and fragranced throughout the journey. 
Choose a shampoo and conditioner that hydrate and restore your strands. After all, you're going to be doing a lot of driving and exploring, so things could get sweaty. Cleanse away the day's or several days' worth of dirt and grime build up with Truly's Super Plant Bundle Shampoo and Conditioner.
This revitalizing duo blends nourishing neroli with hydrating provitamin B5 to give your mane moisture and shine on your adventure. 
Sunscreen
This one's non-negotiable. Even if you're not doing much exploring on-foot, you're still exposing your skin to UV rays as you gaze out the window. 
Protect your skin from premature aging and sun damage by slathering on a broad-spectrum sunscreen SPF 30 or 50. Re-apply it throughout the day for maximum protection.
You don't need to apply it as often if you're staying in the car. If you're outdoors, you should be re-applying every couple of hours. 
Prone to breakouts? Choose an oil-free sunscreen formulated with zinc -- it's the best option for acne-prone skin.
Face Serum
Got dry skin? Instead of packing a moisturizer, pack a moisturizing serum instead. The awesome thing about serums and oils is that they double and sometimes triple up as other beauty products.
For instance, you can use your face serum or face oil as a body serum, lip balm, and even as a hair serum. They're so universal and so travel-friendly. Heck, you can even use them as a cleanser by adopting the oil cleansing method.
Oils and serums are the perfect carry-on beauty products for any trip. Plus, you can use them after a long trip or long flight to give your complexion a little pick me-up after all those hours traveling.
Let's just call them a travel bag beauty staple!
Truly's Hemp Oil Facial Serum uses hemp, jojoba oil, ginseng, and vitamin A to tackle dry skin, bring down redness, and calm any inflammation. 
Looking for something a little more rejuvenating? Try Truly's Vegan Collagen Serum instead. It's made with retinol, aloe, coconut oil, vitamin C, and plant-based collagen to brighten, resurface, and deliver a youthful appearance.
Hand Sanitizer
You'll definitely want to bring one of these babies along with you. Make sure it's easily in reach so you can use it anytime you eat, drink, or apply your travel beauty products.
Truly's Hand Sanitizer Germ Killin' Gel is the perfect on-the-go bacteria-banishing hand sanitizer to keep your paws clean! Made with a 70% alcohol, aloe vera blend, your hands will stay squeaky clean and hydrated with this fresh and reliable sanitizer.
A Refreshing Mist
Your skin pays a price for those long days traveling. Reward it with a hydrating spritz.
Road trips really are the perfect excuse to play around with beauty products. While applying mascara and concealer may be a little risky, it's a great time to use your wellness products.
Truly's Lemonade Mist is a hydration powerhouse made with a blend of lemon, hyaluronic acid, and aloe vera to visible smooth the skin and promote some major glow.
Besides being an excellent alternative to heavy lotion, it's also effective for decreasing oil production thanks to lemon's high pH levels. Oh, and did we mention you'll also smell like sunshine?
If you like, double this product up as a natural deo. Just spritz a little on your pits for a quick refresh and you'll smell as fresh as a daisy (or lemon).
A Sheet Mask
Why not make the most of your long hours on the road by indulging in a skin-soothing face mask?
Most face masks need to be washed away with water, so it's best to use a sheet mask, as you can just peel it off and you're done. No rinsing needed!
Pimple Patches
If a pimple pops up while on the road, resist the urge to pick. That'll just insert more dirt into the area and potentially cause scarring.
Stick one of Truly's Our Stars Prevent Scars Acne Patches on there instead. These star shaped blemish patches are flecked with hydrocolloid and tea tree oil to pull out fluid, soothe irritation, and protect the pimple from bacteria. 
They're also travel size so perfect for packing in your makeup bag.
Need a Travel Cosmetics Bag?
You don't need to look far.
Truly's Vegan Leather Skincare Travel Pouch will keep all your grooming essentials in one place with plenty of room for lots of beauty goodies. You won't have to worry about anything getting lost when you pack everything in one of these bags.
Ready for your road trip? Now you've got all your beauty essentials packed and ready to go, you can look forward to your fun trip ahead!
You really don't need all that much when you're spending hours in the car each day. However, if you're something of a beauty junkie, you could use it as the perfect opportunity to indulge in some self-care time. You deserve it babe!
Share
---