The 4 Step Lip Kip That Charli D'Amelio is Using RN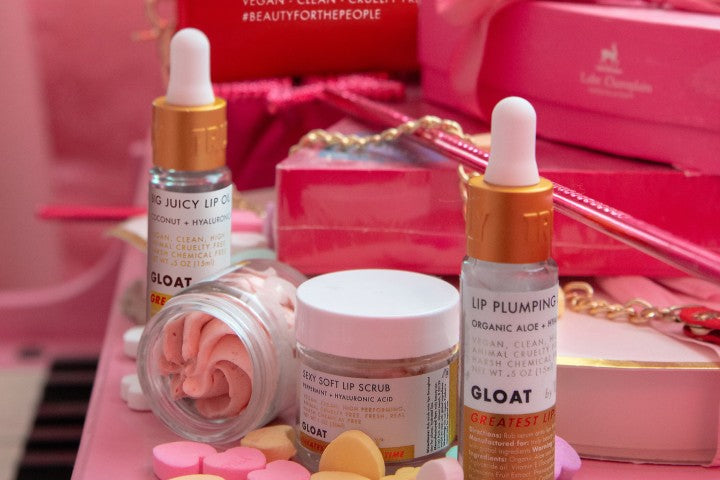 Nowadays, influencers exert a great deal of power over trends - and specifically the types of beauty products we use. One of those authorities is Charli D'Amelio, a social media personality with over 116.5 million TikTok followers. 
She's also the sister of Dixie d'amelio (you might know her as just Dixie, or as both of them as the Amelio sisters?) The two did collab with Morphe 2. You've gotta know her!
So yeah, she's a pretty big deal in the world of social media, memes, Disney, and makeup looks.
So what exactly has a 16-year-old TikTok star from Connecticut have to say about beauty? Well, speaking from a TikTok video she posted recently, Charli D'Amelio is all about our lip products right now.
That's right, this gen z superstar is currently obsessed with Truly's GLOAT Lip Products - and we have a video to prove it. Scroll down to learn more!
Charli D'Amelio Using Truly's GLOAT Products
In a recent video we found, the renowned YouTuber was spotted applying all the products from Truly's 4-Step Gloat Lip Kit. It's official! Charli D'Amelio is obsessed with our lip treats! Watch her applying them one-by-one in her video.
It's always nice to see celebs using our products. Hopefully, we'll soon see both Charli & Dixie slathering on our skincare formulas! But we're especially pleased to see Morphe.com co-collaborator posting a short video about her products. So exciting!!! 
Let's hope we see more young people and Hollywood celebs like D'Amelio digging our products. Okay, so it's not like we're not into those Dunkin prank videos, hype house pieces, or talented choreography vids that seem to keep appearing everywhere on social media channels (thank you, algorithm!). It's just that we're always super pleased to hear about people that love our products! 
INTRODUCING GLOAT
Want to find out exactly what this TikTok star was using in her latest video? Here, we introduce our four-step lip plumping kit that is GLOAT: Greatest Lips of All Time.
Lip Scrub
Made with peppermint to plump and hyaluronic acid to hydrate, GLOAT Lip Scrub is a minty, sugary scrub that tastes delicious and leaves your pout looking extra pretty. 
Not everyone knows the powers of a lip exfoliator, but they're really effective at smoothing the lips and enabling products to penetrate better. IOW: what you apply next will work even more effectively. 
Truly's lip scrub is no different. It uses sugar to gently slough away dead skin cells and flakiness for nourished, flawless lips. Plus, it's powered up with protective ingredients to prevent the lips from drying, cracking, or chapping. 
Want super kissable lips for your BF or GF? You're gonna wanna try this baby. And don't forget, it's Charli D'Amelio-approved too!
How to use:  Massage a small amount onto your lips, and rinse with warm water. For best results, use two to three times a week.
Ready for the next step?
Lip Serum
If you want Kylie Jenner or Kim Kardashian-like lips, lip serum is a daily essential. It keeps your pout smooth, soft, and utterly luscious. Okay, so maybe they take lip plumping to the next level - but you can still enhance the size of your pout with a few volumizing ingredients. Luckily for you, we've utilized all of them!
Truly's GLOAT Lip Plumping Serum is formulated with coconut oil, hyaluronic acid, and peppermint to moisturize the lips, reduce the appearance of fine lines around the mouth, and stimulate circulation for a swelling effect. Think big, juicy pout!
P.S. It works as an amazing primer under lipstick for a bold red lip that lasts all day long!
How to use: Apply 1-2 drops of serum onto a clean lip. Massage it in gently, and leave it to absorb. 
Lip Oil
Next up: the lip oil. You might be wondering, why do you need a lip oil when you've just applied serum? Well, oil adds the additional hydration your lips need to appear extra gorgeous! You really can't ever get enough hydration. And you wouldn't want dry lips, would you?
Truly's GLOAT Big Juicy Oil is an ultra moisturizing, soothing formula designed to leave your kisses smooth. Maybe you've seen lip oils by Bobby Brown or other distinguished brands? Perhaps you've been seeing them all over New York's cosmetic stores?
We've developed a unique formula that blends coconut oil with aloe vera, green tea extract, and hyaluronic acid to boost collagen, smooth out fine lines, and instantly prep your lips for makeup. It also doesn't feel much like an oil. This formula simply melts onto the lips.
How to use: Massage 1-2 drops of oil onto your lips, as you would with a regular lip balm. Leave it to absorb, then follow up with the next step. 
Lip Butter
Now...to lock in all that goodness from the scrub, serum, and oil, say hello to Truly's GLOAT Lip Butter. Maybe you've heard about it from your best friend or from Charli D'Amelio's video. Either way, you need it in your life if you're longing for luscious lips.
Infused with nourishing oils, shea butter, and hyaluronic acid, this formula softens lip creases, juices up your pout, and locks in moisture throughout the entire day. No top-ups needed! Unless you really need to of course...
How to use: Apply a thin layer of this lip butter to GLOAT prepped lips. Massage it in like you would any other lip product. You can wear this tingling balm alone or follow up with a bold lipstick. 
Seeing as we're still in a pandemic and all (ugh, we're not gonna miss you coronavirus!), you've got plenty of time to play around and experiment with different beauty products. Maybe you're not as TikTok-famous as the d'Amelio sisters, but hey, that's no excuse not to have fun with beauty! While you're at it, why not create a few funny videos or tutorials yourself? It'll be so much fun!
And don't forget, if you're using any Truly products in them, be sure to tag us! We want to hear about it! 
P.S. Yours Truly. 
Share
---