The Year 2000 Has Officially Returned in Beauty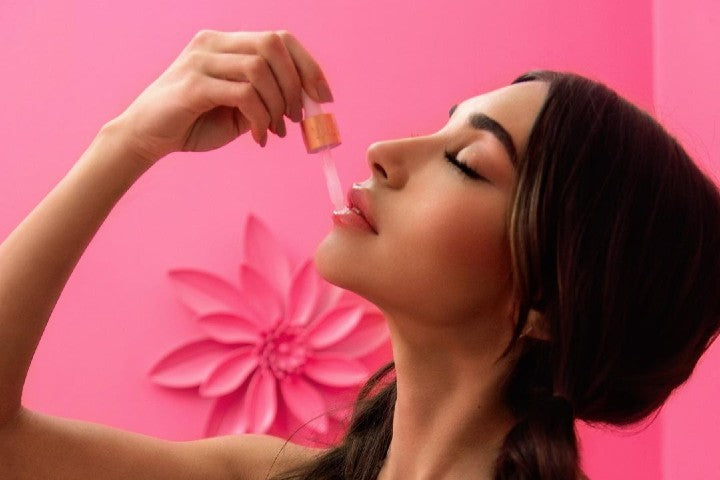 Still just a little stuck in the 2000s? 
From crop tops to low-rise jeans to juicy couture pants, the early aughts saw some interesting fashion trends many of us wish were still here today. Lucky for you, it seems like beauty trends from the early 2000s are making a comeback in 2021. Yaaay!
Everyone from Dua Lipa to Bella Hadid have been spotted sporting these early aughts beauty trends. 
From pastel eyeshadow to glossy lips, cruelty-free skincare to glowy complexions, here are the 2000s trends in beauty that are officially making a comeback this year!
Colored Eyeliner
Remember the days when everyone from Britney Spears to Beyoncé lined their eyes with vibrant colors? Ahh...those were the days.
But hey, no need to reminisce because colorful eyeliner is making a comeback in 2021. Validated by Hailey Bieber and Gigi Hadid, this makeup trend is definitely having a moment, and we couldn't be more excited!
Choose a color that suits your iris for a beautiful, bold result.   
Glossy Lips
Paris Hilton, Hilary Duff, Rihanna...everyone was digging shiny, glossy lips in the early 2000s. The trend was just as much of a staple in pop culture then as something like face contouring is today. It was just something you did.
Well, a glossed up pout is back, and we've got the best formula for achieving one at home.
Truly's GLOAT Kit is a 4-step lip plumping kit designed to hydrate, smooth, and volumize your pout while delivering a nice, glossy finish. It features a a lip scrub, butter, serum, and oil. When used together, you can enjoy a plumper, juicier set of luscious lips. Whenever you're after a nice, 2000s-inspired glossy lip, simply swipe over our Big Juicy Lip Oil. 

Natural, Cruelty-Free Skincare 
Okay, so maybe it's not exactly making a comeback, but in recent years ethical skincare has become more widely available at affordable prices. 
This kind of skincare only became available in the early 2000s. At the time, it was still something totally new and unique, but now it's become quite widespread. And yeah, that's a good thing!
Anyway, the early aughts was definitely the decade in which manufactured started steering away from using synthetic and animal derived ingredients and moved towards more ethical, natural, and organic products.
At Truly, all our beauty products are 100% vegan, clean, and cruelty-free. Take a scroll through our bundles to find something that'll clear up your skin -- and your conscience.
Pastel Eyeshadow
In the early 2000s, you couldn't go wrong with a few swipes of pastel eyeshadow. From baby blue hues to candy-pink shades, the trend was a quick and fun way to upgrade your look. And it seems like 2021 celebs are bringing the trend right back!
For blue eyes, orange tones look best to bring depth to the look. Green eyes appear most flattering when paired with purple hues. And brown eyes? Well, they look good with almost anything, depending on the look you're going for. 
It's one of those makeup looks that we're sure will keep returning -- especially in the summer. Pair it with some chunky highlights and you'll look like you arrived here via a time machine! 
Glowy Skin
That J. Lo glow? It's been around since the early '00s. And it still remains a huge trend today!
2000s beauty was less about contouring and more about highlighting. Forget matte foundation and heaps of powder. Back then, the red carpet shone with glowy-skinned celebs who relied on a little dewy foundation, a swipe of highlighter, and probably a few good skincare products to achieve their radiance.
Today, there's a resurgence of stars showing off their glowing skin in social media selfies and of course at award shows.
Want glowing skin too? Try Truly's Glowing Skin Bundle if you want to trade dullness for radiance. This 3-step brightening kit features a rosewater mist, retinol serum, and hydrating face cream to restore your glow!
Brown Lipstick
Did you see that snap of Kylie Jenner too? 
She's not the only one bringing back this beauty detail from the early 2000s. We're seeing tons of influencers flaunting the trend once loved by everyone from J.Lo to Christina Aguilera. 
So here's how it goes: you apply a few coatings of brown lipstick and then you pair it with a slightly darker lip liner so that you can see a clear distinction between the lipstick and liner. 
Know how we're always being told to blend, blend, blend? This is basically the opposite. You want to see that demarcation between the two makeup products. Of course, you will need to blend a little so it doesn't look too drag, but the point is to create a very bold, distinguished pout.
All you need now are some cute butterfly clips attached to your bangs, and voila, you're an early aughts kids once more!
Spray Tans
Another major beauty fad in the '00s was the fake it till you make it sun-kissed skin. 
The spray tan trend was practically born in the early 2000s, and it was something everyone from Paris Hilton to Lindsay Lohan took full advantage of. Some would even say they overdosed on spray tans. Have you seen some of the snaps from '00s red carpet?
With the growing awareness of skin cancer caused by excessive tanning, spray tanning and self-tanners really took off as a healthier, skin-safe alternative to maintain a bronzed glow. 
Today, self-tanning products are still just as popular. 
Try Truly's Hotter in Person Bronze and Blur Cream for an even, streak-free tan without the dire consequences of UV exposure. This silky body cream also contains flecks of gold shimmer to boost radiance. Get ready to look like a '00s star IRL!
2000s fashion, music, stars, and beauty .... some things were a little too funky, but for the most part, we couldn't get enough. We still can't! And it just shows that we're still totally in love with the '00s days -- because the beauty trends just keep returning! 
Share
---