Truly Beauty's NEWEST Arrivals + What's Coming Soon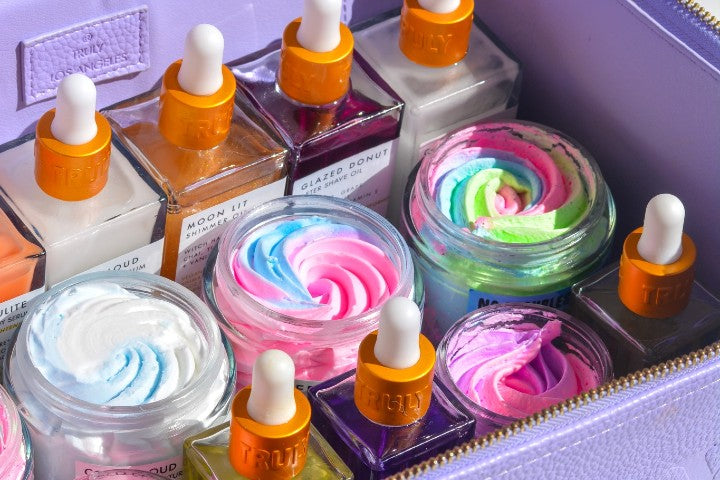 While we know you're probably staying updated on our newest launches via Instagram or TikTok, we thought we'd drop you a nice little blog to do a roundup of our latest drops — and what's to come!
This past year, we've launched some fun and fabulous skincare products and accessories to upgrade your skincare routine.
Scroll down to hear all about our sparkly new releases, and the fresh n' fierce products hitting Truly shelves very soon.
NEW ARRIVALS
VIP Collection 2.0
Our bestsellers, bundled! VIP 2.0 features a curated lineup of 11 full-sized bestsellers to customize into limitless routines for the face and body.
Included in this limited edition beauty box: Acai Your Boobies Polish, Vegan Collagen Body Polish, Vegan Collagen Facial Serum, Unicorn Fruit Whipped Body Butter, Smooth Legend Pre-Shave Scrub, Anti-Cellulite Serum, Glazed Donut Shave Oil, 24k Gold Black Soap Impurity Cleanser, Heart Pimple Patches 36 Ct, Purple Rain Facial Oil, GLOAT Luscious Lip Butter, Mini Gold Spoon, and Gold Ice Cream Scoop.
For a limited time only, we're giving away a FREE vegan leather Trunk with every VIP 2.0 purchase. Checkout with our VIP 2.0 now, and claim your luxury FREEBIE!
Ultimate Coco Cloud Shave Kit
Inspired by our O.G. bestselling Coco Cloud Shaving Butter, this tropical shaving routine features a line up of coconut-y shaving essentials including Shave Cream, Post-Shave Serum, Body Butter, Truly Blue Razor + a Fuzzy Blue Bag.
Smoothing, softening, and utterly hydrating, these formulas work together to prime skin while tackling all shave-related issues including ingrowns, razor bumps, redness, dryness, and discoloration. Powered by skin-soothing coconut milk, antibacterial vanilla, and moisturizing argan oil for that satin-smooth kinda shave. Remember to finish with SPF!
It's our newest bath & body product — here to transform your shaving experience from dull to dreamyyyy. Prioritize your wellness, girl! BTW, it also makes a great gift if you're looking to buy a birthday gift for your bestie! Or pick up one of our gift cards, and let them choose!
Super Shave Bundle
Wanna know what happened when Truly joined forces with the Powerpuff Girls?
Something superior emerged: a LTD edition shave set designed to fight skincare evils like irritation and ingrowns so users can enjoy the smoothest shave EVER sans irritation. Super Shave Bundle contains shave butter, shave cream, pre-shave serum, a razor, and pimple patches — all inspired by our fave supergirls: Blossom, Bubbles, and Buttercup.
Formulated with soothing allantoin, brightening berries + blemish-clearing hydrocolloid to make your skin EXTRA smooth, clear, and glowing.
Heart Face Towel
Use it to gently remove the day's matte foundation, concealer, eyeshadow, mascara, eyeliner, lip gloss, and sunscreen. Or simply use it to pat your skin dry after cleansing. This super soft, versatile towel is perfect for wicking away moisture, exfoliating away product buildup, and lifting makeup without irritating the skin. Plus, she's soooo pretty!
Moon Lit Shimmer Oil
Our sparkliest new beauty product...Moon Lit Shimmer Oil is a hydrating, instantly absorbing dry oil infused with champagne gold shimmer for head to toe radiance. Made with a blend of brightening chai, soothing witch hazel, and antioxidant-rich vanilla to boost luminosity while slowing fine line formation.
For best results, use after showering with an exfoliating body wash and nourishing lotion. This will help seal in the sparkle. Apply it anywhere you want to highlight — your cheekbones, cupid's bow, collarbone, cleavage, or thighs. Pair with a little bronzer, lip tint, and lip liner for a radiant ready-to-party look.
COMING SOON...
We've got some hot new prods hitting our shelves this month! Hint: they're inspired by our fave desserts!
Cake Maker Recipe
Dig into our freshly-baked Cake Maker Kit, a 3-step butt and leg tightening treatment made with a blend of hydrating and elasticity-restoring powerhouses like vanilla, plant collagen, guarana, ceramides, and polyglutamic acid. This tasty little trio targets everything from cellulite to stretch marks, and sagging.
Inside you'll find: a cake-scented body polish, body lotion, and serum.
ARRIVES: March 22
Dulce de Leches Kit
Indulge in this caramel scented boob and belly toning bundle inspired by Dulce de Leche's irresistibly-smooth decadence. Loaded with collagen-boosting retinol, caffeine-rich guarana, and ultra-hydrating hyaluronic acid to plump out cellulite and stretch marks, while sealing in long-lasting moisture and perking up your pair.
Inside you'll find: a caramel-scented body polish, body cream, and serum.
ARRIVES: March 22
Full Body TREATment
A 6-step body toning treatment featuring our 2 dessert lines, combined: Cake Maker Polish, Cream, and Serum + Dulce de Leches Polish, Cream, and Serum. Take on sagging, cellulite, and stretch marks in style!
ARRIVES: March 22
Batch Made in Heaven
Full body smoothing...in just two single products. Sweep away dullness, discoloration, and dimples with our sweet and sassy dessert-inspired body polishes. Hand whipped to perfection with a blend of plumping plant collagen, collagen-boosting retinol, and skin-constructing guarana to tighten, brighten, and tone your lady lumps.
Cake Maker Polish is a sprinkle-flecked scrub designed to smooth out skin on the tush and legs. While Dulce de Leches Polish is a cocoa-and-cream swirl of skin-buffing brilliance to tighten, lift, and silk-ify your tatas.
ARRIVES: March 22
WHY CHOOSE TRULY
At Truly, we're committed to providing you with vegan, cruelty-free, sulfate-free beauty products formulated with high-performing ingredients to tackle all your skin concerns. We try to make all our products suitable for even the most sensitive skin in order to increase our accessibility in today's market.
You'll find a vast selection of skincare, body care, and hair care products as well as an assortment of adorable accessories.
Some of our fave ingredients include retinol, vitamin C, hyaluronic acid, AHA/BHAS, plant collagen, and niacinamide. You'll find these powerhouse ingredients in many of our products.
From cleansers to eye creams, hair masks to boob polishes and clarifying toners, shop all your beauty supplies here at Truly.
…and remember to return soon to pick up our LATEST tasty treats just about to land on Truly shelves!
Share
---