What Skincare Trends Influencers are Loving in 2021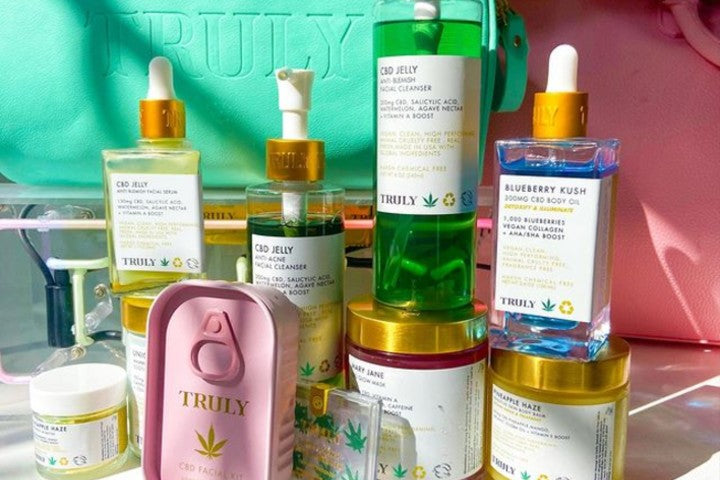 Skincare trends come and go. Some of them even stick around for a while or become so popular, they become ingrained into the household skincare routine – as common as facial cleanser and body lotion.
To see what's trending in 2021, we decided to reach out to a few beauty influencers to share their favorite skincare trends of the year. In addition to revealing their top picks, we'll also explore each trend in-depth so you can decide if you'd like to give it a try yourself.
Take a look at what these three beauty influencers say are their favorite skincare trends in 2021.
DEWY SKIN
"I'm very into the dewy skin look right now," says influencer Ashlee Cook of @intheglamroom. "I went all winter without using a single powder product on my face. As the weather warms up and humidity starts creating a natural dew, I'm excited to start testing out new ways to keep the dewy look without getting overly oily looking. I'll need to find the perfect balance of great skincare products and makeup."
What is it: Dewy skin is a complexion that glows and shines in a way that looks healthy without looking greasy. A dewy finish, also described as "luminous" or "glowing" uses humectants and natural oils to reflect light and deliver a radiant complexion.
Try it yourself: You can achieve dewy skin by committing to a good skincare routine. Incorporate a hydrating cleanser, serum, and moisturizer into your daily routine to achieve and maintain that gorgeous glow. Try our CBD Jelly Bundle or Blueberry Kush Bundle for luminous skin.
You can also use makeup to get a dewy glow. Choose a non-matte foundation or tinted moisturizer and avoid brushing over with powder to accomplish a beautiful, radiant complexion. You can also dab on a couple of drops of facial oil to your cheeks and lips to add some extra glow.
RETINOL
"A high-quality retinol is the most powerful anti-aging skincare products I use. I prefer the one by Skinceuticals to boost collagen in my skin, keep my complexion clear and soften my fine lines and wrinkles," says influencer Donna Tryba of @donnatryba.
What is it: Retinol is a vitamin A derivative and a type of retinoid. Retinoids work by boosting collagen production and increasing skin cell turnover. They also treat acne, clogged pores, fine lines and wrinkles, and improve the overall texture of your skin. In other words, retinol can address a wide variety skin concerns, making it the perfect choice for all ages and skin types. However, if you have sensitive skin you should use retinol with care as using it too often or at a too high percentage could cause irritation and redness.
Try it yourself: Retinol is a superstar ingredient and absolutely should be part of your daily skincare routine. According to New York dermatologist Shari Marchbein, M.D., you can maximize retinol's benefits by pairing it with vitamin C.
"I recommend using both a vitamin C serum and retinoid daily, since they serve different purposes and work synergistically to help your skin look its best," she says.
Luckily for you, our Vegan Collagen Bundle contains four face and body formulas that all contain retinol and vitamin C. So you can reap the benefits of this skin-perfecting duo in just four simple steps!
GUA SHA
"My favorite skincare trend of 2021 so far has been using my Gua Sha to promote lymphatic drainage!" says Ella Snyder of @ellasnyder. "I was gifted a stainless steel Gua Sha at the end of 2020, and that prompted me to do some research on its use and benefits. Ever since I've been using it to drain and sculpt my face and neck every night before bed! I totally see a difference in terms of decreased puffiness, more definition in my bone structure, and ultimately the results of a mini facelift!"
What is it: Gua Sha, otherwise known as "coining," comes from traditional Chinese medicine. "Gua" means scrape and "Sha" means sand. The words may make you flinch, but don't let that put you off the treatment. Gua Sha is said to be an effective skincare treatment that can address everything from tension and bloating to furrowed brows and headaches. Other benefits include preventing and treating sagging skin, healing rosacea and scarring, lightening dark circles, and brightening the complexion.
The process involves scraping a jade roller over the skin in upward strokes to stimulate tissue draining and relax stiff muscles. You can do this at home or get it done as an in-office treatment.
Try it yourself: Start by applying a small amount of oil (like our Purple Rain Facial Oil) onto your skin to create slip for the tool and make it easier for you to use.
Then, as Gua Sha expert Katie Brindle explains, "Hold the tool flat to the skin, under the eyes or over any redness, to soothe and de-puff. Then use the curved side and work it over the skin, always taking short strokes in just one direction, not back and forth."
Always be gentle to prevent irritating your skin or causing damage.
She continues, "Stroke it down the neck to drain [not upwards], working it in small horizontal strokes over the brow bone to lift, or hold and press upwards between the brows to release tension."
To Try or Not to Try?
Personally, we love all three of these beauty trends. Dewy skin is always going to be a winner in our book – who doesn't want glowing skin???
As for retinol, you should easily see if you shop on our store that many of our products contain retinol. We can't get enough of this treats-all skincare superstar!
And Gua Sha? Provided that you know what you're doing and using the right technique, we believe it to be an effective way of getting a natural glow and treating issues like acne, wrinkles, and clogged pores.
So yeah, these influencers are definitely onto something! And we highly recommend you giving all three a try!
Share
---