10 Truly Beauty Products You Need to Try at Least Once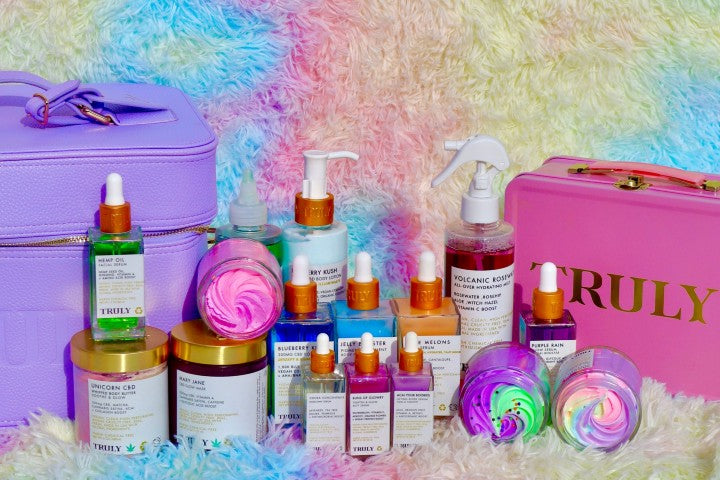 New here? No worries! 
If you've seen our products on TikTok or Sephora aisles, but you have no idea where to begin, we're here to help you decide on a few Truly essentials. While we'd have to say all our beauty products are worth a try, if you're looking to get a taste for Truly and what we offer, these are 10 products we'd highly recommend.
Whether you're looking to treat blemishes, tackle dry skin, or get ahead of aging, we have something for everyone here on the Truly shelves. 
Scroll down to hear our top product picks for Truly newbies. 
#1: Acai Your Boobies Polish
Clinically proven to smooth and firm in four weeks, Acai Your Boobies Polish is a boob-tightening exfoliator you need to try at least once. Powered by collagen-boosting retinol and antioxidant-loaded acai, this retexturizing boob scrub smoothens skin and nips while targeting the appearance of stretch marks, discoloration, and fine lines. 
Start showing your lady lumps a little more love with this invigorating, boob-sculpting polish for your tightest tatas ever.
#2: Glazed Donut Shave Oil
Shaving just got smoother thanks to Glazed Donut Shave Oil, Truly's first after-shave oil that works by replenishing lost moisture while combating ingrowns irritation. It's the kind of skincare product you never knew you needed...until you try it. 
Formulated with coconut oil, passion fruit, and vitamin E, these ingredients lend their antiseptic, anti-inflammatory, and hydrating properties to treat and prevent razor bumps, burns, and irritation. And guarantees a smooth n' silky feeling after shaving. 
#3: Coco Cloud Whipped Shave Butter
Do you get red and bumpy after shaving? Then you need this super-smoothing, bestselling shave cream, aka, Coco Cloud Shave Butter. The hype around this fluffy, whipped formula is real, guys. 
It's formulated with soothing coconut milk and hydrating argan oil that work in tandem to leave your skin smooth, soft, and irritation-free. Use it every time you shave for an ultra close, satin smooth shave every time.
#4: Vegan Collagen Facial Serum
Get ahead of aging or reverse the signs with this anti-aging serum. It's made with a lineup of powerhouse active ingredients such as retinol, vitamin C, and vegetable collagen to smooth out fine lines and wrinkles, improve skin tone, and promote skin brightening and resurfacing. 
Make it part of your daily skincare routine to reap all those age-reversing benefits!
#5: Starface Jelly Sleep Mask
Turn back time as you sleep with AHA-powered sleep mask. This two-in-one, overnight mask puts dullness to rest for a glowy, dewy complexion that looks plumped and renewed the next morning.
Retinol and glycolic acid work in tandem to speed cell turnover rate, encourage collagen production, and gently exfoliate away dead skin cells for a fresh, glowing, plumped up face. Besides being super effective, this face mask is sooo convenient since you can wear it as you sleep and simply remove it the next morning. Easy!
#6: GLOAT Luscious Lip Butter
An everyday necessity to put in your purse. GLOAT Luscious Lip Butter hydrates, plumps, and smooths for that pillowy soft, juiced up pout of your dreams. With its infusion of ultra-moisturizing hyaluronic acid and stimulating peppermint, this formula will help you achieve smoother, larger lips in one single use. Make this lip balm part of your daily routine for prolonged results. 
It also pairs well with lip gloss for a little added shine. You can wear it with the rest of your makeup products -- eyeshadow, mascara, concealer, and highlighter -- for a hot date night with bae.
#7: Unicorn Fruit Whipped Body Butter
This multi-colored rainbow swirl first found fame on TikTok when it garnered millions of hearts. Since using it in real life, people have discovered for themselves that this pretty swirled moisturizer doesn't just look pretty, but really works to soothe skin, alleviate dryness, and promote a soft and smooth complexion. Plus, it smells as good as a candy shop. 
Suitable for all skin types, Unicorn Fruit Body Butter is a versatile, multi-tasking lotion that works as a lip balm, cuticle softener, hair conditioning treatment, and shave cream. That's thanks to its lineup of ultra nourishing ingredients like shea butter, acai, matcha, and rose.
#8: Blueberry Kush CBD Body Lotion
An antioxidant-rich, berry-scented daily body lotion formulated with hemp, aloe, vegetable collagen, and 1,000 upcycled blueberries per bottle to deeply condition, hydrate, and illuminate all while shielding the skin from blue light damage. 
It works perfectly for sensitive skin types and even acne-prone skin thanks to its infusion of alpha hydroxy acids and salicylic acid.
You can depend on this formula to moisturize, protect, soothe, and clear away breakouts. Wear it underneath sunscreen with SPF 30 for maximum protection.
#9: Jelly Booster Pigment Treatment 
A serum formulated with a blend of pomegranate extract and collagen-maintaining vitamin B2 to target and lighten dark spots, dark circles, and hyperpigmentation caused by acne scars and ingrown hairs.
#10: Super Heart Pimple Patch
Toothpaste, Sudocrem, and lemon juice can only do so much for your pimples. To effectively extract dirt and grime from active blemishes, and speed up the healing process, you need to use a formula that drains zits and inserts them with acne-attacking ingredients. 
Super Heart Pimple Patches do exactly that. Made with hydrocolloid to extract fluid from freshly popped zits + flecked with benzoyl peroxide + AHA's to help kill acne causing bacteria, these patches can quickly heal active breakouts while soothing inflammation and preventing scars. 
Truly is a vegan, cruelty-free brand committed to clean, affordable, and high-performing skincare. We cater for all skin types, all budgets, and all values. So you can enjoy high-quality skincare without compromising your beliefs -- and for drugstore prices.
While these are the top 10 Truly products we recommend if you're a newbie, we offer lots more for you to choose from, including cleansers, eye creams, body oils, hair care products, fun accessories, and more! 
You can also purchase our products on Amazon, Ulta, and Sephora. 
Share
---