12 Suncare Products to Protect Your Skin this Summer (that aren't Sunscreen!)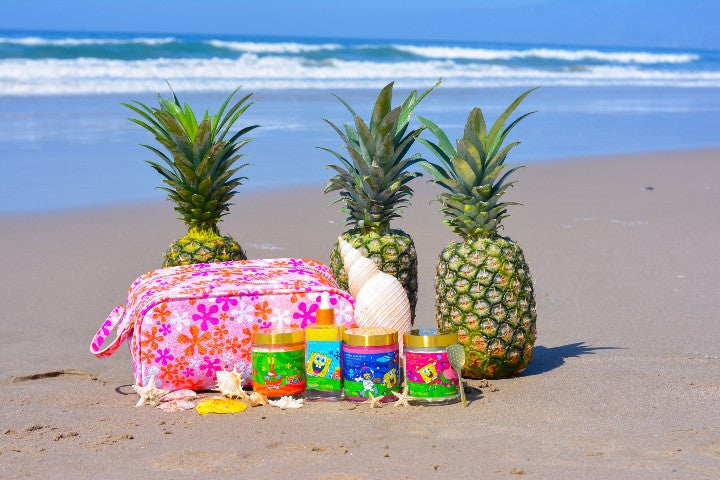 The sun can be detrimental to your skin. In fact, UV rays are one of the leading contributors of premature aging, triggering the formation of fine lines, wrinkles, and hyperpigmentation. While sunscreen is a must (you should be wearing SPF 30 daily — or SPF 50 if you're fair), dermatologists recommend incorporating other UV-protective skincare products into your daily skincare routine to keep skin happy, healthy, and glowing.
UVA and UVB rays are both responsible for sunburns, skin cancer, and premature signs of aging. And they can harm your skin during any type of weather — even on cloudy days. If you're not doing it already, make sure you use a water resistant, broad-spectrum SPF daily and reapply it every two hours.
Then add in three, four, or more of these sun protection products below to protect your skin even further. Some of these suncare products offer built in UV protection while others help to heal sunburned and UV damaged skin.
#1: Best Buddies Body Butter
In addition to limiting sun exposure, slather on this moisturizing body butter to protect your skin against photoaging and UV damage. It's made with a blend of brightening pineapple, antioxidant-rich algae, and anti-aging mango to deliver hydrated, glowing skin. Algae also contains UV-absorbing properties. Pop it on under your sunblock for added protection!
#2: Blueberry Kush CBD Body Oil
A daily body oil made with antioxidant-rich blueberry seed oil, which functions as a natural shield against blue light. Packed with fatty acids, it also strengthens the skin barrier, promoting hydrated, healthy skin. Alongside this, the formulation contains a blend of AHAs and BHAs, as well as vegan collagen, to plump out lines and buff away dark spots and discoloration caused by the sun. An added bonus: it cools sunburns!
#3: Pineapple Haze Sensitive Skin Balm
Pineapple Haze Sensitive Skin Balm is an all over body moisturizer that provides instant relief to sunburned or irritated skin. Harnessing the anti-inflammatory properties of hemp and the moisturizing benefits of vitamin E, this treatment quickly soothes, heals, and hydrates inflamed skin.
#4: Jellyfish Jammin' Tightening Body Mask
Inspired by the Bikini Bottom Crew, Jellyfish Jammin' Body Mask is a silky n' soothing gel made with anti-inflammatory aloe, plumping hyaluronic acid, and UVA-protecting sea kelp to secure taut, supple, and ultra smooth skin.
#5: Nice Melons Boob Serum
Nice Melons Boob Serum is a fruity formula packed with active ingredients such as honeydew, kiwi, ginseng, and kigelia to tighten, smooth, and protect skin. Kigelia is an antioxidant and flavone-rich ingredient known to fight free radicals and prevent UV-induced skin aging. It's also been proven to firm and lift the breasts.
#6: Golden Pineapple Body Serum
Protect your skin from UV damage and daily pollution with this glow-boosting body serum. Featuring a plethora of under the sea ingredients like sea kelp and algae, this formula restores skin elasticity while boosting skin's glow and shielding skin against UV rays and pollution.
#7: Moon Jelly Adaptogenic Body Cleanser
A de-stressing body wash enriched with a blend of super herbs that work to protect skin against environmental stressors like UV rays, pollution, daily stress, and lack of sleep. Ashwagandha soothes the mind and body while helping the skin reduce environmental stressors such as UV rays, pollution, and lack of sleep. Meanwhile, chamomile lends its cleansing properties. It's suitable for all skin types, especially dry skin and sensitive skin.
#8: Best Frenemies Whipped Body Polish
A fluffy whipped body exfoliator that shields skin against sun damage. While it's targeted towards acne-prone skin, Best Frenemies Polish contains powerful antioxidants and hydrating actives to support skin barrier function, prevent fine lines and wrinkles, fade discoloration, and protect skin from sun damage. And battle breakouts!
#9: Unicorn Fruit Whipped Body Butter
This bestselling formula might look pretty on the outside, but inside she's loaded with skin-saving goodness. Hydrating shea butter, antioxidant-rich acai berries, and inflammation-quelling green tea come together in this formula to deliver your smoothest, brightest skin. In addition to soothing sunburned skin, this moisturizer has acai to thank for its ability to fend off free radicals and prevent the formation of creases.
#10: Mary Jane Glow Serum
This UV protecting serum is a daily staple for keeping skin safe. Its key ingredient — CBD — is a natural antioxidant that reduces inflammation while fighting against free radicals responsible for causing premature aging. Slather it on your face before applying face sunscreen for maximum protection.
#11: Coco Rose Fudge Body Butter
The perfect post sun exposure treatment for replenishing skin's moisture — with surplus UV protecting benefits! Infused with coconut and rose, this nourishing butter will brighten skin tone and hydrate skin while providing UVB protection. Apply it before and after sun exposure to maintain dewy, youthful skin. Finish with sunscreen SPF 30, SPF 40, or higher.
#12: Tansy Water
This anti-blemish body mist is chock full of soothing and protective ingredients. Blueberries provide deep conditioning to skin while protecting it from sun damage. Beta glucan, allantoin, and blue tansy work together to clear, hydrate, and soothe. Apply it over or under your mineral sunscreen lotion SPF 35 for optimum UV protection. You can also use it after sunbathing to quickly relieve redness and irritation.
All 12 products will ensure your skin stays strong, healthy, and glowing in and out of the sun. Incorporate them into your daily skincare routine for best results. Make sure you also invest in a high-quality mineral or chemical sunscreen that's fragrance-free, oil-free, and paraben-free.
FYI: Chemical sunscreens are products that use chemical filters to protect the skin from the sun's ultraviolet rays. The most commonly used chemical SPF ingredients include oxybenzone, avobenzone, octinoxate, octocrylene, and octisalate.
Mineral sunscreens (or physical sunscreens) physically block ultraviolet radiation with ingredients like zinc oxide or titanium dioxide. And they're known for leaving a white cast on the skin. As far as which is the best sunscreen, both have their benefits, but physical sunscreens are most commonly found in drugstores.
When choosing a sunscreen spray or lotion, always choose both a facial sunscreen and a body sunscreen. Especially if you have oily skin, applying body sunscreen to your face can lead to excess shine and clogged pores. Choose a formula that'll leave you looking more matte.
If you have a skin condition, speak to a dermatology professional for a product recommendation.
You can also purchase these suncare products at Amazon, Ulta, Walmart, Sephora EU.
Happy summer beauty babes!
Share
---