12 Ways to Upgrade Your Skincare Routine in 2022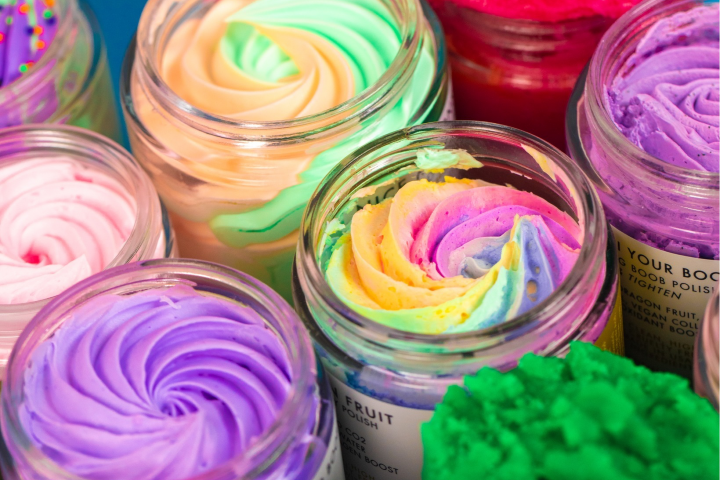 Sometimes, change is good — especially when it comes to your skincare routine. Sure, if you've got a good thing going, why change it? That said, now and again it can definitely be beneficial to switch things up a bit to keep your face and body looking and feeling their very best.
Ready to level up your beauty routine? Here are 12 ways to make things a little more interesting in the skincare department.
#1: Try a Boob Butter
Treat your tatas to the gift of Acai Your Boobies Butter, a whipped, berry-scented moisturizer of acai, retinol, and dragon fruit to deliver your perkiest pair. In addition to smoothing and tightening your twins, this formula also offers brightening benefits while preventing pesky breakouts. Plus, it's flaming hot on TikTok!
#2: Treat Cellulite with a Sprinkle-Speckled Polish
Fed up of hearing there's no cure for cellulite? As true as that may be, you can definitely make dimply skin look less prominent with one or two circulation-stimulating skincare products. One of our faves is our sprinkle-speckled Cake Maker Tightening Butt Polish. It's made with anti-aging actives like vegan collagen along with moisture-sealing ceramides and skin tightening guarana. Together, these ingredients help to plump out dimples, smooth away dry patches, and tone up your tush.
#3: Reach for a Retinol Serum
If you're not using retinol already, now's the time to start. From fine lines to blemishes, dullness to hyperpigmentation, this vitamin A derivative does it all! It works by speeding cellular turnover, enhancing collagen production, and elevating skin's elasticity — providing you with smaller pores, fewer breakouts, and refined skin texture.
Target blackheads, dark spots, and signs of aging with our Purple Rain Facial Serum. It's formulated with a resurfacing blend of glycolic acid and retinol to reveal your smoothest skin.
#4: Patch Up Your Pimples
A pimple's worst enemy? A hydrocolloid patch. Hydrocolloid patches, aka, pimple patches are used to cover up and treat active breakouts while reducing the risk of acne scars and discoloration. You can quite simply pop one of these patches on, leave overnight, and wake up with it gone — or at the very least, significantly less inflamed. They're ideal for oily skin or acne-prone skin types!
To start treating your stubborn zits, try Super Star Pimple Patches. They're flecked with salicylic acid and retinol to dissolve dirt, sebum, and dead skin cells while speeding up healing and preventing scarring.
#5: Add in Some Antioxidants
Now that it's the summer, you're gonna need all the protection you can get. Cram your skincare routine full of antioxidant-packed products to start reaping the anti-aging benefits. Antioxidants help protect the skin from oxidative damage caused by free radicals and UV rays, which contribute to photoaging.
Vitamin C is one of the most highly-praised antioxidants thanks to its ability to protect, brighten, and fade discoloration. A vitamin C serum also makes your daily sunscreen work harder!
You'll find vitamin C in our Super Matcha Facial Cleanser + Starface Jelly Face Mask.
#6: Exfoliate with AHAs
The best way to exfoliate your skin, according to dermatologists? Use acids. Glycolic, lactic, and mandelic acid are the three most common alpha hydroxy acids (AHAs). They work by gently dissolving dead skin cells from the skin's surface, leaving you with fresh, clear, and glowing skin. Plus, they help your other skincare products absorb more effectively.
Buff away dullness and discoloration with our Blueberry Kush CBD Body Oil — an infusion of blueberries, vegan collagen, and AHAs to brighten skin tone, fade dark spots, and leave skin instantly smoother.
#7: Scoop Out Your Products with a Skincare Applicator
Start using your butters, scrubs, and creams the hygienic way — using a skincare applicator. Our Gold Ice Cream Scoop serves up the perfect amount of product without transferring germs into your skincare container. It's the cleaner, cooler way of doing skincare. And a chic little accessory to add to your vanity!
#8: Get Nostalgic with Your Skin
Over the past few months, we've teamed up with the PowerPuff Girls and SpongeBob SquarePants to bring you the best of nostalgic skincare.
Besotted with Bubbles, Blossom, and Buttercup? Grab a box of our Super Shave Bundle. It features a serum, shave cream, aftershave butter, pack of pimple patches, and five blade razor to deliver a smooth and long-lasting shave. Key skincare ingredients include allantoin, niacinamide, and avocado.
Still missing the Bikini Bottom Crew? Bring SpongeBob back into your life with our Hydrating Summer Set: four ultra-moisturizing formulas made with pineapple, hyaluronic acid, and sea kelp to bring you your juiciest, dewiest summer bod!
#9: Finish Your Shave with a Soothing Serum
Treat ingrowns, razor burn, and bumps with a skin soothing treatment like Coco Cloud After Shave Serum. Infused with calming coconut and hydrating argan oil, this formula is perfect for comforting dry skin, sensitive skin, and newly irritated skin. Plus, it smells like tropical paradise!
#10: Switch Lotions for Butters
Lotions are good, but butters are way more hydrating. And they feel incredible on your skin! Try our bestselling Unicorn Fruit Body Butter to up your skin's hydration, support skin barrier function, and plump out fine lines and wrinkles.
#11: Pay Attention to Your Pout
Lips need love too. Invest in some nourishing lip care products to show your pout some TLC in the new year and keep your lips looking extra luscious. You'll love our 4-Step Plumping Kit! Don't forget to apply SPF too to protect your pout from sunburn and chapping!
#12: Slide On a Protective Sleeve
Keep your beauty products safe by sliding on of our protective product sleeves, aka the Truly Pink Silicone Koozie. It fits seamlessly over our large jars to keep them protected against slippery shower edges and accidental drops.
If your skincare routine already includes a cleanser, toner, moisturizer, and sunscreen, congrats! You're definitely on the right path. But how about adding in a few additional topical treatments to enjoy even more skin benefits?!!? And if you're solely living on makeup remover wipes, it sounds like your skincare routine needs a serious upgrade — psst.. wash your face with a proper cleanser, babe!
Speak to your derm if you have any questions or concerns related to your skin.
Meanwhile, shop our bestselling cleansers, eye creams, boob butters, and serums on the Truly official website, as well as on Amazon, Ulta, and Sephora EU.
Share
---